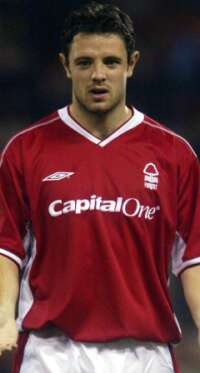 Andy Reid - Forest's best player as they lose again
Really nobody should have been surprised at Palace's win against Forest. Since Paul Hart's team won at Burnley back in September their record has been so poor that only the bottom two Franchise and Bradford have collected less points.
They can't score goals, they can't win matches, and but for a good start to the season they could be in serious trouble. They were in third place after beating us but since have only beaten the bottom two in sixteen matches.
Only Andy Reid played well apparently but the surprise top performer on the Forest side was Julian Gray, the same Julian Gray who was told to get out of the club by Chairman Simon Jordan. He's been on loan at Cardiff having been told he will never play for Palace again.
The win saw Palace climb out of the bottom three to be replaced by Derby who drew 0-0 at fast improving Rotherham. But it was all down to some good defending and inspired goalkeeping from Lee Grant as Rotherham outplayed them.
Stoke also had a surprising win, beating Reading 3-0 with a hat-trick from Peter Hoekstra, the sixth in the division this season (see below). The scoreline doesn't mislead either, Steve Coppell's team were comprehensively beaten with Stoke so much on top in the first half the lead could have been easily double the 2-0 it was at the interval.
Some predictable news below these clubs, Franchise and Bradford City (BRBC) were both beaten. Over 3,000 were packed into the NHS to see another home defeat for the Pariahs, their 17th defeat in 23 league games this season. Eleven points from safety now at the half way stage it looks as though football's most unwanted club will be someone else's problem next season – Division Two's. If they are still around that is.
The Robson honeymoon lasted just one game but they were to be fair somewhat unfortunate not to get something at Wigan.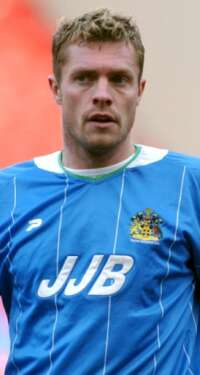 Geoff Horsfield - last goal for Wigan?
The goal came from the Pie Eater's big signing Geoff Horsfield with rumour around the small gathering in the concrete jungle of the JJB believing that it would be his last goal for Wigan. It is thought he will be moving on to West Brom this side of Christmas. The Baggies are expected to be losing one of their strikers in the near future.
As for the Baggies, they had their lead cut at the top just as they were starting to pull clear. Crewe went to the Hawthorns and picked up a point in a 2-2 draw. They should have won it though, they were the better side, and were in fact 1-0 up very early in the game.
But it took an equaliser from Lenny Johnrose's mate Sean Gregan to even secure the point.
Sheffield United couldn't get any closer as they dropped points at home too with the same result. They slipped from a goal up to 2-1 down against Watford and that after the Watford keeper had been sent off.
But the Blades sneaked a point with a late penalty although they did drop to 3rd after Norwich picked up a tenth home win out of twelve with a 4-1 stroll against Cardiff. Peter Crouch has gone and this was Darren Huckerby's farewell performance. He simply tore Cardiff apart in his best performance in a Norwich shirt.
He's back to KKMC but this could be just temporary, he looks set to replace Horsfield at Wigan.
Burnley weren't the only home team to go in at half time 2-0 wondering whether they could get something out of the game. West Ham were in the same position against Sunderland after goals from Jason McAteer and John Oster.
One difference here though, West Ham did come back and not just to draw. Two goals from Defoe in the first fifteen minutes of the second half saw them level and Ian Pearce got the winner with ten minutes left.
It was an incredible result, West Ham had never been in the game in the first half and fans were streaming out of the Boleyn long before the first goal went in.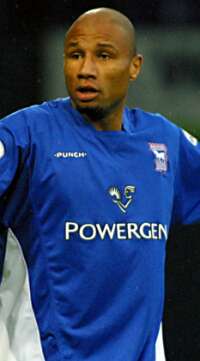 George Santos - sent off in the Millwall v Ipswich battle
Dennis Wise said he wanted his side to be ugly, horrible and in the face. Saturday's 0-0 draw against Ipswich was described as a seriously bad-tempered clash that saw eight yellow and one red card.
Long Ball Joe saw his defender George Santos sent off but complained bitterly that he should not have been sent off, that at least two Millwall players should have been given red cards including the keeper, and hoped that the referee would learn from it.
"When you come to Millwall you hope you are going to get strong and experienced officials," said Joe. Even Ray Wilkins admitted that Warner should have been sent off but said that referees are put under enormous pressure.
Yes they are Ray, Wise is seeing to that. How long is the Kebab Seller prepared to put up with this nonsense? How on earth could he have given Wise the job in the first place?
For the record the referee who was put under this pressure was Iain Williamson who had such a good game when we visited West Ham recently. Apparently there was not a decent chance in the game with scoring goals not high on the agenda. Wise's team travel to Cardiff next week, that should be a quiet ninety minutes.
Finally a Fuller goal early in the game so Preston end their build up to the game against the Clarets with a 1-0 win at Gillingham and not a word of complaint from Craig Brown.
The results mean the Clarets have dropped two places to sixteenth. Coventry went above us courtesy of their win whilst Walsall's win at the NHS moved them above us also.
There are no midweek games this week but a full fixture list next weekend, the last fixtures before Christmas. All the games kick off at 3 o'clock except where otherwise shown.
Saturday 20th December
Bradford City v Rotherham United
Cardiff City v Millwall (12:30 p.m.)
Coventry City v West Bromwich Albion
Crewe Alexandra v Wigan Athletic
Derby County v Sheffield United
Nottingham Forest v Gillingham
Preston North End v Burnley (12:30 p.m.)
Reading v West Ham United (5:35 p.m.)
Sunderland v Franchise
Walsall v West Ham United
Watford v Stoke City
Sunday 21st December
Ipswich Town v Norwich City (12:00 noon)
Leading Goal Scorers (League Only)
16: Robert Earnshaw (Cardiff)
14: Marlon Harewood (West Ham – 12 with Nottm Forest)

11: Robbie Blake (Burnley)

11: Ricardo Fuller (Preston)
10: Andy Reid (Nottm Forest)
10: Peter Thorne (Cardiff)
9: Jermain Defoe (West Ham)
9: Rob Hulse (West Brom)
9: Steve Jones (Crewe)
8: Dean Ashton (Crewe)
8: Pablo Counago (Ipswich)
8: Dougie Freedman (Crystal Palace)
8: Andy Liddell (Wigan)
8: Peter Ndlovu (Sheff Utd)
7: Darren Bent (Ipswich)
7: Nathan Ellington (Wigan)
7: Scott Fitzgerald (Watford)
7: Nicky Forster (Reading)
7: Geoff Horsfield (Wigan)
7: Andy Johnson (Crystal Palace)
7: Jason Koumas (West Brom)
Hat Tricks
| | | | | |
| --- | --- | --- | --- | --- |
| 4 | Robert Earnshaw | Cardiff | v Gillingham (home) | 13th Sep |
| 3 | Dougie Freedman | Crystal Palace | v Burnley (away) | 9th Aug |
| 3 | Peter Ndlovu | Sheffield United | v Cardiff (home) | 29th Sep |
| 3 | Delroy Facey | Burnley | v Walsall (home) | 4th Oct |
| 3 | Peter Thorne | Cardiff | v Stoke (away) | 6th Dec |
| 3 | Peter Hoekstra | Stoke | v Reading (home) | 13th Dec |