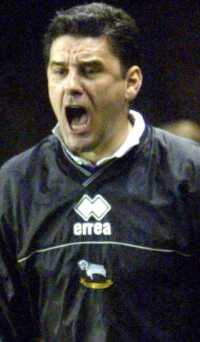 John Gregory - finally left Pride Park pending appeal
But for four clubs yesterday the play offs got underway with both ties closely fought and both seeing referees we have previously had some trouble with waving their red cards.
In the Forest v Sheffield United game it was Forest's Michael Dawson who saw red for a challenge that was in fact his first foul of the game. It was late but there seemed nothing nasty but who was really surprised to see Mark Clattenburg get his red card out?
It's only a fortnight ago that he sent of Ian Moore and having seen that offence now on television I am somewhat staggered that Stan backed the referee rather than his own player.
It ended in a 1-1 draw with both goals coming within a couple of minutes of each other. I'm sure every Burnley fan knew David Johnson was going to score the minute he got clear on his favoured left side in a one-on-one with the Blades keeper Kenny.
It was wiped out a minute later though with a penalty converted by Michael Brown and it is all square for the second leg at Bramall Lane.
"The biggest games of my life," said Glen Little but he missed Reading's first leg match at Wolves and is considered doubtful for the second leg after picking up a flu bug. Reading led from midway through the first half but Wolves came back with two late goals to win it 2-1.
This time Wolves have gone into the play offs in form and I do think this is the year they will probably make it and they are without doubt the side I am tipping to join Portsmouth and Leicester in the Premiership. That bold prediction should ensure they don't.
There were four clubs battling for a place in the 1st Division and former Claret David Eyres was on the scoresheet again for Oldham but they had to settle for a 1-1 home draw against QPR whilst Cardiff were winning their first leg 1-0 at home to Bristol City. I wonder just how many Burnley fans would like to see Cardiff come up. Or did I mean how few?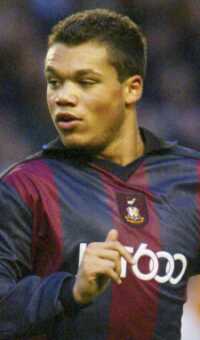 Lewis Emanuel - transfer request refused
Elsewhere and off the pitch one manager in the division finally said his farewells – maybe? After being suspended for some weeks and replaced by an interim manager Derby County have finally sacked John Gregory along with members of his staff.
Gregory has appealed and although a lot of rumours have circulated it is impossible to find out exactly what Gregory is supposed to have done. But it must have been a very serious offence for them to take this action.
Managers are keeping their plans close to their chests at this time of year, most of them anyway. But not Andy Hessenthaler at Gillingham. He wants to sign three players and has named them. Andy Myers, Ian Cox and Neil Cox are his targets and he has already made offers to Coxy and his namesake from Watford.
Delia's been cooking the books down Carrow Road way and has found over £1 million. This week Norwich signed a superb three-year sponsorship deal with Proton cars that will give them a seven-figure bonus.
Their traditional home shirts next season will carry the name Proton whilst their away kit (green) will bear the name of Lotus.
Talking kit, there is no news of anything from the Turf but it is believed that this is due to a lack of shirt sponsor for next season. Often in the past Burnley have put new kit on sale before the end of the previous season and I am sure that the new designs will be available as soon as a sponsorship deal is signed.
We cannot expect a sponsor free shirt again; there is no way we can turn up our noses at money now. Lanway are considered favourites to renew the deal.
There is no definite news of the kit but the home claret & blue kit is predicted to be more tradition Villa than Burnley whilst the away kit is though to be silver/grey.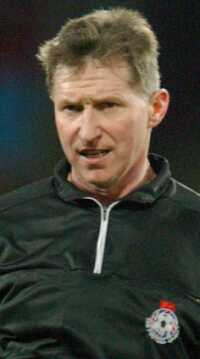 Eddie Wolstenholme - touched by Millwall
At Bradford their full back Lewis Emanual has put in a transfer request but this has been turned down in no uncertain terms by Chairman Gordon Gibb. They have offered him an increase on a two-year option and Gibb has put the blame onto his agent, former Bradford player Peter Jackson. "I think it's a case of the agent getting involved when there is no need. It is a clear case of an agent spitting a dummy out," said Gibb.
It is a difficult day for those at Bradford today as they commemorate that dreadful fire of 18 exactly years ago today. A memorial service will be held in the City and our thoughts will be with them.
Rotherham's former Claret Alan Lee has got all excited with his recent form and now thinks he is a top Premiership player with a glittering international future. He has said that he now carefully needs to look at the situation and Rotherham might not be big enough for him any longer. I suppose it serves Ronnie Moore right, after all he has been praising him during this season far too much.
It has been suggested that Ferguson, Wenger, Houllier, Robson and Ranieri have as yet shown no real interest in the Irish striker.
No wonder we had everything going against us at Millwall from referee Cooperman. The answer is that the South London look after the referees far too well. This week Blackburn referee Eddie Wolstenholme contacted them to thank them for making last week's match so memorable for him.
They presented him with a Millwall shirt signed by all the players taking part from both sides (Millwall and Coventry) with it being Wolstenholme's last match before retiring. The referee admitted to being touched at the gesture from Millwall.
Apparently there was nothing similar for David Elleray at Newcastle where we hear they did no more than pay his bus fair home. Having said that I couldn't take my mind away from the 1994 Play Off Final as I watched Elleray blow his whistle for the last time last week.
Dario Gradi - back at the Turf next season
One of the newly promoted clubs Wigan have been in the news this week with Chairman Dave Whelan announcing that any players coming into the JJB Stadium would have to be under the age of 30.
Manager Paul Jewell, who obviously has to do as he is told at Wigan with Whelan running just about everything, made no comment. He was probably speechless after realising that the whole world now knew just who was running the team.
There will be no lap of honour for the home team at the Stadium of Light this afternoon as they depart the Premiership with a home game against Arsenal. The side who was struggling with just 18 points at Christmas look set to end the season with 19 points.
A home draw against Blackburn is their only point in 2003 as yet and this has ensured Burnley's first ever visit to the best of the new football grounds next season.
The other relegated club West Brom have announced season ticket price increases for next season although their discount period runs until the end of June. This is the first price increase for five years (yes prices were held for the Premiership season) but they must have been expensive five years ago.
Finally it is also a welcome back to Crewe and a visit for Burnley fans to what is considered to be the best fish and chip shop outside any ground in England. Nothing has been confirmed as yet but it is thought Crewe were concerned that they could lose manager Dario Gradi following this success and have tied him down with a new 45 year contract.
That's it for this week but whatever you do – don't go down to the Turf on Wednesday. They are closed. They're off (to the races we are told).