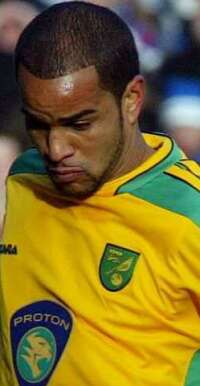 Leon McKenzie - two goals on his debut
If you are going to make an impact at a new club then how about scoring twice on your debut as your team wins its local derby away from home. That's exactly what Leon McKenzie did for Norwich.
He signed for the Canaries only last Wednesday in a £325,000 deal from Peterborough and went straight into the team. And what a day for him as they came back from Ipswich with a 2-0 win despite the Tractor Boys having dominated much of the game.
With Matthias Svensson also newly signed and in the team and hopes that Darren Huckerby will return on a permanent basis it is going to be difficult not to consider the Christmas front runners as anything but potential promotion candidates.
Their chance to go top came a day earlier when West Brom went down 1-0 in a West Midlands derby at Coventry. An 89th minute goal from loan man Johnnie Jackson gave Eric Black a second successive win. A 1-1 draw would have seen the Baggies absolutely level at the top with Norwich in terms of points, goal difference and goals scored.
Ipswich maintain a top six position but only one of the other three were able to record a win and that was Wigan. In an amazing game at Crewe it was 2-2 with only twenty minutes gone but a Jimmy Bullard goal saw the Latics well and truly out of their bad run with a second successive win.
But the major talking point was Crewe's first goal scored by Billy Jones. It was a stunner, scored on the volley from outside the box as he turned onto a ball from the right. He won't score many better in his entire career, and this was his first.
Jones is the latest from the Dario G production line, is just 16 years of age and is already being tipped for stardom. The Crewe boss has set up a youth system there that is just incredible and had the club been big enough to be able to hold onto them they would probably have made the Premiership.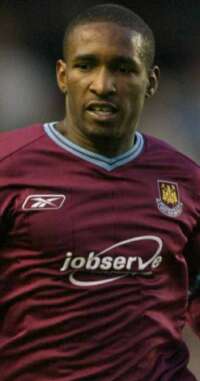 Jermain Defoe - sent off for third time this season
West Ham scraped a draw at Walsall with a Marlon Harewood equaliser but they had to play most of the game with ten men after Jermain Defoe was sent off after just seven minutes for kicking out at a Walsall player. This was his third red card this season and he could face a long suspension.
Referee Scott Mathieson from Unprofessional land had no hesitation after he saw Defoe kick Ian Roper but video evidence does suggest that there was no intent whatsoever and the referee has promised to take another look.
Whilst on the subject of bad decisions the one at the Stadium of Light will take some beating. It came in stoppage time almost immediately after Sunderland had scored their winner against Franchise.
Kevin Kyle was fouled by Rob Gier and that is not in question. Referee Mark Warren immediately gave the free kick. As Kyle got up Gier quite clearly had something to say to him so Kyle pushed the Franchise player in the chest.
Up stepped Mark Warren. He told Sunderland's Jason McAteer, who was trying to prevent any cards, that he was going to issue two yellow cards and that is exactly what he did.
Yellow card number 1 went to Kyle for pushing Gier and yellow card number 2 went to Kyle for doing so in an aggressive manner. So Warren waved yellow, yellow again and then red.
Sunderland manager Mick McCarthy went crazy with his whole performance being shown over and over again on television. Fulham manager Chris Coleman, watching on television yesterday morning, claimed that referee Warren should now be the one facing a suspension.
Franchise's defeat at Sunderland is good news for the Clarets as was BRBC's home defeat against Rotherham. These two seem keen to take the bottom two places which should mean there is only one relegation place up for grabs.
I might be considered pessimistic but I am worried. Any side that can concede goals at the alarming rate the Clarets do is more than capable of going down.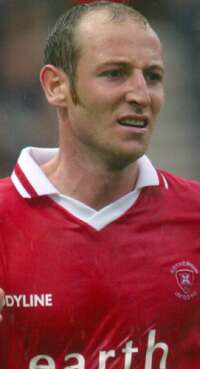 John Mullin - scored superb second to clinch it for Rotherham
Well done to John Mullin at the Bradford & Bingley Pulse Flamingo Land Valley Parade Stadium, he scored a stunning free kick goal to clinch The Millers' fourth win in five games. Their run of seven games without defeat has seen them climb out of the bottom three to the relative safety zone of 15
th
.
All the fun at Reading came before their home game with Crystal Palace. It was just thirty minutes before kick off when Palace Chairman Simon Jordan decided to tell Kit Symons that this would be his last game in charge. But not in private, right in front of a whole group of people in the most embarrassing way possible.
Best of luck Iain Dowie, you will need it. I certainly wouldn't want to work for Jordan and according to this week's newspaper reports neither did Stan.
Match of the weekend had to be ours at Preston. I spoke to a friend last night who supports neither club but went to the game. He said it was the most amazing match he had seen in years. Being a Blackpool fan (yes someone has to be) he was not amused with the match programme at all.
He watched the game from the Bill Shankly Kop with the Burnley fans, he hadn't seen such a gathering being a Blackpool fan since the lights were switched on.
With the Derby v Sheffield United and Nottingham Forest v Gillingham games both called off because of waterlogged pitches that just leaves Cardiff v Millwall, where the in their face Millwall side visited the most hostile place in the Football League.
Needless to say there was some crowd trouble and needless to say it was prompted initially by the visiting players approach. Just please I wasn't there.
But Millwall won it 3-1 against a currently struggling Cardiff. The Bluebirds are a poor side who just happen to have two goal scorers. It happened last season with Forest and Franchise finishing far higher than their overall ability and Cardiff's current tenth place is way above where they really could be. But with Earnshaw and Thorne they will finish in a lofty position.
Christmas will be party time in Norwich with a few bottles being opened in West Brom. Not much to celebrate though if you are a supporter of Derby or Bradford City. I exclude the club in bottom place, they do not have any supporters.
But best wishes to supporters of all of the clubs over the festive period, even the West Ham fan who had a word with me outside the Boleyn Ground, his comments cannot be repeated.
There are no fixtures whatsoever next Saturday but a full fixture list on Boxing Day and then on the Sunday. All games kick off at 3:00 p.m. unless otherwise shown.
Friday 26th December
Cardiff City v Walsall (12:00 noon)
Coventry City v Sheffield United
Crewe Alexandra v Burnley
Crystal Palace v Millwall
Gillingham v Watford
Norwich City v Nottingham Forest (5:35 p.m.)
Reading v Franchise
Stoke City v Preston North End
Sunderland v Bradford City
West Bromwich Albion v Derby County
West Ham United v Ipswich Town
Wigan Athletic v Rotherham United
Sunday 28th December
Bradford City v Coventry City
Burnley v Stoke City
Derby County v Norwich City
Ipswich Town v Crystal Palace
Millwall v Gillingham
Nottingham Forest v West Ham United (12 noon)
Preston North End v Crewe Alexandra
Rotherham United v Sunderland
Sheffield United v Wigan Athletic
Walsall v Reading
Watford v Cardiff City (1:00 p.m.)
Tuesday 30th December
Franchise v West Bromwich Albion (7:45 p.m.)
Leading Goal Scorers (League Only)
16: Robert Earnshaw (Cardiff)
15: Marlon Harewood (West Ham – 12 with Nottm Forest)
14: Ricardo Fuller (Preston)

12: Robbie Blake (Burnley)

11: Peter Thorne (Cardiff)
10: Steve Jones (Crewe)
10: Andy Reid (Nottm Forest)
9: Jermain Defoe (West Ham)
9: Rob Hulse (West Brom)
9: Andy Johnson (Crystal Palace)
8: Dean Ashton (Crewe)
8: Pablo Counago (Ipswich)
8: Dougie Freedman (Crystal Palace)
8: Andy Liddell (Wigan)
8: Peter Ndlovu (Sheff Utd)
7: Darren Bent (Ipswich)
7: Darren Byfield (Rotherham)
7: Nathan Ellington (Wigan)
7: Scott Fitzgerald (Watford)
7: Nicky Forster (Reading)
7: David Healy (Preston)
7: Geoff Horsfield (West Brom - 7 with Wigan)
7: Jason Koumas (West Brom)
7: Ian Moore (Burnley)

7: Marcus Stewart (Sunderland)