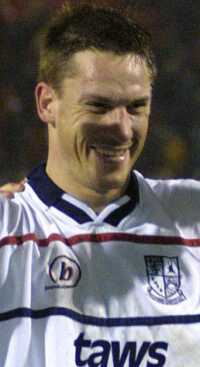 Lee Mills - scored Telford's winner against Dario G's Crewe
Of the nine to go out just two of them fell to lower division clubs with Crewe, on such a good recent run, suffering more than any other as they went out to Conference club Telford United.
Worse still it was in front of their own supporters at the Alexandra Stadium made worse by the fact that Telford could almost call themselves local rivals. They won it with an early goal from Robbie Blake's former striker partner at Bradford City Lee Mills.
There was no doubt that Telford were the headline grabbers but well done also to 2nd Division Luton who went to the Bradford & Bingley Pulse Flamingo Land Valley Parade Stadium and saw off BRBC with more ease than the scoreline of 2-1 suggests with Adrian Forbes scoring both goals.
Crystal Palace and Norwich both went out to Premiership clubs. Palace couldn't contain Tottenham's Kanoute who scored all three in their 3-0 win whilst Norwich came up against some poor officials with all the crucial decisions going against the Canaries.
There were seven all First Division clashes with results in five of them. Ipswich beat Derby whilst Millwall saw off Walsall who also had two players sent off.
There was better news for Paul Hart. Many are tipping the beleaguered Forest boss to be next to lose his job but he saw his side win 1-0 against West Brom via a somewhat dubious looking penalty.
West Ham won at Wigan despite an excellent own goal from loan player Wayne Quinn whilst Sheffield United went to Ninian Park and beat Cardiff.
Four other First Division clubs will meet each other again in replays. Preston drew 3-3 with Reading at Deepdale with deflected goals all over the place whilst Stoke earned themselves a replay after drawing in front of the smallest crowd of the round at Franchise.
The other two facing replays are Rotherham after a draw at Northampton and Watford who travel to Chelsea after a 2-2 lunchtime draw at Vicarage Road. That was the match with blatant penalties not given and goals awarded when they didn't go in. Those poor decisions took some believing and the assistant in particular needs to be removed and have the rules explained to him.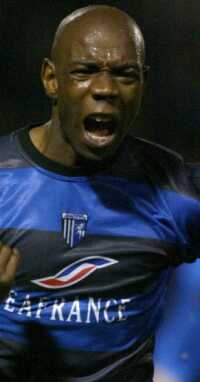 Ian Cox - his own goal counted for nothing as Gillingham went through
And that leaves three who went through against lower division opposition – Burnley, Coventry and Sunderland and the only one to beat Premiership opposition – Gillingham.
Just a word about the Sunderland v Hartlepool game. The visitors did all they could to prevent Sunderland from lowering the prices but with both sets of fans against them they lost out when the FA had to intervene. An attendance of over 40,000 showed that the money grabbing 2nd Division club had it wrong.
And finally Gillingham who did it the hard way, going 1-0 down after just 38 seconds against Charlton but came storming back to win it 3-2. Charlton were the only Premiership club to go out to a Nationwide League club.
All the big guns are still in there even though both Manchester United and Arsenal went 1-0 down yesterday in their all Premiership clashes at Villa and Leeds respectively. But can Arsenal lose just now with Thierry Henry on the pitch in that sort of form?
Telford at home for some revenge is what some want – Manchester United away is probably what the club want. We'll find out around 1:00 p.m. today. Below are the numbers in the draw:
1 Franchise or Stoke City
2 Sheffield United
3 Burnley
4 Telford United
5 Barnsley or Scunthorpe United
6 Portsmouth
7 Northampton Town v Rotherham United
8 Fulham
9 Manchester City or Leicester City
10 Newcastle United
11 Liverpool
12 Birmingham City
13 Nottingham Forest
14 Watford or Chelsea
15 Kidderminster Harriers or Wolverhampton Wanderers
16 Gillingham
17 Swansea City
18 Arsenal
19 Tottenham Hotspur
20 Manchester United
21 Southend United or Port Vale or Scarborough
22 Sunderland
23 Tranmere Rovers or Bolton Wanderers
24 Preston North End or Reading
25 West Ham United
26 Middlesbrough
27 Ipswich Town
28 Coventry City
29 Everton
30 Accrington Stanley or Colchester United
31 Luton Town
32 Millwall