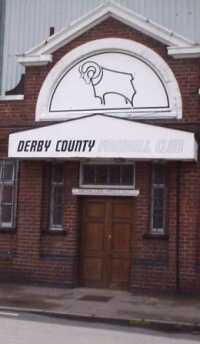 Main Entrance at the soon to be gone Baseball Ground
Sunday will see Cardiff and QPR fight for the right to win promotion to the First Division whilst the day after Sheffield United and Wolves will be looking to get out at the other end in their bid to join Portsmouth and Leicester in the Premiership next season.
Sheffield United won one of the best games of the season against Forest to claim their day in Cardiff. It was all a turn round at Bramall Lane after a first leg when Forest boss Paul Hart and former player Kenny Burns both slammed Warnock's time wasting tactics.
When tickets went on sale to Sheffield United season ticket holders and executive members over the weekend a massive 18,000 were snapped up. With Wolves having sold 6,500 yesterday the Blades are currently in front but both are expected to sell their 33,500 allocations.
For the Second Division tie it will be almost a home match for Cardiff and they are clear favourites to win this one in their own City.
Have you heard of The Walbrook Group? I thought not but they have just bought a former Premiership football ground. Despite moving in 1997 Derby County have retained the Baseball Ground. It was used for reserve games and more recently by the academy.
However the very last match will be played there a week today, a fans' match, before the ground is no more. The Walbrook Group are a charitable housing association and they have bought it and intend using the land for low cost housing.
It struck a chord when I heard the news and I could almost feel that two tier stand moving again to the strains of "Jimmy Mullen's Claret & Blue Army". It was never the best of grounds for us in terms of results but that day will remain unforgettable. The ground may be going but the memories will stay.
Still at Derby and there is still confusion over the position of suspended/sacked/appealing manager John Gregory. Latest suggestions are that he told young players they would only get in the first team if they signed up with a particular agent, but still there is no confirmation of what really happened. His appeal date has been put back again and the saga continues.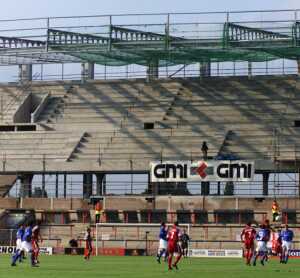 The Purple Stand under construction during the 2002/03 season
Walsall opened their two tier Purple Stand during last season and after just a few matches are making changes to it. The lower tier was terraced but by the time next season kicks off seats will have replaced the standing area.
Saddlers' owner Jeff Bonser has just announced reductions in season ticket prices for next season but only if they are purchased before the deadline date, which is the end of June. Bonser says he wants to make it affordable and wants to see as many seats as possible filled at the Bescot next season.
That's an interesting idea, reducing the prices to try and increase the numbers. Well done Walsall and hopefully it will bring the desired results.
Nobody has bothered to tell West Ham about the idea though and they announced their season ticket prices this week (amazing that some clubs announce prices two weeks after our discount period has come to an end).
Don't worry you Hammers fans a season ticket is not going to cost you a fortune. You can get one for as little as £425 in the worst seats whilst a restricted view ticket in the East Stand Upper will be as little as £480. If you are not happy with that then try a seat in the centre section of the Dr. Marten's Stand – a mere £620. Has anyone bothered to tell them that they have been relegated? I think we can expect high prices for our visit there next season.
Regarding away matches and the good news is that the away stand at Norwich has finally had its day. That means restricted numbers next season and it looks as though Norwich fans may be getting the opportunity to watch the Canaries' home games at the cinema. The UCI in Norwich has just become the second cinema in the country to be fitted with new state of the art digital equipment and this will make it possible for them to show the games live.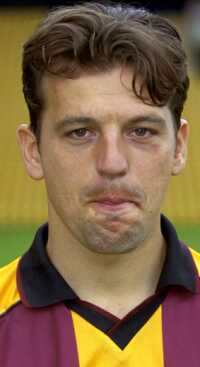 Robbie Blake - could be back in a Bradford shirt
If it goes ahead much will depend on whether the Norwich fans would prefer one of Delia's pies or popcorn as to where they choose to watch it.
Some games have been called off this week. Bradford wanted to stage a match to celebrate the club's centenary by bringing back together their 1996 2nd Division promotion team to play their 1999 1st Division promotion team. Unfortunately too many players were unavailable and they hope to re-arrange it for pre-season. If it goes ahead then Robbie Blake would be wanted to play in the 1999 team.
I bet you had no idea that Reading were the Team of the Millennium. That's their boast and this is because the 292 points they have won since the beginning of 2000 is higher than any other club. Having said that Manchester United have just four points less from significantly less games so it is something of a hollow boast from a club that has just missed out on the play off final. For what it is worth the Clarets have collected 247 points.
There is no news from Deepdale where The Weary Whinger Craig Brown is much too busy putting his collection of refereeing mistakes together. With every decision that has gone against Preston this season including it now looks as though it is going to be a very expensive collection of six DVDs.
Franchise have had another kick where it hurts when Luton became the third club to scrap a pre-season friendly against them because of pressure from their own fans. This game was scheduled for Kenilworth Road and not Milton Keynes.
If we were awarding a Team of the Week award then it would go to Luton because not only have they cancelled that match but have replaced it with a fixture against AFC Wimbledon. Well done Luton, to the club and to the fans whose pressure brought this about.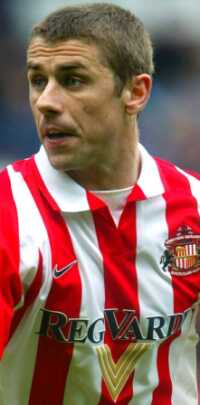 Kevin Phillips - won't be in the Nationwide with Sunderland
The AFC Wimbledon fans gave our supporters special praise when they met with members of the London Clarets at one of their recent matches. They were thankful and grateful to the Burnley fans who stayed away from Selhurst Park a couple of weeks ago and for the support they have received from Clarets' fans during the last two years.
And finally to transfer news and some speculation with the major news centred on players who will probably not be in our division next season.
It was no surprise when Kevin Phillips announced that he intends to leave Sunderland. He has gone from the Premiership's Golden Boot winner three years ago to just six goals this season. He has promised the Mackems though that whatever happens he will never sign for Newcastle.
It looks as though they will be feeding the goat next season with KKMC's Shaun Goater looking almost certain to become a Sunderland player.
He will be one of a number to leave the Stadium of Light and two high-profile Italians will not be at the Turf next season. Derby have released Fabrizio Ravanelli whilst Paolo Di Canio has received a free transfer at West Ham.
Having seen Ravanelli's performance at the Turf earlier this year it is hardly surprising news and the fall out between West Ham and Di Canio was well publicised. The latter could yet rejoin the Spiv at Portsmouth and remain in the Premiership.
But what of Lee Bowyer. Only a year ago he looked all set for a multi-million pound move to Liverpool as cash strapped Leeds looked to make some money on him. Gerard Houllier pulled the plug on that deal and more recently Leeds got him off the wage bill by selling him to West Ham for just £100,000 (no there is not a zero missing). Now the Hammers have released him on a free transfer. That is an amazing turn around for someone who has played for England during the last season.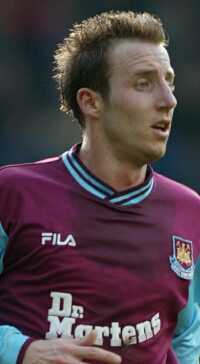 Lee Bowyer - multi-million pound player gets free from relegated West Ham
There have been other surprising departures and none more than Ipswich keeper Andy Marshall. Joe Royle, who blamed the club's failure to reach the play offs on the fact that they were in administration, has denied that he would like to sign Everton's Paul Gerrard as his replacement. David Moyes has said that Royle has already been in touch.
Two clubs claim to have all but agreed deals with mystery strikers. Watford have had three sets of talks with their target whilst Stoke boss Tony Pulis is all set to unveil their mystery 23 year-old striker with Premiership and First Division experience.
We certainly wouldn't want to spoil it for Watford and Stoke fans but we are led to believe that the Watford target is Barnsley's out of contract striker Bruce Dyer whilst the big mystery 23 year-old could well be the striker Watford have just released, Gifton Noel-Williams.
Neil Cox has decided to stay at Watford and Gillingham boss Andy Hessenthaler has continued his search for defenders elsewhere. This week Blackpool's John Hills was at the Priestfield for talks and he looks all set to sign after turning down an offer from Burnley. Hills it is thought received an offer from Burnley that was worth less than the offer he turned down from the Seasiders.
Rotherham have hit an obstacle with their mystery target – and that is Lee Briscoe. They have said they have other options if the deal does not go through.
And finally this week the speculation that Teddy Sheringham could be returning to Millwall. The Kebab Seller Theo Paphitis has confirmed that the club would love to sign him but doesn't believe they can afford his wages.
By next week we will know exactly who is in the First Division after the play offs are complete and we will know exactly where we are going as we take another look Around One.