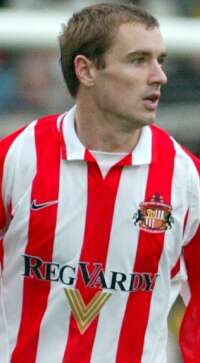 Colin Healy - broken leg
The week didn't get off to the best of starts when Dennis Wise said he wanted his Millwall side to be a horrible side. This side has already given away far more free kicks than any other side yet Wise first defends another Muscat red card and then admits he wants them to get worse.
Muscat is apparently on a final warning and Kebab Seller Paphitis is supposed to be cleaning up the club's image. I reckon Wise has knocked them back a few years with this.
But on Monday, for those of us watching the Coventry v Sunderland game on Sky we had the sickening sight of a player suffering a dreadful injury made worse by the fact that it came from an awful challenge from Coventry's Youssef Safri. Incredibly referee Jones took no action, you have to wonder just what he is doing on the pitch if he misses things like this.
Sunderland have confirmed that Healy has a broken leg, it came as no surprise, and an upset manager Mick McCarthy said, ""I wanted to talk about the game, which was an open game with both teams trying to win it, although neither of us could finish the other off.
"Instead, I am talking about Colin Healy because we have got a player lying in a hospital bed with a possible broken leg or ankle. I have seen the tackle and I think it was a bad tackle, it was over the ball. I am not saying there was malicious intent, or that it was meant, but he's missed the ball and hit Colin's leg.
Coventry player-boss McAllister agreed that Moroccan Safri had not intended to hurt Healy when he was asked what view of the tackle he had.
"It's not what I saw it's what I heard," said McAllister. "I heard a big crack and I hoped it was a shin pad but it was very disturbing to see a player downstairs on oxygen after the match.
"It was perfectly innocent, I have played with Youssef Safri for 18 months and he is not malicious. He went for the ball and the referee was two or three yards away. Youssef is feeling for Colin and I can assure you there was no intent."
Intent or not this was horrible and follows on from the tackles by Ashley Cole and Steven Gerrard in the Premiership at the weekend. Surely the FA will take action with Safri haven't gone unpunished by Jones.
For what it is worth the game ended 1-1 with a McAllister penalty equalising an excellent finish from Stewart Downing.
Last night Sheffield United went second with what was described as an easy win against Walsall. It came as no real surprise to see that Lee Baxter was not in goal and Alan Fettis made two good saves before the home side went on to dominate the game and they won it with goals from Mr. Karren Brady and Nick Montgomery.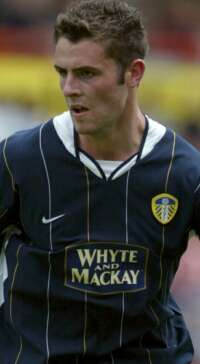 On loan Frazer Richardson scored to condemn West Ham to defeat
There was certainly no bubble blowing at the Boleyn Ground last night, just the boos as West Ham went down 1-0 to struggling Stoke. The West Ham fans have not taken to Alan Pardew, some made it clear they didn't want him even before he had started work, and they are quick to turn on him when things go wrong.
Pardew will not take much more of this poor football though. "We weren't at the races tonight," conceded Alan Pardew looking at a Hammers record now reading a miserable one victory from 11 starts.
"Too many players put in below-par performances. This team is now on a knife-edge. I need to get this club up and the players need to show me that they want to stay here and play.
"If that's not the case then I'm going to have to make some changes. I'm fed up with words I want to see some action."
Stoke's win came courtesy of a goal from Frazer Rchardson on loan from Leeds and took them out of the bottom three. So welcome to Crystal Palace who have arrived in the relegation positions. Not bad this considering they won their first three games of the season.
Palace turned in a first half performance that was described as dire by caretaker player boss Kit Symons and they were two down after just sixteen minutes at home to Crewe. It did improve slightly in the second half and they did pull one back but a second from Dean Ashton won it 3-1 for Crewe.
Dario G gave a debut to Luke Varney a 21 year-old striker signed from Midland Alliance League Club Quorn during the summer. Varney rewarded him with the second goal.
Top of the league West Brom, now nine away games without defeat, beat Bradford at the Bradford & Bingley Pulse Flamingo Land Valley Parade Stadium with a late goal from Scott Dobie. The 1-0 specialists did it again and the result was just about fair.
Robson has his work cut out and without the Steve Gibson millions to spend could have a major struggle keeping them up. That could be even more difficult if he continues to pursue Paul Gascoigne.
And finally another late goal earned Cardiff a point at Ninian Park against Preston. Thorne scored in stoppage time to win the Bluebirds a point in a 2-2 draw. The Weary Whinger was disappointed and guess what – yes, he though the last goal should not have been allowed. Apparently Thorne strangled his defender to get to the ball. That will be one for his video.
Saturday 13th December
Burnley v Coventry City
Crystal Palace v Nottingham Forest
Franchise v Walsall
Gillingham v Preston North End
Millwall v Ipswich Town
Norwich City v Cardiff City
Rotherham United v Derby County
Sheffield United v Watford (5:35 p.m.)
Stoke City v Reading
West Bromwich Albion v Crewe Alexandra
West Ham United v Sunderland
Wigan v Bradford City
Leading Goal Scorers (League Only)
16: Robert Earnshaw (Cardiff)
14: Marlon Harewood (West Ham – 12 with Nottm Forest)

10: Robbie Blake (Burnley)

10: Ricardo Fuller (Preston)
10: Andy Reid (Nottm Forest)
9: Rob Hulse (West Brom)
9: Peter Thorne (Cardiff)
8: Dean Ashton (Crewe)
8: Pablo Counago (Ipswich)
8: Dougie Freedman (Crystal Palace)
8: Steve Jones (Crewe)
8: Andy Liddell (Wigan)
8: Peter Ndlovu (Sheff Utd)
7: Darren Bent (Ipswich)
7: Jermain Defoe (West Ham)
7: Nathan Ellington (Wigan)
7: Scott Fitzgerald (Watford)
7: Nicky Forster (Reading)
7: Jason Koumas (West Brom)