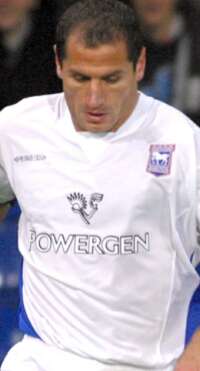 Shefki Kuqi - scored twice for Ipswich
There was a 6-4 home win, 6-1 and 5-1 wins away from home with a couple of big draws, 4-4 and 3-3 in South Yorkshire. And as difficult to believe as it is the 'Throw One In' experts Burnley were not involved in any of them.
Portman Road was the place to be if you wanted to see the most goals as Ipswich beating Crewe by six goals to four, and the home side got eight of them with a couple of the Crewe goals being recorded as own goals.
Dario G did a Stan after the game and blamed his goalkeeper Clayton Ince for all six but as bad as Ince is between the posts he looked anything but to blame for ALL of them. Crewe actually matched the home side goal for goal until the last twenty minutes.
But if that was exceptional what about the two massive away wins for, of all clubs, Coventry and Crystal Palace, as they scored eleven goals between them.
Coventry, under Eric Black's permanent management for the first time, went in at Walsall at half time level at 1-1 with Walsall scoring in stoppage time. But the second half belonged to the visitors as they scored five times to win it 6-1 with Andy Morrell and Gary McSheffrey, both recently restored to the side, scoring twice each.
Not to be outdone and Palace nearly matched them. Unable to score a solitary goal at home against the Clarets a week earlier they more than made up for it at Watford. They couldn't quite equal Coventry's score though and had to settle for a 5-1 win.
If someone had told Martin Butler that he would score a hat-trick against Norwich I'm sure he would have been convinced that he would be picking up a win bonus. He came close but Norwich scored in the 89th to earn a 4-4 draw.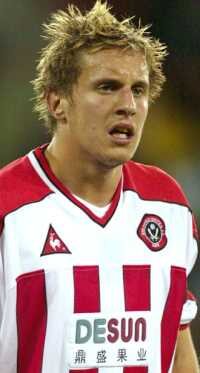 Phil Jagielka - equaliser deep into stoppage time
Just across the M1 two and a half hours later and there was another goal feast this time at Bramall Lane in the televised match. Sheffield United looked beaten at 3-1 down with just eighteen minutes left on the clock.
But former Claret Paul Shaw pulled one back on his debut and Phil Jagielka headed in an equaliser in the 4th minute of stoppage time. They even managed to miss a penalty in between the last two goals.
Preston, they are fast getting a reputation for conceding goals, lost their recently gained place in the top six as they crashed 4-2 at home to Wigan. They were behind with only just over thirty seconds gone, that's how long it took Jason Roberts to score on his debut.
The result actually flattered Preston and their second came from a late penalty for a foul well outside the box. There has been no complaint on this occasion from the Weary Whinger at the poor decision, he must only have something to say when they go against his own side.
And now to the normal looking results starting with Millwall and Sunderland at The Den. The home side brought an end to Sunderland's recent run of four successive league wins and predictably the goals came from one of their own former players Daniele Dichio who scored both Millwall goals in the 2-1 win in his first game on loan from West Brom.
That leaves, apart from our rather sedate 1-1 draw, with two 1-0 scorelines. Nottingham Forest went down yet again. That's five defeats on the trot and twelve without a victory. Paul Hart's position is no longer looking very secure and there are suggestions that this could have been his last match in charge at the City Ground.
It is hard to believe that they went second when they beat us back in September but two wins since has seen them drop to 21st, just a point above the drop zone.
And so to the packed NHS in Milton Keynes where I am delighted to report that again there weren't many more than 3,000 to witness another Franchise defeat. The main excitement came with a brawl involving just about all the players and some eagle eyed officials being able to pick out one player from it all to send him off.
It was a weekend that saw eight players sent off in the twelve games and that without the services of Phil Prosser or Trevor Kettle.
It means that we are closer to the bottom despite moving up a place with no changes in the bottom three whilst up the top the only change is to see Wigan back in the top six at the expense of Preston.
It is time to take a week off from league action for most of us but there will be one game going ahead on Saturday, that between BRBC and Crystal Palace at the Bradford & Bingley Pulse Flamingo Land Pension Scheme Valley Parade Stadium. That kicks off at 3:00 p.m.
For the rest of us there is an even split with eleven playing FA Cup ties and the other eleven having a completely free weekend.
Leading Goal Scorers (League Only)
17: Robert Earnshaw (Cardiff)
17: Marlon Harewood (West Ham – 12 with Nottm Forest)
15: Ricardo Fuller (Preston)

14: Robbie Blake (Burnley)

13: Andy Johnson (Crystal Palace)
13: Steve Jones (Crewe)
13: Peter Thorne (Cardiff)
11: Pablo Counago (Ipswich)
11: Jermain Defoe (West Ham)
11: Nathan Ellington (Wigan)
10: Dean Ashton (Crewe)
10: Andy Reid (Nottm Forest)
10: Marcus Stewart (Sunderland)
9: Martin Butler (Rotherham)
9: Dougie Freedman (Crystal Palace)
9: David Healy (Preston)
9: Geoff Horsfield (West Brom – 7 with Wigan)
9: Rob Hulse (West Brom)
8: Scott Fitzgerald (Watford)
8: Jason Koumas (West Brom)
8: Jack Lester (Sheff Utd)
8: Andy Liddell (Wigan)
8: Peter Ndlovu (Sheff Utd)
8: Paul Peschisolido (Sheff Utd)