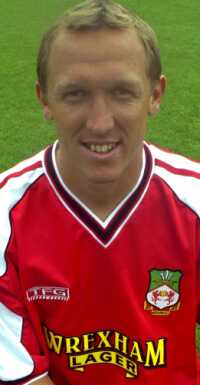 Wrexham's Andy Morrell has signed for Coventry
The season is now over and we are able to say goodbye to Portsmouth, Leicester, Wolves, Sheffield Wednesday, Brighton and Grimsby whilst welcoming (if welcoming is the right word) West Ham, West Brom, Sunderland, Wigan, Crewe and Cardiff.
Coventry were the first club to reveal the name of a new player with the signing of Andy Morrell from Wrexham. The 28 year-old striker has scored a total of 35 league goals this season with all but one of them coming in the league. Incredibly in four previous seasons at Wrexham he had scored just six league goals.
Stoke have confirmed the capture of Watford's Gifton Noel- Williams. In true tabloid style we can say that we told you first with the striker's name revealed here last week. It appears to be a signing that hasn't quickly captured the imagination in the Potteries.
One transfer that won't be going ahead is Darren Huckerby from KKMC to Nottingham Forest, he decided against it once Forest had failed to make the Premiership.
Having kicked Glen Little in the head in 2002 and having brought Lee Briscoe's Burnley career to a premature end with a dreadful challenge Norwich City's Darren Kenton has moved onwards and upwards to Southampton. I for one will feel all the better for not having to watch Kenton next season and I would have thought the Burnley players would be able to feel a bit safer when they take on the Canaries without him in their side.
As Kenton takes a step up so Crewe's Rodney Jack has dropped down and taken the money. Despite an offer to stay at Crewe he has opted for a more lucrative deal to sign for Rushden & Diamonds. The Crewe fans are not happy with his attitude and who can blame them.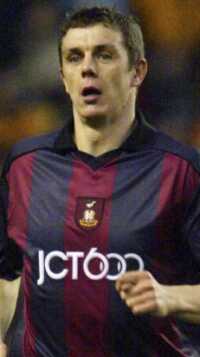 Andy Tod - Bradford won't play him again to avoid having to pay out £25,000
And what about poor Andy Tod at Bradford City. He has just returned from a loan period at Dundee United who have decided against signing him on a permanent basis. Things aren't quite so much fun at Bradford these days without Mr. Pompous but Gordon Gibb is always good for a story.
"Tod has returned but has kicked his last ball for the club," says Gibb. The reason is that should he play one further game then they will have to play his previous club Dunfermline a further £25,000 and they either cannot or will not pay it. So Tod will not get a game unless someone comes in and signs him.
Who is manager of Derby County? This is one that looks set to run as long as Coronation Street. John Gregory has had his appeal against his sacking heard by Lionel Pickering but has been left waiting by the Derby chairman.
Meanwhile George Burley has suddenly decided he wants the job. Funny that he didn't seem so keen a week or so ago when the Fulham and Aston Villa jobs were still vacant.
We do know who the new Crystal Palace manager is though. After doing everything he could to bring in someone from outside Simon Jordan has finally handed the job to Steve Kember on a permanent basis. It is clear that Kember was far from first choice and the impatient Jordan won't hang around for long if they don't make a good start next season.
Coventry manager has had a rather strange vote of confidence from his chairman. He's not doing as well as previous manager Roland Nilsson apparently but the players are showing more commitment.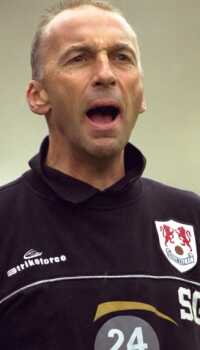 Steve Gritt - lost his job at Millwall
Millwall fans are believed to be gutted at the news that Steve Gritt and Joe McLaughlin have lost their jobs on the coaching staff with for now no sign of any replacements. And at Stoke Ian Cranson has lost his job with the youths as the only Icelandic club in the Football League restructure their coaching team.
At Watford there has been a change with Terry Byrne stepping in over manager Ray Lewington as Director of Football. I could just imagine someone trying to do that to Stan at Burnley.
Just when you think it is safe to go out Pierre van Hooijdonk has shown up again. This time he plans to sue Forest for unpaid bonuses. If I were Forest I would pay him the 3 pence he deserves and tell him to do one. There are rumours that he could be back in English football soon – surely not.

Season tickets are going on sale at a lot of clubs and if you phoned Ipswich to order one last week then you could well have got Sheep Dip himself on the phone, chairman David Sheepshanks. He decided to man the phones for a while during a quiet moment.
Who's next for administration? Some are predicting Sunderland. They desperately need to cut costs and desperately need to get rid of some of their players. The problem is they don't seem to have realised that the transfer market has collapsed and they don't look likely to get the sort of fees for players they were expecting.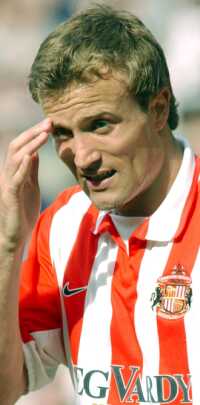 Michael Gray will be one of the players sold by Sunderland to help cut costs
Tomas Sorensen, Kevin Phillips, Michael Gray and Gavin McCann are set to head the exodus whilst the club cannot wait to get rid of others such as Joachim Bjorklund and Emerson Thome. It will certainly be a very different looking Sunderland side that starts next season than the one that has picked up just one point in 2003.
There's no news as yet regarding the manager's position at West Ham. Despite doing what we all thought he would do and take them down there has been no move as yet to sack Glenn Roeder who is recovering from a stroke. Trevor Brooking continues on a temporary basis but the board are set to act soon.
One manager has said this week that the collapse of ITV Digital actually helped his club, that was Neil Warnock. He said they would have not have had the success they have had this season had the TV company not collapsed to bring about a more level playing field.
Love him or loathe him I bet we can all think of another 1st Division club we would have liked to have seen with that positive attitude.
Finally we can finally say goodbye to two of the worst views in the division for away fans with demolition well under way on the open terracing at Gillingham and the away fans stand at Norwich.
Gillingham have had no option after three years at this level and they will replace that open end with the Brian Moore Stand, named after the former Gillingham director and ITV commentator.
Norwich are building a new stand and accommodation there will be restricted during next season but it is a thankful end to that dreadful view.
That's it in what has been a relatively quiet week in the division – and it could get quieter until we see players on the move, probably in early July.