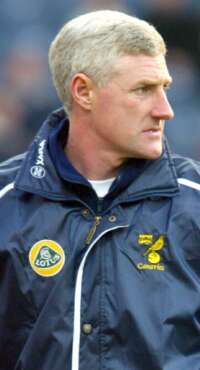 Nigel Worthington - his Norwich side are now six points clear at the top
They were one of three sides to pick up a maximum six points over the festive period and they started with a 1-0 televised home win against Nottingham Forest although they were somewhat fortunate to win the game.
The winner came from Matthias Svensson who was making his home debut for the Canaries after signing from Charlton.
Two days later they followed that up with a comprehensive 4-0 away win at Forest's rivals Derby County, a result that keeps the Clarets four points from the drop zone. All the goals came in the second half but the victory was as easy as the scoreline suggested.
Sunderland also won both their games and like Norwich did so without conceding a goal. They've had problems scoring but that all came to an end with Bryan Robson's Bradford City on the wrong end of a 3-0 scoreline at the Stadium of Light on Boxing Day when Tommy Smith scored his first goal for the Mackems since signing from Watford.
It was another Yorkshire club who they beat on Sunday with a 2-0 success at Rotherham where Marcus Stewart scored both.
The only other club to pick up six points was Gillingham. On Boxing Day morning they were two places behind the Clarets but are now six places and five points clear after following up a 1-0 home win against Watford with a 2-1 away win at Millwall.
The second win also included a rare goal for player/boss Andy Hessenthaler who continues to defy all the odds at a club where he has spent virtually nothing since winning promotion alongside the Clarets in 2000.
The Christmas turkey awards go to Burnley, Cardiff, Coventry and Nottingham Forest none of whom picked up a point.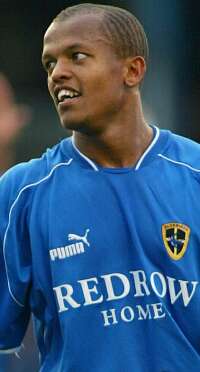 Robert Earnshaw - not a single goal in December
We know all about Burnley's poor Christmas but things were certainly no better for Cardiff who lost two games they probably expected to win. It started with a shock 1-0 home defeat at the hands of Walsall before they lost 2-1 at Watford. It is four games in a row for the Welsh side, just as it is for us, and significantly Robert Earnshaw has gone through December without scoring a goal.
Goal scorers are worth their weight in gold. Nottingham Forest had two last season who broke through the twenty goal barrier and finished in the play offs but now they have none. David Johnson is out with a broken leg and with Marlon Harewood at West Ham and the consequence is that they are now amongst the strugglers.
Incredibly when Johnson broke his leg they were second in the table but are now alongside us on 28 points. It was made even worse when Marlon Harewood scored one of the West Ham goals at the City Ground yesterday as they won 2-0.
Coventry are a poor side and they lost both their games both by 1-0. Sheffield United were the Boxing Day winners at Highfield Road but they should have got something at the B&BPFLVP Stadium despite Dean Windass giving BRBC the lead. Steve Staunton somehow managed to hit a penalty so high it nearly cleared the meccano set stand at the away end. But they had played BRBC off the park.
The full weekend results were:
| | |
| --- | --- |
| Friday 26th December | Sunday 28th December |
| . | |
| Cardiff City 0 Walsall 1 | BRBC 1 Coventry City 0 |
| Coventry City 0 Sheffield United 1 | Burnley 0 Stoke City 1 |
| Crewe Alexandra 3 Burnley 1 | Derby County 0 Norwich City 4 |
| Crystal Palace 0 Millwall 1 | Ipswich Town 1 Crystal Palace 4 |
| Gillingham 1 Watford 0 | Millwall 1 Gillingham 2 |
| Norwich City 1 Nottm Forest 0 | Nottm Forest 0 West Ham United 2 |
| Reading 0 Franchise 3 | Preston NE 0 Crewe Alexandra 0 |
| Stoke City 1 Preston NE 1 | Rotherham United 0 Sunderland 2 |
| Sunderland 3 BRBC 0 | Sheffield United 1 Wigan Athletic 1 |
| West Brom A 1 Derby County 1 | Walsall 1 Reading 1 |
| West Ham United 1 Ipswich Town 2 | Watford 2 Cardiff City 1 |
| Wigan Athletic 1 Rotherham United 2 | |
It is FA Cup week this week and so there are no league fixtures at weekend, just one remaining from the Christmas programme as follows:
Tuesday 30th December
Franchise v West Bromwich Albion (7:45 p.m.)
Leading Goal Scorers (League Only)
16: Robert Earnshaw (Cardiff)
16: Marlon Harewood (West Ham – 12 with Nottm Forest)
14: Ricardo Fuller (Preston)

13: Robbie Blake (Burnley)

12: Steve Jones (Crewe)
12: Peter Thorne (Cardiff)
11: Jermain Defoe (West Ham)
11: Andy Johnson (Crystal Palace)
10: Pablo Counago (Ipswich)
10: Andy Reid (Nottm Forest)
9: Dean Ashton (Crewe)
9: Nathan Ellington (Wigan)
9: Rob Hulse (West Brom)
9: Andy Liddell (Wigan)
9: Marcus Stewart (Sunderland)
8: Scott Fitzgerald (Watford)
8: Dougie Freedman (Crystal Palace)
8: David Healy (Preston)
8: Jack Lester (Sheff Utd)
8: Peter Ndlovu (Sheff Utd)
Average Attendances
Please note that for some Burnley matches the official attendance has been the paid attendance rather than the actual attendance and so the average is artificially high.
| | |
| --- | --- |
| 30,941 | West Ham United |
| 26,301 | Sunderland |
| 24,606 | Ipswich Town |
| 24,435 | West Bromwich Albion |
| 23,819 | Nottingham Forest |
| 21,193 | Derby County |
| 20,782 | Sheffield United |
| 16,370 | Norwich City |
| 15,837 | Cardiff City |
| 15,742 | Crystal Palace |
| 14,775 | Coventry City |
| 14,260 | Watford |
| 14,181 | Preston North End |
| 13,975 | Reading |
| 13,631 | Stoke City |
| 11,679 | Burnley |
| 11,170 | BRBC |
| 10,120 | Millwall |
| 9,184 | Wigan Athletic |
| 8,495 | Gillingham |
| 8,075 | Walsall |
| 7,800 | Crewe Alexandra |
| 6,882 | Rotherham United |
| 4,252 | Franchise |