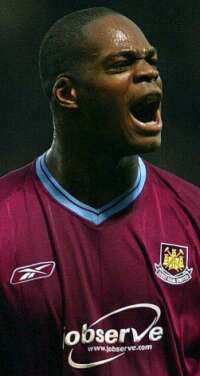 Marlon Harewood - two goals on his West Ham debut
Last season they could hardly stop scoring goals as both David Johnson and Marlon Harewood both passed the twenty goals mark in the league. But Johnson has a broken leg and now Harewood has been sold to West Ham for a cut down £500,000 and they have replaced him with another Marlon (King) from Gillingham but have paid almost double that.
Forest are currently in mid-table but I would suspect their chances of reaching the play offs again without both Johnson and Harewood must be considered remote.
And Forest post-Harewood didn't get off to the best of starts when they were soundly beaten at home by league leaders West Brom. Forest didn't introduce King until 65 minutes had gone and by that time they were already 2-0 down. A second from man of the match Jason Koumas in stoppage time gave the Baggies a fully deserved 3-0 win and Forest's poor run continues.
But for Marlon Harewood it was a somewhat better start. West Ham haven't won a game since Alan Pardew took over but that all changed when team from egg chasing land Wigan did everything possible to present him with his first victory.
The JJB lot had two sent off, put through their own goal and gave away a needless penalty, why won't teams do that against the Clarets, and West Ham stormed to a 4-0 victory. their biggest win of the season.
And needless to say Harewood got in on the act scoring the last two in the second half, the first of them from the penalty spot. I do suspect that Forest haven't come off best with this week's transfer dealings.
Norwich got back to winning ways at home but only just and it took a Darren Huckerby goal to see off Crewe. Having said that they were on top throughout the game and anything but a victory for the Canaries would have been an injustice.
The Blades remain third and are now three points clear after beating Preston 2-0 at Bramall Lane, a victory that confirmed Neil Warnock as the Manager of the Month for November in Division One.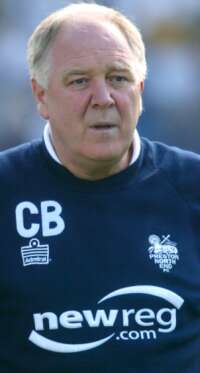 Craig Brown was complaining again
Needless to say the Weary Whinger was furious. According to the former Scotland boss Preston were the better side and got on the wrong end of some crucial decisions from Jeff Winter. In the Weary Whinger's world only Preston ever get bad decisions against them, this man really is becoming a sad joke.
Ipswich won 3-2 at Cardiff but the match was never as close as the scoreline suggests with the visitors on top for most of the game until a late rally in the last few minutes from Cardiff. Ipswich were one of the promotion favourites and are now fourth. And yet Joe Royle still complains at how Leicester got promoted last season.
They completed the signing of Shefki Kuqi last week and are now hoping to tie up permanent deals for both Alan Mahon and Chris Bart-Williams. Not bad is it for a club supposedly on the brink?
Reading got back to winning ways after we sorted them out last Tuesday and sneaked through 2-1 against Watford. They were somewhat fortunate though, the first goal was an own goal and the winner came just two minutes from time. Still it helped the Clarets move up the table.
Walsall were another team we passed as they went down 2-0 at Rotherham in a Saddlers performance that was described as woeful. I got some stick on here from some Walsall fans for suggesting they hadn't deserved their 4-1 win over West Brom on the opening day of the season.
Yesterday on television Paul Merson said that on the day West Brom were much the better side. It is no surprise, Walsall are a poor side and although only a point behind us I don't think they can have any real ambition other than just about avoiding relegation.
The same applies to Stoke who lost at Gillingham allowing the Gills to climb above us. They don't play an ounce of football but that cannot come as no surprise with Pulis in charge. They just avoided relegation last season with Ade Akinbiyi scoring a rare goal on the last day of the season, incredibly they have now signed him on a permanent basis although he wasn't in the starting line up.
I wouldn't be at all surprised to see this lot go down and the only thing I would miss is the fact that we always win at the Britannia Stadium.
Martin Butler - scored for Rotherham
With Rotherham winning Stoke are now above them only on goal difference and even Bradford sneaked three points closer when they came back from 2-0 down at half time 3-2. The national press are hailing Bryan Robson for the comeback but they were only playing Millwall who have now gone four games without a win.
They sacked Mark McGhee because eighth place wasn't good enough, it will be very interesting to see where they finish under Dennis Wise. I would suspect somewhere below eighth.
At least Bradford's win saw them leave Franchise three points adrift again. They went down 3-1 at Derby in a bottom of the table clash at Pride Park.
That leaves just one match and a 1-1 draw between Crystal Palace and Coventry at Selhurst Park. Rob Edwards scored an early goal for Palace. It was his first ever senior goal, the twenty year-old defender is currently on loan from Villa.
And the equaliser was scored in stoppage time by Johnnie Johnson on his Coventry debut coming on as a sub. He is on loan from Spurs.
There are some midweek games this week as clubs catch up on the international postponements and almost a full fixture list next weekend. And this week we have the fixture that last season attracted the smallest league gate of the season – Franchise v Rotherham just over a year ago attracted 849 to Selhurst Park.
All the midweek games kick off at 7:45 p.m. and the Saturday games at 3:00 p.m. unless otherwise shown.
Tuesday 2nd December
Rotherham United v Coventry City
Sunderland v Wigan Athletic (8:00 p.m.)
Wednesday 3rd December
Nottingham Forest v Ipswich Town
Saturday 6th December
Burnley v Sheffield United
Crewe Alexandra v Gillingham
Franchise v Rotherham United
Ipswich Town v Derby County
Millwall v Norwich City
Preston North End v Crystal Palace
Stoke City v Cardiff City
Walsall v Bradford City
Watford v Nottingham Forest
West Bromwich Albion v West Ham United
Wigan Athletic v Reading
Monday 8th December
Coventry City v Sunderland (8:00 p.m.)
Leading Goal Scorers (League Only)
16: Robert Earnshaw (Cardiff)
14: Marlon Harewood (West Ham – 12 with Nottm Forest)
9: Ricardo Fuller (Preston)
9: Rob Hulse (West Brom)
9: Andy Reid (Nottm Forest)

8: Robbie Blake (Burnley)

8: Pablo Counago (Ipswich)
8: Dougie Freedman (Crystal Palace)
8: Andy Liddell (Wigan)
8: Peter Ndlovu (Sheff Utd)
7: Jermain Defoe (West Ham)
7: Nathan Ellington (Wigan)
7: Steve Jones (Crewe)
7: Jason Koumas (West Brom)
6: Patrick Agyemang (Franchise)
6: Dean Ashton (Crewe)
6: Michael Branch (Bradford)
6: Martin Butler (Rotherham)
6: David Connolly (West Ham)
6: Scott Fitzgerald (Watford)
6: Geoff Horsfield (Wigan)
6: Andy Johnson (Crystal Palace)
6: Paul Shaw (Gillingham)
6: Steve Sidwell (Reading)
6: Marcus Stewart (Sunderland)
6: Ian Taylor (Derby)