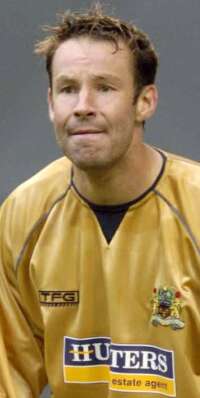 Danny Coyne - was set to play

Danny Coyne and Jean-Louis Valois were back from injury with Coyne set for his first outing in goal since being stretchered off at QPR in October. A win would certainly see us climb above Stockport and we could expect to climb a few more places in the league.



The weather still hasn't been good so it was worth checking with an afternoon phone call. Having tried to work a way round a bizarre telephone system there was finally someone on the other end. "Hello, is that Stockport County?" we asked. "This is Edgeley Park," came the reply.



That was a good start so we tried, "Is tonight's reserve game on against Burnley?" but the response was, "We don't know."



Eventually we did find out that the game was definitely on but would not be played at Edgeley Park, we were on our way to Unibond League club Woodley Sports.



The maps came out, and Woodley Sports' Lambeth Grove Stadium was located – just one final check and off we go. So at 5:30 p.m. just one more phone call. "Hello is that Woodley Sports FC?" we asked. "Yes, it is how can we help?" came the reply. "Is tonight's reserve game between Stockport and Burnley on?" we then enquired and received a, "Yes it is definitely on, there is no problem."



It is not the easiest of grounds to be found but we finally made it at just after 6:30 p.m. The floodlights were on and we looked all set. "I think it is off," said one supporter as we got out of the car. He couldn't be right surely, we knew it was definitely on.



We got into the ground to find that there was surface water just about everywhere, there was no real chance of the game being played and the referee had quite rightly called it off.



Thanks for wasting our time Unprofessionals.

The reserves are next scheduled to be in action a week tonight against Manchester United, we'll see if that goes ahead and where.