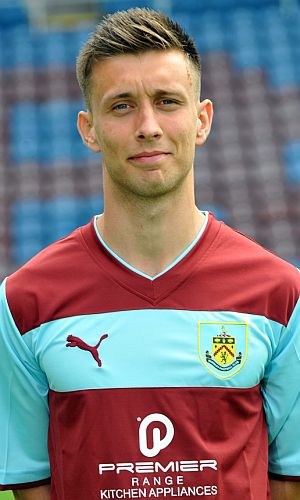 The 22-year-old O'Neill hasn't seen too much first team action with Burnley in his first two seasons as a Claret. He played in the Capital One Cup penalty shoot out win against Plymouth in August 2012, but his only other appearance was as a late substitute in the final league game of the 2012/13 season against Ipswich.
Trying to displace Kieran Trippier for the right-back shirt is not the easiest of tasks, and last season he twice went out on loan, although only one of them with any success.
In October he joined York on an emergency loan that finally went through until January before Burnley recalled him to place on the bench for the FA Cup tie at Southampton. He'd played 15 league games for the Minstermen, plus one in the cup, and scored for them in a 2-2 draw at Chesterfield when injuries forced Nigel Worthington to play him in midfield.
Having returned from York he was soon back on his travels, this time to Southend, initially for a month, but the second half of the season was a disappointing one for him.
His debut for Southend came against Chesterfield, the team he'd scored against for York, but he was forced off just before half time with a thigh injury that ultimately ruled him out for the rest of the season.
He returned to Burnley and he would have almost certainly been used when Trippier succumbed to injury himself for five games. Had O'Neill been fit he would have played and we might not have seen Chris Baird at Burnley.
At the end of the season we didn't hesitate in offering him a new deal and today he's put pen to paper to sign a new two year contract.
He said after completing the formalities: "I'm delighted to have signed a new deal and that the gaffer has given me the chance to be here for another two years. I'm looking to get fit now after the injury I sustained whilst I was at Southend last year.
"Sean saw fit to send me out on loan to get some more games under my belt and now I'm back here looking to play and compete. I know that will be hard now that we're in the Premier League but if not, then I will be looking to go out on loan again if that is something the gaffer wants me to do.
"I'm happy to be back here with a great group of lads and I'm thoroughly looking forward to pre-season."
O'Neill's signing means that we are now awaiting news only from some of the younger professionals as to whether they will accept the new deals on offer. The club revealed before the end of last season that all of Tom Anderson, Jason Gilchrist, Steven Hewitt and Cameron Howieson had been offered contracts along with Jadan Hall who had been with us last summer on trial before suffering a long term injury.