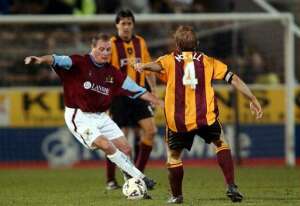 Gazza takes on Stuart McCall
If it was to be four points then we have definitely got them the right way round with it more important to get a positive result against Preston rather than Bradford. The 1-1 draw tonight has moved us up to 3
rd
place although only for a day as surely West Brom will be awarded three points tomorrow by the Football League. With Millwall losing last night and Preston's play off hopes taking another dent tonight this was not a bad result.
We should know better to think that we can win this game, apart from an FA Cup tie here in the 1959/60 season Bradford City haven't lost a game at Turf Moor since January 1937. There have only been six post war league meetings but this is just the second point we have picked up.
There was some confusion before the kick off concerning the whereabouts of Paul Weller and Alan Moore. Stan said on Sunday that Weller was going into hospital on the Monday but the club clearly said today that Weller was fit and in the squad. It appears though that he is in hospital and has had a knee operation.
We were contacted late this afternoon with news that Alan Moore couldn't be playing, he was with the squad at the Dunkenhalgh Hotel at lunchtime and was clearly limping and in no fit state to be playing football.
So it was Weller and Moore out with Little and Gascoigne in, not bad replacements. For those of us who still find it difficult to take in we can now confirm that Gazza is a Claret and the photographs shown here are for real.
We started as we did on Sunday and again we were causing problems with the pace up front. Not only that, having won a free kick just outside the Bradford box we actually forced the keeper into having to make a good save. This new guy looks handy with dead ball kicks.
Johnson was causing Bradford City major problems. He had what looked a more than promising claim for a penalty turned down and was then appallingly flagged offside when clean through. He did though eventually put the Clarets in front on 20 minutes when he was the first onto a knock down from Ian Cox following a corner.
On Sunday he became the first Claret to score on his debut since Phil Gray at the beginning of last season. Tonight though he became the first to score in each of his first two games since Mike Conroy at the beginning of the 1991/92 season.
He's tiny but a real handful for defenders and the cries of 'Sign him on' could clearly be heard again tonight. Just as in the first half against Preston though we missed chances and tonight they were to finally prove more costly than on Sunday.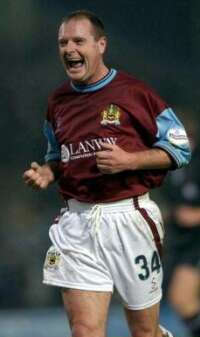 and celebrates the goal
One up at half time and the lead was more than deserved but again in the second half we allowed our visitors back into the game. They caused us problems throughout the 45 minutes but there was one major change from many of the recent home games, we were making their goalkeeper work hard for his money.
Despite not being able to continue our domination we did have a number of opportunities. Combe saved well from Ball, Grant, Moore, Johnson and twice from Gazza. One from Gazza was a powerfully hit shot from the edge of the box that he couldn't hold but the second was the save of the match. From a free kick right on the edge of the box on the left hand side Gazza curled it round the wall and it was heading for the top corner. Great effort and great save.
When it came Bradford's goal was scrappy but they all count and it did earn them a point but we pushed for a winner and we even saw Payts get a run out and he twice came close with a long range shot and then a header, both of which just flew over.
Bradford looked anything but a struggling side tonight and they were also one of the better supported teams at the Turf this season. They were probably worth their point for the second half performance and as I said the draw at the end of the day was not a bad result for us.
Ian Moore got the Man of the Match again and once more I can't disagree but I thought David Johnson was a major threat again until he tired. As for the new boy what can you say? He passed the ball well, got involved, hit the target three times and forced the keeper into three good saves. I reckon that was an excellent debut with the promise of more and even better to come. Make no mistake about it, this is a wonderful signing for Burnley and I'm sure he will retain his place in the side on Saturday at the 6-a-side ground.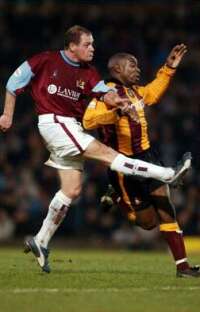 then gets a shot at goal
Preston apart this is the best we have played at home since we beat Watford in November and if we can continue to play as well as this for the last six games then I think we will be extending our season for sure.
After the performance of Paul Durkin on Sunday we were never going to get two good refereeing performances were we and we didn't. Apart from missing the penalty at 0-0 I think it was easier to pick six numbers on the lottery than to work out exactly what he was going to give. Fouls went unpunished on countless occasions and then the whistle would blow for nothing. He carded Mitchell Thomas for something and nothing but ridiculously he gave Gazza a yellow card for his first foul of the match. This could only be a referee wanting to book the star name.
So it's off to Sheffield on Saturday before we return for another full house (a completely full house) the week after. Tonight is one more point towards the play offs and I think we are going to make it.
The teams tonight were,
Burnley: Marlon Beresford, Dean West, Ian Cox, Mitchell Thomas, Lee Briscoe, Glen Little (Robbie Blake 61), Paul Gascoigne (Andy Payton 85), Tony Grant, Kevin Ball, Ian Moore, David Johnson (Brad Maylett 74). Subs not used: Nik Michopoulos, Paul Cook.
Bradford City: Alan Combe, Stuart McCall, David Wetherall, Gunnar Halle, Jamie Lawrence, Wayne Jacobs, Mark Bower, Ashley Ward, Danny Cadamarteri, Claus Jorgensen, Eoin Jess (Gareth Whalley 85). Subs not used: Jon Worsnop, Gareth Grant, Michael Standing, Juanjo.
Referee: Tony Bates (Stoke-on-Trent).