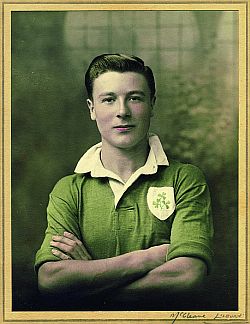 It is indeed an honour for James McIlroy MBE, the President of Burnley Football and Freeman of the Borough of Burnley, in becoming just the sixth to be entered into the Hall of Fame since its introduction in 2008.
The Irish League's most successful manager Roy Coyle was first in 2008 and he was followed by two former Irish footballers who had great careers in English football, Pat Jennings (2009) and Billy Bingham (20100.
Last year, Jimmy Jones and Glenn Ferguson, both of whom had careers exclusively in Northern Ireland, were inducted but last night Jimmy joined that elite group and received his award from esteemed journalist Dr. Malcolm Brodie, the man who penned the name 'Prince of Inside Forwards' for Jimmy.
Jimmy was back in Belfast last night to receive the award, and said: "It's a fantastic honour for me to be alongside such names and with all these awards I keep thinking I must be a better player now than I was 40 years ago.
"I have made Burnley my home, but it's always a pleasure to return home to Northern Ireland and it was an honour to receive the award from Malcolm Brodie."