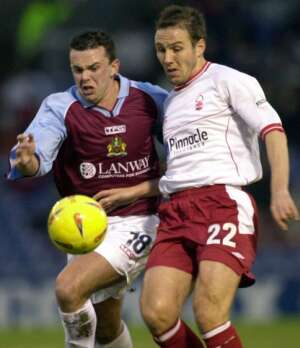 Paul Weller challenges for the ball
All the talk before the game was about the division's leading scorer David Johnson, a player who could so easily have been lining up in a Claret & Blue shirt rather than against us. He received a warm reception from the Burnley fans before the game, fans who are obviously keener to say thanks to a former player than they are to listen to the rantings of a newspaper editor.
Johnson was always likely to make it a tough afternoon for the Clarets' defence but at least he did bring with him one of the worst strikers in the First Division in Marlon Harewood who on more than one occasion gave us a laugh with his inability to control the ball.
We started well, very well in fact, and could have been two goals up very early. Gareth Taylor got his head to a Glen Little cross before we had got our seats warm but it brought a superb save from Forest keeper Darren Ward and then Paul Weller had a goal chalked out for what must have been a very tight offside decision.
But we kept pressing forward and were much the better team and we got our reward on 28 minutes when Lee Briscoe scored his first goal since the opening day of the season. It came as he met a Paul Cook cross from the right to give Ward no chance with a header into the corner. It was one of those Cooky crosses that was just begging to be headed in.
We continued to control the game and one of the features of the first half was how well we contained Johnno, not once did he really get a look in and certainly never got within shooting distance and Marlon had very little to occupy him in goal so in command were we.
There were a number of occasions in the first half when we could so easily have doubled the lead, none more so than another Lee Briscoe header that he somehow got completely wrong but with the promptings of Robbie Blake we always looked dangerous.
It was not to be though and we had to settle for a 1-0 lead at half time after 45 minutes that might have lacked the excitement of Tuesday night but a 45 minutes that had not allowed Forest many opportunities whatsoever.
There were no changes for the second half, Forest rarely make substitutions anyway, and Stan stayed with the eleven that had done so well in the first half. But it was not to be quite as good as it had been before half time.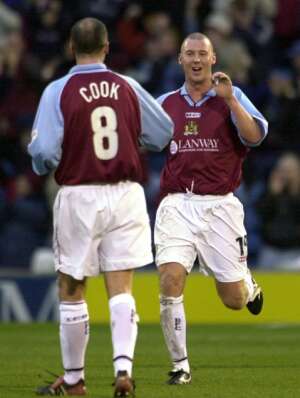 Lee Briscoe celebrates his winner with Paul Cook who provided the cross
Forest got a lot more possession than they had done earlier in the game which allowed them to get forward more but they weren't really threatening and certainly weren't creating anything in the way of clear cut chances. There was certainly some good football being played with both teams passing the ball around on the ground but it did at times just lack that bit of excitement.
The excitement was to come though just eleven minutes into the second half. When one of your own players picks up an injury you show concern, even when an opposition player gets injured there is still some concern shown, but when it is the referee he can guarantee he will get no sympathy from the supporters of either side.
Forest had just had an attack that came to nothing when referee Lee Cable walked to his assistant in front of the Bob Lord Stand and after a brief chat it became evident that he would be unable to continue.
Cable had nit-picked his way through and we could only be thankful there had been no major decisions for him to make. He had got corners and goalkicks the wrong way round with alarming regularity, never allowed the game to flow and worst of all kept getting in the way of play because of a lack of concentration that saw him turning his back on the action.
I was under the impression that the 4th official should take over. This was a Mr. G Stott but in fact the assistant, a Mr. R Tiffin, took the whistle but he was to be no better as the nit-picking continued.
The Clarets had a chance to wrap up the points when Glen Little put Gareth Taylor clear after a mistake by Des Walker but Taylor shot straight at the keeper but we weren't creating too much.
Neither were Forest though despite their possession, until two chances fell to Johnson. We had kept him quiet all afternoon but suddenly on two occasions he found himself with good opportunities to equalise.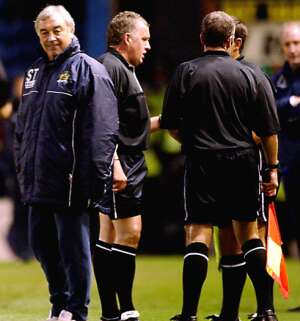 Stan has a laugh as they look for a replacement referee
Somehow he blazed over with the first and then missed the ball completely with the second prompting chants of "You'll always be a Claret". We had one other escape as Graham Branch performed some miraculous clearance off the line. I still cannot quite work out how he did it but I'm sure Branchy doesn't either.
It was suddenly looking as though Forest might get back into it but the, as Stan rang the changes with three substitutions, we took control again. I cannot recall a single worthwhile attack from Forest in the last ten minutes of the game and if anything we were more likely to add a second.
In the end though, and after four minutes of stoppage time, the substitute ref blew for time and a 1-0 win it was. It was deserved and we were the better side over the 90 minutes but we did have to be thankful for those two missed chances from Johnno.
I was keen to see the Forest pairing at the back with highly rated youngster Michael Dawson and his partner the veteran Des Walker. Dawson did OK but it was sad to see Walker who looked very poor at times and is nothing but a shadow of the player who played for England.
For good defending though you needed to look no further than the Skipper and King Arthur this afternoon, both were outstanding against the dangerous Forest attack and either of them could have been chosen as man of the match.
But so could Branchy, or Paul Weller, or as the sponsors chose Paul Cook. As was the case in the last home win against Norwich it could have gone to virtually everyone but I have gone for Weller for an outstanding second half when he was constantly the Burnley player breaking up Forest attacks.
This was a damn good result though against a side only beaten four times all season. It is the third home game in succession that we have come up against a side higher than us in the table and the third time we have won. It is the first time we have done that since December of last year.
Stan seems confident that as long as we don't get more than our fair share of injuries and suspensions then we can make the top six. Do you know I don't think I would disagree with him.
The teams today were,
Burnley: Marlon Beresford, Dean West, Steve Davis, Arthur Gnohere, Graham Branch, Glen Little (Ian Moore 90), Paul Weller, Paul Cook, Lee Briscoe, Robbie Blake (Dimitri Papadopoulos 81), Gareth Taylor (Alan Moore 85). Subs not used: Ian Cox, Brad Maylett.
Nottingham Forest: Darren Ward, Matthieu Louis-Jean, Michael Dawson, Des Walker, Jim Brennan, Riccardo Scimeca, Gareth Williams, Eoin Jess, Jack Lester (Andy Reid 77), Marlon Harewood, David Johnson. Subs not used: Barry Roche, Jon-Olav Hjelde, Craig Westcarr, John Thompson.
Referee: Lee Cable (Woking) – replaced by R Tiffin 56 mins.