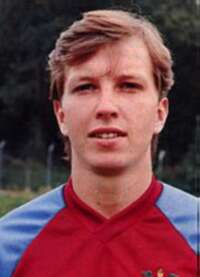 Trevor Steven - came into the side at 17 after the poor start
Today though sees a significant anniversary of another Clarets' Championship team, yes it is twenty years ago since we picked up a draw against Chesterfield on a flooded Turf Moor to clinch the Third Division title.
It was a season that hardly showed any promise to start with and the 3-1 defeat on the opening day of the season at Gillingham set the pattern for the early season form. The highlight that day had to be the goal from Brian Laws, or should I say low light, when he turned and beat his own goalkeeper with a shot from almost on the half way line.
The first four away games were lost and at home things weren't too much better, in four games we had picked up one win and one draw alongside two defeats. Not only that we had found the net just once in the four home games. The solitary home goal was a Martin Dobson penalty and was enough to win Burnley three points in a game for the very first time, this was the season when three points for a win was introduced.
Four points out of twenty four and to make matters worse manager Brian Miller had been rushed into hospital. The ninth game was at Portsmouth and as we travelled down news broke that chairman Bob Lord had decided to sell his shares. Lord had not been seen since the opening day of the season and it was rumoured he had cancer. These rumours proved to be true and he was to hand over the chair within a week to John Jackson and passed away in early December.
Against this backdrop it seemed that even a point was unlikely but in fact the Clarets picked up all three in a 2-1 win and we were on our way. Six of the next seven were drawn with a win in between but then things got better and this was followed by eight wins and a draw in nine games.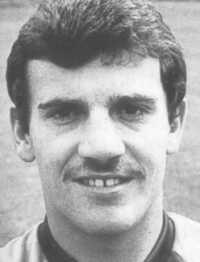 Andy Wharton - scored his first goal in the win at Portsmouth
The week before the Portsmouth game we had lost 2-0 at home to Swindon on 3
rd
October, our next defeat was at Exeter on 6
th
March and came after 20 consecutive games without defeat. Not only that there was only one more defeat to come and that at home to Southend.
There were no play offs then and it was tight at the top as four clubs chased three promotion places. As we travelled to Southend on a Friday for the penultimate game we could still win the league but could still miss out altogether. A 4-1 win at Roots Hall ensured promotion and left us needing to beat Chesterfield to clinch the title.
What a night! The heavens opened and with no Clive Holt or Matchsaver to look after the pitch it flooded in no time. With a crowd approaching 19,000 inside the referee decided to delay kick off. To be honest it really should have been called off but it went ahead in farcical conditions and we managed a point with a Kevin Young goal at the Bee Hole End.
We had to wait another day for the Championship. Carlisle were three points behind us with a game left but they had to win it by seven clear goals to go top. They won 1-0 at Chester and the title was ours. After two years we were finally out of the Third Division and back on the way up.
Little did we know.
The players who represented us during the season were:
| | | |
| --- | --- | --- |
| | Appearances | Goals |
| Mark Allen | 0(2) | 1 |
| Colin Anderson | 2(2) | |
| Tommy Cassidy | 27 | 3 |
| Phil Cavener | 6(3) | |
| Paul Dixon | 8(1) | |
| Martin Dobson | 44 | 3 |
| Brian Flynn (loan) | 2 | |
| Billy Hamilton | 44 | 11 |
| David Holt | 30 | |
| Brian Laws | 44 | 6 |
| Paul McGee | 19 | 7 |
| Vince Overson | 36 | 4 |
| Micky Phelan | 22(1) | 1 |
| Eric Potts | 14(7) | 1 |
| Stuart Robertson | 5(1) | |
| Derek Scott | 29(1) | 2 |
| Trevor Steven | 36 | 3 |
| Alan Stevenson | 46 | |
| Steve Taylor | 21(1) | 9 |
| Andy Wharton | 34 | 5 |
| Kevin Young | 37(2) | 7 |