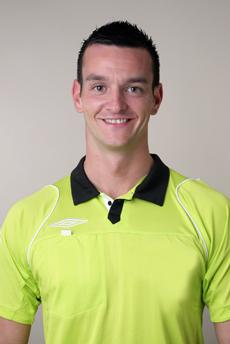 Madley, from Wakefield, is the older brother of fellow Football League referee Bobby Madley who refereed two of our away league games last season at Birmingham and Middlesbrough.
Andy, now in his second season, has refereed just twice at Championship level, the first of them when he took charge of the Hull v Peterborough game on the day brother Bobby was refereeing our game at Middlesbrough.
I'm not certain, but I think they are the first refereeing brothers since David and Graham Laws, both of whom are now thankfully long gone. Things don't seem to be quite the same for the Madley brothers with both getting good reputations.
In his first season, Andy refereed 28 games. In those games there were 72 yellow and just four red cards., with two of those red cards coming in one game between Accrington and
He's refereed two games this season. The first of them was his second Championship game. Again it involved Peterborough and was their 2-1 home defeat against Millwall last Tuesday.
There were three yellow cards in that game, one for Peterborough and two for Millwall, but he kept his cards in his pocket last Saturday when he was in charge of the Coventry v Bury game in League One.
I've never seen him referee but brother Bobby currently sits ninth in the RATE THE REF table with a rating of 80.39 out of 100.
The assistant referees tonight are Iain Siddall (Lancashire) and Alan Clayton (Cheshire). The fourth official is Christopher Kavanagh (Lancashire).