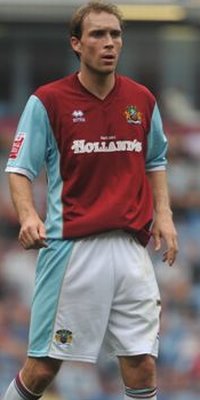 Russell Anderson - signed for Derby
Anderson has played no first team football since rupturing his anterior cruciate ligament in Burnley's 1-0 win over Fulham in last season's Carling Cup. He recovered to start training back at Sunderland in pre-season before suffering another injury that kept him out for over three months.
With him not under consideration for the first team his contract was cancelled by mutual consent yesterday, freeing him to find a new club, and today he's signed for Championship Derby County until the end of the season.
Derby boss Nigel Clough said: "Russell is an excellent defender who brings with him a wealth of experience and knowledge. He is the type of character we are looking to add to the squad; he wants to play football and is prepared to work hard.
"He played in the Championship last season for Burnley, so he knows what it takes to compete in this division. It might take him a couple of weeks to get up to full speed but we need a fresh face in central defender and we believe Russell has the qualities and courage to step up the mark if we ask him to."
It was the second half of the 2007/08 season when Randall was with us. He's failed to break through at Arsenal since and today has joined the Franchise until the end of the season. Apparently Paul Ince didn't asked Arsène Wenger about playing him in the FA Cup.
Assistant manager Karl Robinson said: "We're a club making great progress and signing a young player of Mark's quality is a huge statement of our ambition. He's got Champions League experience and is competing with some of the best players in the world at Arsenal."