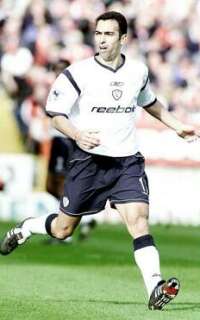 Youri Djorkaeff could be in the Bolton line up at the Turf
It is annoying when they forget the reserves but at least it lets people know when they need to get themselves down Harry Potts Way again.
There was no such announcement at the Coventry game with the season coming to an end and with the reserves' fixtures unusually over before the first team's it was time to close the gates on another season.
The local finals have been played, as have the last home youth team game and the Football Aid game. The goalposts are coming down and with Stan now in charge of the pitch we can expect some improvements before the gates open again.
Now we know when that will be, it is 31st July when we take on Bolton Wanderers in a pre-season friendly. To be honest when I was told that we were playing a Premiership club at home the name of Bolton did not come readily to mind.
I even considered it could be Manchester United. We had a friendly called off against them last August with a promise that it would be rescheduled. Nothing has happened on that one as yet and so don't be surprises if that is the next one announced.
But it is Bolton, and hands up all those that really thought they would still be in the Premiership at the end of the season. They were odds on favourites to go down but with one game to go they are four points clear and safe.
It will be good to see our friends from Horwich a traditional Lancashire club who could have the likes of Bruno N'Gotty, Per Frandsen, Youri Djorkaeff and Jussi Jaaskelainen in their starting line up.