I have just been reading the positive comments coming out of Turf Moor via our new media darling and potential "Player of the Year" Mr Joseph Barton.
Joey is waxing lyrical about our chances of promotion, he remains firmly grounded but sounds very optimisic and realistic about the possibilty of the Clarets achieving an immediate return to the Barclays Premier League.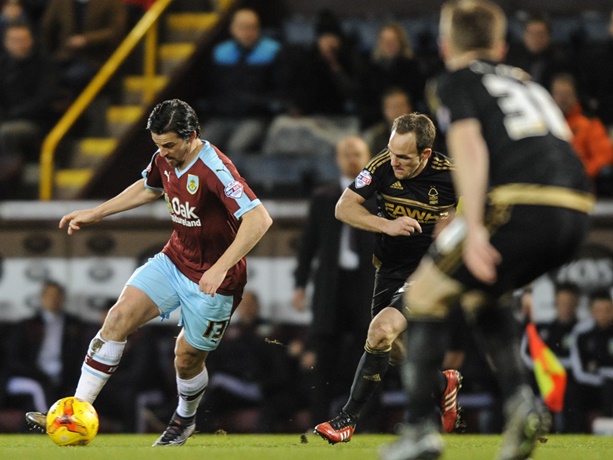 Photo source: Burnley Football Club.
In stark contrast to Joey's positivity, I republish ad verbatim a letter from a Trotters fan in today's Bolton News:

"I CANNOT help but reflect upon the state of the two clubs facing each other this weekend.
One, Bolton Wanderers, are up to £180million in debt, avoided going out of existence by 30 minutes and in a relegation position all season.
The other, Burnley, are debt-free and in an automatic promotion position. One very badly managed, the other one astutely managed.
It is payback time for Bolton having poached Coyle from our rivals, as if his disastrous tenure as manager was not sufficient payback.
I look forward to seeing the backs of the present incumbants on the board who, as very successful businessmen, made their fortunes but as soon as they took over a football club let common sense go flying out of the window.
What a sad legacy to leave, having invested such huge sums from personal finances, that the fans have little if anything to remember them by save for having a room named after one of them and the real dread that our famous well-loved club nearly went out of existence.
My one wish is that Dean Holdsworth finds places at the club for John McGinlay and Kevin Davies so that we, the fans, know that people with the interests of the club at heart are overseeing our dear club.
Over recent seasons the standard "no comment" from the board will simply not wash in the future.
The way Super Kev was treated by the club at the end of his time with us leaves me with nothing but admiration that he can still have the interests of the club and his adopted town at heart.
I will be in my usual seat on Saturday expecting very little and certainly not expecting to be entertained but that is the lot of a Wanderers fan at present."
Written by: Mr Ian Holland, Belmont Park, Bolton.
It is hard for me as a fellow football club supporter not to have some sympathy for Mr Holland and yet share his sentiments entirely. I will repeat again from The Editor's Chair how wonderful it is to be able to acknowledge the immaculate job the present custodians of Burnley Football Club are doing on behalf of us all.