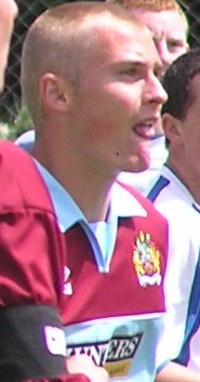 Nicky Platt - set to lead the Clarets out against Fulham

Success in this competition has been at a premium for our club in recent years and when we beat Hull in the last round it was our first victory since Chris Waddle was Burnley manager, and that win has given some of the lads a first opportunity to play on Turf Moor.



That's how it used to be, but youth players have been more involved in reserve team football in recent years so some of them will have played reserve games on the ground previously. Reserve games though are now played at Accrington so for some of the players it will be the first time.



It is going to be a tough game, against a Premiership club with an academy, but if there is one thing we can guarantee it is that this current Burnley youth team will give it everything they have.



Some of you going tonight might expect to see some players on the team sheet who are not eligible. The competition is for players who were under the age of eighteen at the end of August last year and that rules out such as Martin Reilly, Chris McCann and Marc Pugh, although Pugh is currently away from the club at Kidderminster.



Also out are Kyle Lafferty, who joined Darlington last week on loan, and goalkeeper Mark Crossley who is currently recovering from surgery following an injury sustained in a Youth Alliance League game at Walsall in December.



Other than that, everyone is available and captain Nicky Platt heads the following squad which is made up of ten apprentices and eight players from the Centre of Excellence.



The full squad is: Matthew Mann, Rob Henry, Jack Overson, Tom Blackler, Paul Casey, Ali Akbar, Connor Smith, Nicky Platt (captain), Jay Rodriguez, Dale Underwood, Cayne Hanley, Rob Turner, Adam Kay, Michael Donlan, Dean Stott, Lewis Craig, Ashley Young, Raphael Evans.



There's no news of the Fulham team but the side that beat Middlesbrough in the last round was: Brooks-Meade, Murtagh, Casal, Orelaja, Omozusi, Moncur (captain), Hudson-Odoi, Brown, Sankoh, Miguil, Hall. Subs: Gonclaves, Ottley, Watts, Gowland, Anderson.



Don't forget, kick off is at 7:00 p.m. and admission is just £3 adults, £1 concessions. Get down and support the lads.