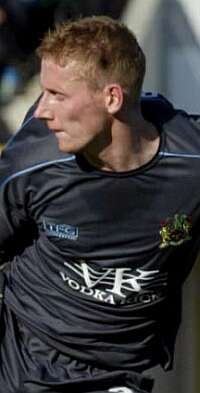 Lee Roche - could be back in at right back
The fixtures have once again, for the fifth time in six seasons, sent us on our travels for the Christmas fixture and this time it is a visit to Dario G and his Carnival de
Paris
Crewe at the Alexandra Stadium.
Manager Stan Ternent seemed to lay the blame firmly with goalkeeper Brian Jensen last week although he has since spent much of the last few days back tracking on that one after accusing the Dane of giving away at least four of the five goals.
Jensen had another nightmare and the manager has clearly been agitated with his recent performances but one thing is certain and that is the fact that he will still be in goal when we take to the field at Crewe with no other option available.
Some of the back four in front of him might not be so lucky and surely it is time to make some changes at full back where both Dean West and Mo Camara were simply dreadful. There are options too with both Lee Roche and Mark McGregor able to come in at right back and Jay McEveley and Graham Branch at left back.
David May was poor too and he could also lose his place whilst Arthur, the only half decent defender, will if selected be playing his last game before a two match suspension.
In midfield and up front I don't expect to see any change with Luke Chadwick again on the bench, he will be needed to replace the suspended Little two days later against Stoke.
I think McGregor might just miss out again, it really is difficult to work out just how he lost his place after impressing at home to Reading and at Sunderland but I certainly expect to see both full backs sitting on a defence dominated bench.
We could line up something like: Brian Jensen, Lee Roche, David May, Arthur Gnohere, Jay McEveley, Paul Weller, Richard Chaplow, Tony Grant, Glen Little, Robbie Blake, Ian Moore. Subs: Dean West, Mo Camara, Mark McGregor, Graham Branch, Luke Chadwick.
Should there be any of the above miss out through injury at the last minute then Matt O'Neill and Joel Pilkington will be available as non useable subs to fill the bench.
It is injury crisis time in the Crewe squad but when Dario says he is going to throw the kids in that is exactly what he does and we can certainly expect to see the new sensation Billy Jones, just 16, in the line up.
Definitely out for the Railwaymen are Dave Brammer and David Vaughan who have both recently undergone surgery for pelvic and knee injuries respectively. Both are out for some time to come yet.
Neil Sorvel is also an absentee and he is currently targeting the FA Cup tie a week on Saturday for a return to action.
Gradi is though hoping that one of a trio of injured defenders might just be able to declare himself fit. Rich Walker and Adie Moses both have ankle injuries whilst Chris McCready has a thigh problem.
"We are a bit stretched at the moment," said the manager. "But we are hoping that at least one of the three defenders will be fit sooner rather than later. If they can train before the game against Burnley then they have a chance of playing but it is only a slight chance.
"I thought about getting someone in on loan but I want to give others a chance and but for the injuries Michael Higdon wouldn't be getting a chance."
If none of those defenders are fit then Crewe will almost certainly line up as they did against Wigan last week.
Clayton Ince, Anthony Tonkin, David Wright, Stephen Foster, Billy Jones, Kenny Lunt, Michael Higdon, Justin Cochrane, Luke Varney, Dean Ashton, Steve Jones. Subs: Ademola Bankole, James Robinson, Mark Roberts, Paul Edwards, Allan Smart.