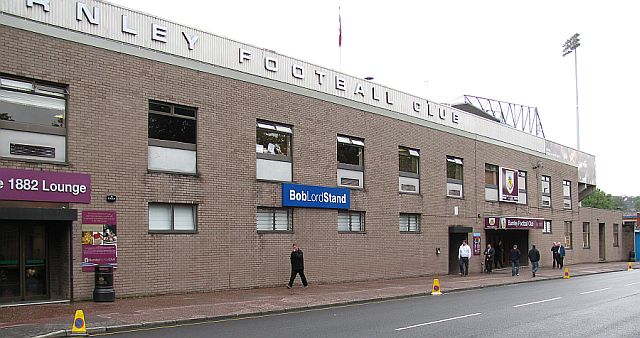 Donny were right down at the bottom for weeks but a good run of results following the appointment of Dean Saunders had seen them pull out of those relegation places. There was suddenly confidence in South Yorkshire that they could push right up the table.
That they may do, but for now they are going to have to fight their way back out of the bottom three after suffering a heavy 3-0 home defeat to Leeds on Friday.
They slipped back down because Coventry beat Nottingham Forest and Millwall got a surprise point at Middlesbrough. Coventry's win saw them swap places with Forest who, with Steve Cotterill taking over today, are now next to bottom, below Doncaster on goal difference and two points ahead of managerless Bristol City on goal difference.
Millwall's draw meant changes at the top as well as the bottom with Middlesbrough being replaced in the automatic promotion places by West Ham. who had the biggest win of the day against Blackpool.
There's been some obsession over West Ham's inability to win home games, but this was their third victory at the Boleyn Ground. If there is a club up there who are clearly struggling to get points at home then it's Middlesbrough who must be thankful for their very impressive away record.
They have more points than anyone on the road but Saturday's draw was their fifth in six home games. Still, they remain the only unbeaten club in the league and are only behind West Ham on goal difference.
If Forest are the big surprise for me down near the bottom then it's Hull and Crystal Palace when I look at the clubs in the top section of the table. Palace, in particular, I expected to struggle but they scored two superb goals to record their third away win of the season at struggling Watford.
Finally, well done to Birmingham yesterday. Their season is suffering disruptions because of the Europa League and again this week they miss out on a fixture, but their win against Leicester yesterday means they remain the only club in the division who have scored in every game.
The results, fixtures and the usual stats are shown below.
The Weekend Results
Friday 14th October

Doncaster Rovers 0 Leeds United 3

Saturday 15th October

Brighton & Hove Albion 0 Hull City 0

Derby County 1 Southampton 1

Bristol City 1 Peterborough United 2

Middlesbrough 1 Millwall 1

Burnley 0 Reading 1

Portsmouth 2 Barnsley 0

Cardiff City 2 Ipswich Town 2

Watford 1 Crystal Palace 2

Coventry City 1 Nottingham Forest 0

West Ham United 4 Blackpool 0

Sunday 16th October

Birmingham City 2 Leicester City 0
The Weekend Stats

Biggest Win

West Ham United 4-0 v Blackpool (home)

Total Goals Scored

27 (15 home - 12 away)

Player Scoring Most Goals

2 - Sam Baldock (West Ham United)

Highest Attendance

33,010 - Derby County v Southampton

Lowest Attendance

11

,261 - Portsmouth v Barnsley

Total Yellow Cards

34

Total Red Cards

1

Most Cards in a Game

Bristol City v Peterborough United (5Y) Ref: Lee Coote
Derby County v Southampton (5Y) Ref: Mark Brown
Leading Goalscorers (League Only)

9

Rickie Lambert (Southampton) - includes 3 penalties
Ross McCormack (Leeds United)

8

Chris Wood (Birmingham City)

6

Charlie Austin (Burnley)

5

Ashley Barnes (Brighton & Hove Albion) - includes 2 penalties
Steve Davies (Derby County) - includes 1 penalty
Michael Chopra (Ipswich Town)
Marvin Emnes (Middlesbrough)
Lukas Jutkiewicz (Coventry City)
Craig Mackail-Smith (Brighton & Hove Albion)
Kevin Phillips (Blackpool)

4

Keith Andrews (Ipswich Town)
Carlton Cole (West Ham United)
David Connolly (Southampton)
Adam Lallana (Southampton)
Grant McCann (Peterborough United) - includes 1 penalty
Gary Taylor-Fletcher (Blackpool)
Lee Tomlin (Peterborough United)
Hat Tricks
Date

Player & Game

20/08/11

3: Lee Tomlin - PETERBOROUGH UNITED v Ipswich Town

10/09/11

3: Rickie Lambert - SOUTHAMPTON v Nottingham Forest

11/09/11

3: Chris Wood - BIRMINGHAM CITY v Millwall
Disciplinary Record (League and Cup)

Club

Y

R

Y

R

Club

Y

R

Y

R

League

Total

League

Total

Barnsley

16

0

17

0

Ipswich Town

13

2

13

2

Birmingham City

12

0

12

0

Leeds United

20

4

24

4

Blackpool

22

0

23

1

Leicester City

20

3

24

3

Brighton and Hove Albion

29

1

35

1

Middlesbrough

16

2

17

2

Bristol City

18

0

19

0

Millwall

22

0

25

0

Burnley

13

1

17

1

Nottingham Forest

15

0

18

0

Cardiff City

12

0

18

0

Peterborough United

15

0

17

0

Coventry City

10

1

11

1

Portsmouth

23

2

26

2

Crystal Palace

15

0

17

0

Reading

13

0

15

0

Derby County

17

1

17

1

Southampton

11

1

11

1

Doncaster Rovers

15

0

15

0

Watford

14

0

15

0

Hull City

18

0

18

0

West Ham United

14

1

14

2
Highest and Lowest Attendances

Highest

Lowest

Att

Fixture

Att

Fixture

33,465

West Ham United v Portsmouth (10/09)

7,778

Doncaster Rovers v Bristol City (27/08)

33,010

Derby County v Southampton (15/10)

7,901

Peterborough United v Burnley (17/09)

31,448

West Ham United v Blackpool (15/10)

7,928

Peterborough United v Ipswich Town (20/08)

29,895

West Ham United v Peterborough United (24/09)

8,500

Peterborough United v Doncaster Rovers (01/10)

28,252

West Ham United v Leeds United (21/08)

8,685

Peterborough United v Hull City (10/09)

27,709

West Ham United v Ipswich Town (27/09)

9,362

Doncaster Rovers v Crystal Palace (24/09)

27,356

Nottingham Forest v Derby County (17/09)

9,464

Doncaster Rovers v Nottingham Forest (16/08)

27,210

Derby County v Birmingham City (06/08)

9,497

Barnsley v Coventry City (01/10)

25,860

Southampton v Leeds United (06/08)

9,733

Barnsley v Watford (17/09)

25,680

West Ham United v Cardiff City (07/08)

9,786

Doncaster Rovers v Hull City (27/09)
The Next Fixtures
Tuesday 18th October

Barnsley v Burnley

Millwall v Brighton & Hove Albion

Blackpool v Doncaster Rovers (20:00)

Nottingham Forest v Middlesbrough

Crystal Palace v Bristol City (20:00)

Peterborough United v Cardiff City

Ipswich Town v Portsmouth

Reading v Derby County (20:00)

Leeds United v Coventry City

Southampton v West Ham United

Wednesday 19th October

Leicester City v Watford