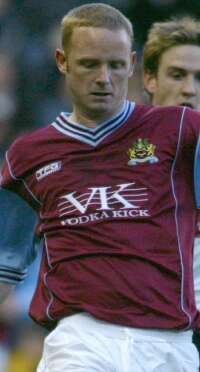 David May - expected to start
Apparently, according to our club yesterday, the match is being played at 12:30 to enable us to do our Christmas shopping in the afternoon. And there we were thinking it was a police decision following the problems in the corresponding fixture last season.
Remember when Richard Chaplow had a stormer against Crewe early this season when he scored his first Burnley goal? He was promptly dropped by Stan Ternent the week after at Stoke.
Well things have changed now for Chappy and having missed out last week suspended he is right at the front of the queue for a midfield place. "He will play," Stan said at this week's press conference.
Elsewhere in midfield and up front the side virtually picks itself but it is at the back where all the questions are being asked. With the carpet having been put back down with everything brushed under it we can probably expect David May to return to the side at the expense of Mark McGregor and with Arthur having blotted his copy book again it would be no surprise at all to see him out of the side with strong suggestions this week that he could soon be back at QPR on a permanent basis.
Goalkeeper Brian Jensen will keep his place, there are just no alternatives, as will Mo Camara which poses the question as to who will be on the right hand side of defence. Lee Roche was taken off at half time last week and he will be very fortunate indeed to find himself in the starting eleven this time round after being picked out after that awful first half against Coventry.
Skipper Graham Branch is back in the squad but there seems to be no real chance of him making the starting line up.
I expect us to line up: Brian Jensen, Dean West, David May, Jay McEveley, Mo Camara, Glen Little, Richard Chaplow, Tony Grant, Luke Chadwick, Robbie Blake, Ian Moore. Subs: Lee Roche, Mark McGregor, Arthur Gnohere, Graham Branch, Paul Weller.
With no suspensions now and only Alan Moore injured it means we can actually name five substitutes who can be used thus allowing the non-useable subs Joel Pilkington and Matt O'Neill to watch the match from the stands instead of watching from the bench.
Preston have no new injury problems and will be without long term casualties George Koumantarakis, Rob Edwards and former Claret Lee Briscoe who the home fans are still waiting to see in action following his summer signing.
WW Craig Brown is expected to field the same starting eleven that won at Gillingham last Saturday and that means playing with three up front. Who knows, that may force us to even consider playing with three central defenders. An alternative could see Eddie Lewis return probably at the expense of Richard Cresswell.
Preston should line up: Jonathan Gould, Graham Alexander, Michael Jackson, Chris Lucketti, Marlon Broomes, Paul McKenna, Brian O'Neil, Dixon Etuhu, Richard Cresswell, David Healy, Ricardo Fuller. Subs not used: Andy Lonergan, Michael Keane, Eddie Lewis, Lee Cartwright, Claude Davis.