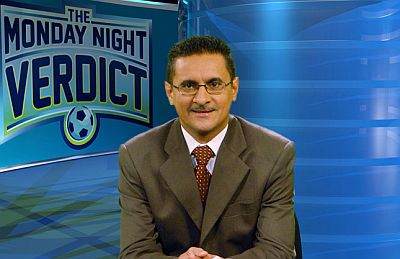 Shebby - three defeats and out
Let's start at Ewood, or King George's Hall to be precise, where the wonderful Shebby Singh, the recently appointed global advisor, spoke at an open forum for the Rovers Action Group (RAG?).
Over 500 turned up to hear him say that any promises made by manager Steve (Agent) Kean should be taken with a pinch of salt, and went on to confirm that he'd be sacked if they lost three games on the trot.
It was met with wild cheers but he didn't end there, labelling Morten Gamst Pedersen a 'pensioner'. "He has lost his legs. He has not been contributing to the team."
He continued: "We won't get anywhere with pensioners on the pitch. There are players past their sell-by-date."
Kean and Pedersen on their way out you would think. Not on your life, yesterday Shebby looked very shabby as he was forced into an apology. It's clearly a two sided battle at Ewood. Singh is on one side with Kean, Agnew and Shaw on the other. Clearly it is a case of not sing(h)ing from the same hymn book here.
How will those all end? I suspect right now the global advisor's position is not very secure. He could well go through the door soon along with, I understand, another high profile departure.
There's been even more fun at Elland Road where the takeover is beginning to look less and less likely. It appears they are stuck with Bates for a while longer, Warnock will remain as manager and just to top it all off they've signed the Senegalese sewer rat El Hadji Diouf.
The story goes back to January 2011 when QPR, then managed by Warnock, played Blackburn, who included Diouf in their side, in an FA Cup tie. QPR's Jamie Mackie broke his leg in a collision with Gael Givet and was then subjected to abuse by Diouf.
After the game, Warnock said: "He's broken his leg and DIouf was calling him all sorts. Even the Blackburn people were embarrassed. For many years I've thought he is a gutter type of boy and I was going to call him a sewer rat, but that might be insulting to sewer rats. I think he's the lowest of the low."
It's incredible to believe Warnock has now signed him, even on a non-contract basis, and it is hardly worth looking at his defensive words used to even start to justify the signing. Bates, Warnock and Diouf. What a combination.
Meanwhile, the season has got underway with the COCUP and a big thanks to Blackpool for losing to Morecambe. By my reckoning that's confirmed our seeding in the second round should we get through at Port Vale tonight.
And, the real season is not too far away. The weekend fixtures are below.
The Week's Fixtures
Friday 17th August

Cardiff City v Huddersfield Town

Saturday 18th August

Barnsley v Middlesbrough

Ipswich v Blackburn Rovers

Birmingham City v Charlton Athletic

Leeds United v Wolverhampton Wanderers (12:45)

Burnley v Bolton Wanderers

Leicester City v Peterborough United

Crystal Palace v Watford

Millwall v Blackpool

Derby County v Sheffield Wednesday

Nottingham Forest v Bristol City

Hull City v Brighton & Hove Albion