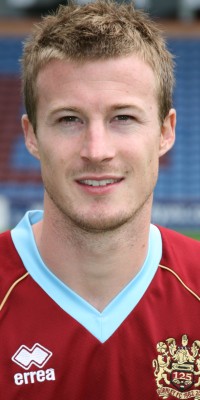 Wade Elliott - eight points clear at the top
He scored the opening goal and his performance impressed the watching Burnley fans enough to win him our man of the match award and get him into the top three in the message board player ratings.
Ade took all three points in the man of the match vote, claiming 28.1% of the vote whilst Wade Elliott, who is amongst the points every game right now, was second with 25.3%. Robbie Blake, scorer of the winning goal, took third place with 17.5% of the vote.
Wade was the winner in the player ratings. Last week he scored 9 to take the points against Plymouth. This week his rating was not as high but he was still a clear winner with a rating of 8.05 out of 10. Jon Harley, another player bang in form, was second with 7.86 whilst Ade took third place with a rating of 7.71 out of 10.
Elliott has now extended his lead at the top of the Player of the Year Table to eight points with Robbie Blake, the previous leader, in second place five points ahead of Clarke Carlisle and David Unsworth.
The full table
52: Wade Elliott
44: Robbie Blake
39: Clarke Carlisle & David Unsworth
35: Alan Mahon
25: Gabor Kiraly
24: Andy Gray
21: Kyle Lafferty
20: Chris McCann
18: Jon Harley & James O'Connor
14: Steven Caldwell
13: John Spicer
12: Brian Jensen
7: Ade Akinbiyi
3: Graham Alexander, Michael Duff & Joey Gudjonsson
2: Wayne Thomas
1: Stephen Jordan