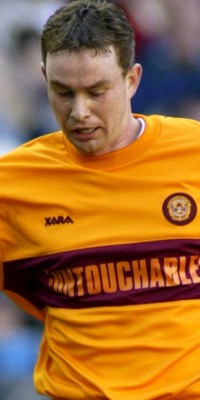 Derek Adams - pictured during his time at Motherwell
Brian Reid took over as boss of Ayr United towards the end of last month. Reid was the defender brought in by Stan Ternent during the 1998/99 season. He won a regular place in the side but had a contract offer withdrawn in the summer of 1999 after a misunderstanding.
He went on to play for Dunfermline, Blackpool, Falkirk and Queen of the South before landing the manager's job with the Second Division club.
Earlier in October Derek Adams replaced Dick Campbell as manager of Ross County in a caretaker capacity, and he's had a good start and steered them to the top of the league. That has led to him being given the job on a permanent basis today.
Adams joined the Clarets from Aberdeen during Jimmy Mullen's time as manager but had a difference of opinion with Mullen's successor Adrian Heath and moved back to Scotland where he became a prolific goalscorer from midfield for Ross County and then Motherwell. He returned to Ross County from Livingston at the beginning of last season and is still playing in the side as well as managing them.