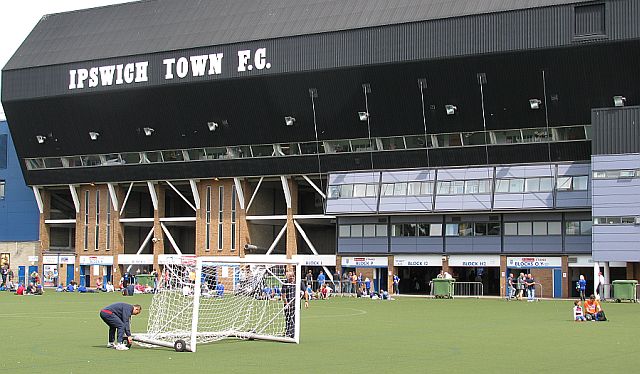 But that's exactly what happened in a midweek that saw Southampton pull further away at the top of the league. They won a tough game at Hull and I'm sure they thought they'd need to do that to keep top spot with seemingly unbeatable reading going to Peterborough.
It was not to be as Reading, having gone a goal up, fell to a 3-1 defeat to leave Southampton five points clear at the top of the league. Reading still hold a two point lead over West Ham who drew yet again, a fourth successive draw, at home to Middlesbrough who equalised late in the game.
Portsmouth were also surprising winners. They had picked up just three points from nine games going into their home game against Birmingham who are pushing for a top six place. Brum took an early lead but then uncharacteristically collapsed in the second half with four goals to secure a win that closes the gap to five points on fourth from bottom.
Now, we talk about second half collapses, but the goal avalanche at Elland Road takes some believing. Leeds took an early lead with Forest replying almost immediately then right on half time Forest went in front.
1-2 at half time, but within a quarter of an hour of the restart it was 3-5 and incredibly Forest went on to win the game 7-3. I can't think a Steve Cotterill side has ever scored so many goals in an away game and it is more than I've ever seen Burnley score in an away league game in all my years of watching the Clarets.
Garath McCleary got four of them and he matches Nikola Zigic of Birmingham who also got four earlier in the season. Where did he score his four? At Elland Road against Leeds with three of them coming in a seven minute burst.
The results over the two days have seen us slip to 16th in the table, our lowest placing since the end of November.
The results, stats, leading goalscorers, each club's disciplinary record, the highest and lowest attendances and the next fixtures are all below.
The Week's Results
Tuesday 20th March

Brighton & Hove Albion 2 Derby County 0

Leeds United 3 Nottingham Forest 7

Bristol City 0 Watford 2

Peterborough United 3 Reading 1

Crystal Palace 1 Barnsley 0

Portsmouth 4 Birmingham City 1

Doncaster Rovers 0 Millwall 3

West Ham United 1 Middlesbrough 1

Hull City 0 Southampton 2

Wednesday 21st March

Blackpool 3 Leicester City 3

Ipswich Town 1 Burnley 0

Cardiff City 2 Coventry City 2
The Week's Stats

Biggest Win

Nottingham Forest 7-3 v Leeds United (away)

Total Goals Scored

42 (20 home - 22 away)

Player Scoring Most Goals

4 - Garath McCleary (Nottingham Forest)

Highest Attendance

27,250 - West Ham United v Middlesbrough

Lowest Attendance

6,717 - Peterborough United v Reading

Total Yellow Cards

27

Total Red Cards

3

Most Cards in a Game

Bristol City v Watford (5Y 1R) Ref: Oliver Langford
Leading Goalscorers (League Only)

24

Rickie Lambert (Southampton) - includes 9 penalties

15

Darius Henderson (Millwall) - includes 2 penalties
Ross McCormack (Leeds United)
Kevin Phillips (Blackpool)
Jay Rodriguez (Burnley) - includes 3 penalties

13

Michael Chopra (Ipswich Town)
David Nugent (Leicester City)

13

Robert Snodgrass (Leeds United) - includes 2 penalties

12

Marlon King (Birmingham City) - includes 2 penalties
Ricardo Vaz Te (West Ham United) - (10 with Barnsley)

11

Craig Davies (Barnsley) - includes 1 penalty
Marvin Emnes (Middlesbrough)
Matty Fryatt (Hull City) - includes 1 penalty
Billy Sharp (Southampton) - includes 1 penalty - (10 with Doncaster Rovers)
Pete Whittingham (Cardiff City) - includes 3 penalties

10

Charlie Austin (Burnley)
Ashley Barnes (Brighton & Hove Albion) - includes 3 penalties
Luciano Becchio (Leeds United)
Guly Do Prado (Southampton)
Lukas Jutkiewicz (Middllesbrough) - includes 1 penalty - (9 with Coventry City)
Robert Koren (Hull City)
Adam Lallana (Southampton)
Paul Taylor (Peterborough United)
Chris Wood (Bristol City) - (9 with Birmingham City)
Nikola Zigic (Birmingham City)
Hat Tricks
Date

Player & Game

20/08/11

3: Lee Tomlin - PETERBOROUGH UNITED v Ipswich Town

10/09/11

3: Rickie Lambert - SOUTHAMPTON v Nottingham Forest

11/09/11

3: Chris Wood - BIRMINGHAM CITY v Millwall

12/10/11

3: Darius Henderson - Leicester City v MILLWALL

02/11/11

3: Jonjo Shelvey - Leeds United v BLACKPOOL

19/11/11

3: Rickie Lambert - SOUTHAMPTON v Brighton & Hove Albion

26/12/11

3: Matthew Phillips - Barnsley v BLACKPOOL

31/12/11

3: Ricardo Vaz Te - BARNSLEY v Leeds United

21/01/12

3: Darius Henderson - Barnsley v MILLWALL

31/01/12

4: Nikola Zigic - Leeds United v BIRMINGHAM CITY

26/02/12

3: Rickie Lambert - Watford v SOUTHAMPTON

17/03/12

3: Rickie Lambert - Millwall v SOUTHAMPTON

20/03/12

4: Garath McCleary - Leeds United v NOTTINGHAM FOREST
Disciplinary Record (League and Cup)

Club

Y

R

Y

R

Club

Y

R

Y

R

League

Total

League

Total

Barnsley

50

1

53

1

Ipswich Town

49

5

50

5

Birmingham City

50

3

55

3

Leeds United

60

5

66

5

Blackpool

48

1

51

2

Leicester City

54

8

62

8

Brighton and Hove Albion

77

7

91

7

Middlesbrough

63

7

66

7

Bristol City

71

5

73

5

Millwall

64

2

71

2

Burnley

53

2

61

2

Nottingham Forest

51

4

56

4

Cardiff City

46

0

62

0

Peterborough United

43

2

46

2

Coventry City

46

2

48

2

Portsmouth

61

4

68

4

Crystal Palace

47

2

51

3

Reading

52

0

55

0

Derby County

51

1

51

1

Southampton

45

4

48

4

Doncaster Rovers

58

2

60

2

Watford

55

2

57

2

Hull City

56

1

61

1

West Ham United

54

6

57

7
Highest and Lowest Attendances

Highest

Lowest

Att

Fixture

Att

Fixture

34,936

West Ham United v Coventry City (02/01)

6,351

Peterborough United v Cardiff City (18/10)

34,900

West Ham United v Crystal Palace (25/02)

6,392

Peterborough United v Millwall (06/03)

34,749

West Ham United v Barnsley (17/12)

6,717

Peterborough United v Reading (20/03)

34,650

West Ham United v Doncaster Rovers (10/03)

7,004

Peterborough United v Bristol City (18/02)

33,465

West Ham United v Portsmouth (10/09)

7,540

Peterborough United v Blackpool (10/03)

33,366

Leeds United v West Ham United (17/03)

7,555

Peterborough United v Portsmouth (28/01)

33,010

Derby County v Southampton (15/10)

7,572

Doncaster Rovers v Millwall (20/03)

33,010

Derby County v Leeds United (26/12)

7,650

Doncaster Rovers v Watford (26/11)

33,010

Derby County v Nottingham Forest (17/03)

7,778

Doncaster Rovers v Bristol City (27/08)

32,875

West Ham United v Southampton (14/02)

7,901

Peterborough United v Burnley (17/09)
The Next Fixtures
Saturday 24th March

Barnsley v Peterborough United

Millwall v Leeds United

Burnley v West Ham United

Nottingham Forest v Brighton & Hove Albion

Coventry City v Portsmouth

Reading v Blackpool

Derby County v Crystal Palace

Southampton v Doncaster Rovers

Leicester City v Hull City

Watford v Ipswich Town

Middlesbrough v Bristol City

Sunday 25th March

Birmingham City v Cardiff City (12:00)