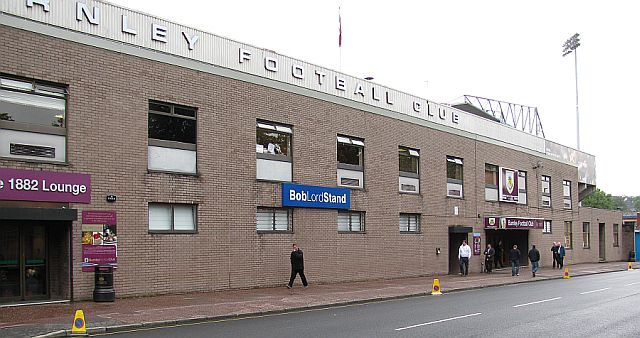 It all started last Tuesday with Barnsley, Blackpool and Millwall suffering home defeats at the hands of Birmingham, West Ham and Middlesbrough respectively.
Move on two days and Leicester won the East Midlands derby at Derby County and then on Saturday there were five away wins in ten games with only Brighton and Coventry managing to secure home wins.
Well done to Coventry for whom Clive Platt scored a stoppage time winner against Barnsley. It's lifted them to third from bottom, ahead of bottom club Doncaster Rovers and Portsmouth.
Pompey had ten points deducted a week last Friday. They were still out of the bottom three, but that's not the case now. They now find themselves five points adrift of safety and that's due mainly to Nottingham Forest winning a couple of games.
Millwall have pulled themselves further away with their win at the Turf. They might still get sucked in to the relegation scrap but I can't see anyone any higher now being involved.
Up at the top it is a case of keep your eyes on Reading. Saturday's win at Middlesbrough was their fifth successive victory and they stand head and shoulders above the rest of the league in February, just about guaranteeing Brian McDermott the manager of the month award.
There has been no change at the top; it's the same top two and the same four clubs in the play offs as last week. It's tight now and Cardiff, who did so well in yesterday's Carling Cup Final, are ahead of Brighton and Middlesbrough only on goal difference.
We are now still just six points away from that top six. We've won just one of the last five league games, picking up only four points. We probably weren't surprised at the two away defeats, given they were against Southampton and Reading, but again our home form is seriously letting us down. Four points from games against Peterborough, Barnsley and Millwall is what you'd expect from a team struggling at the bottom and not one with play off aspirations. Those play off hopes seem to be fading away.
Still, we're away from home next week at Watford so that would suggest more chance of a win than if we were playing at home.
Last week's results are all below along with the stats, the leading goalscorers, each club's disciplinary record, the highest and lowest attendances and the next fixtures.
The Week's Results
Tuesday 21st February

Barnsley 1 Birmingham City 3

Millwall 1 Middlesbrough 3

Blackpool 1 West Ham United 4

Wednesday 22nd February

Hull City 0 Brighton & Hove Albion 0

Thursday 23rd February

Derby County 0 Leicester City 1

Saturday 25th February

Birmingham City 1 Nottingham Forest 2

Doncaster Rovers 1 Peterborough United 1

Brighton & Hove Albion 3 Ipswich Town 0

Middlesbrough 0 Reading 2

Bristol City 1 Blackpool 3

Portsmouth 0 Leeds United 0

Burnley 1 Millwall 3

Watford 0 Southampton 3

Coventry City 1 Barnsley 0

West Ham United 0 Crystal Palace 0
The Week's Stats

Biggest Win

Brighton & Hove Albion 3-0 v Ipswich Town (home)
Southampton 3-0 v Watford (away)
West Ham United 4-1 v Blackpool (away)

Total Goals Scored

36 (11 home - 25 away)

Player Scoring Most Goals

3 - Rickie Lambert (Southampton)

Highest Attendance

34,900 - West Ham United v Crystal Palace

Lowest Attendance

9,286 - Millwall v Middlesbrough

Total Yellow Cards

41

Total Red Cards

1

Most Cards in a Game

Millwall v Middlebrough (7Y) Ref: James Linington
Leading Goalscorers (League Only)

19

Rickie Lambert (Southampton) - includes 7 penalties

15

Ross McCormack (Leeds United)

13

Darius Henderson (Millwall) - includes 2 penalties
Jay Rodriguez (Burnley) - includes 2 penalties

12

Michael Chopra (Ipswich Town)
David Nugent (Leicester City)

11

Kevin Phillips (Blackpool)
Billy Sharp (Southampton) - includes 1 penalty - (10 with Doncaster Rovers)
Robert Snodgrass (Leeds United) - includes 1 penalty
Ricardo Vaz Te (West Ham United) - (10 with Barnsley)

10

Charlie Austin (Burnley)
Craig Davies (Barnsley) - includes 1 penalty
Guly Do Prado (Southampton)
Marvin Emnes (Middlesbrough)
Matty Fryatt (Hull City) - includes 1 penalty
Lukas Jutkiewicz (Middllesbrough) - includes 1 penalty - (9 with Coventry City)
Chris Wood (Bristol City) - (9 with Birmingham City)

9

Keith Andrews (Ipswich Town)
Carlton Cole (West Ham United)
Marlon King (Birmingham City) - includes 2 penalties
Robert Koren (Hull City)
Nicky Maynard (West Ham United) - (9 with Bristol City)
Scott McDonald (Middlesbrough)
Kenny Miller (Cardiff City)
Pete Whittingham (Cardiff City) - includes 3 penalties
Hat Tricks
Date

Player & Game

20/08/11

3: Lee Tomlin - PETERBOROUGH UNITED v Ipswich Town

10/09/11

3: Rickie Lambert - SOUTHAMPTON v Nottingham Forest

11/09/11

3: Chris Wood - BIRMINGHAM CITY v Millwall

12/10/11

3: Darius Henderson - Leicester City v MILLWALL

02/11/11

3: Jonjo Shelvey - Leeds United v BLACKPOOL

19/11/11

3: Rickie Lambert - SOUTHAMPTON v Brighton & Hove Albion

26/12/11

3: Matthew Phillips - Barnsley v BLACKPOOL

31/12/11

3: Ricardo Vaz Te - BARNSLEY v Leeds United

21/01/12

3: Darius Henderson - Barnsley v MILLWALL

31/01/12

4: Nikola Zigic - Leeds United v BIRMINGHAM CITY

26/02/12

3: Rickie Lambert - Watford v SOUTHAMPTON
Disciplinary Record (League and Cup)

Club

Y

R

Y

R

Club

Y

R

Y

R

League

Total

League

Total

Barnsley

43

1

46

1

Ipswich Town

42

4

43

4

Birmingham City

42

1

46

1

Leeds United

53

5

59

5

Blackpool

42

1

45

2

Leicester City

47

7

55

7

Brighton and Hove Albion

73

6

87

6

Middlesbrough

53

5

56

5

Bristol City

58

4

60

4

Millwall

57

2

64

2

Burnley

47

2

55

2

Nottingham Forest

42

3

47

3

Cardiff City

38

0

54

0

Peterborough United

38

2

41

2

Coventry City

40

2

42

2

Portsmouth

52

4

59

4

Crystal Palace

41

1

45

2

Reading

46

0

49

0

Derby County

44

1

44

1

Southampton

42

4

45

4

Doncaster Rovers

49

2

51

2

Watford

45

2

47

2

Hull City

50

1

54

1

West Ham United

52

6

55

7
Highest and Lowest Attendances

Highest

Lowest

Att

Fixture

Att

Fixture

34,936

West Ham United v Coventry City (02/01)

6,351

Peterborough United v Cardiff City (18/10)

34,900

West Ham United v Crystal Palace (25/02)

7,004

Peterborough United v Bristol City (18/02)

34,749

West Ham United v Barnsley (17/12)

7,555

Peterborough United v Portsmouth (28/01)

33,465

West Ham United v Portsmouth (10/09)

7,650

Doncaster Rovers v Watford (26/11)

33,010

Derby County v Southampton (15/10)

7,778

Doncaster Rovers v Bristol City (27/08)

33,010

Derby County v Leeds United (26/12)

7,901

Peterborough United v Burnley (17/09)

32,875

West Ham United v Southampton (14/02)

7,928

Peterborough United v Ipswich Town (20/08)

32,150

Southampton v West Ham United (18/10)

8,062

Peterborough United v Coventry City (17/12)

31,812

Southampton v Brighton & Hove Albion (19/11)

8,319

Doncaster Rovers v Blackpool (14/02)

31,718

West Ham United v Nottingham Forest (21/01)

8,320

Peterborough United v Barnsley (03/12)
The Next Fixtures
Friday 2nd March

Blackpool v Hull City

Saturday 3rd March

Barnsley v Nottingham Forest

Leeds United v Southampton (17:20)

Birmingham City v Derby County

Leicester City v Coventry City

Crystal Palace v Peterborough United

Millwall v Reading

Doncaster Rovers v Brighton & Hove Albion

Portsmouth v Middlesbrough

Ipswich Town v Bristol City

Watford v Burnley

Sunday 4th March

Cardiff City v West Ham United (12:45)