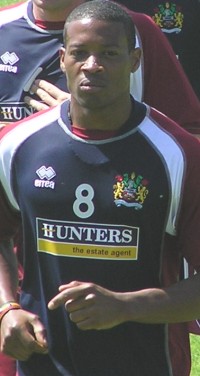 Micah Hyde - hit the woodwork

Such as Steve Cotterill, Mark Yates and Michael Duff were given ovations from the home fans but if that was a warm reception then it was nothing compared to the temperatures the game was played in.



The action all got underway at 2:30 p.m. as Cheltenham's Robins Trust was launched whilst the players were warming up and when the team news was announced it was Brian Jensen, Danny Karbassiyoon and Graham Branch who would start on the bench along with youth players Chris McCann and Kyle Lafferty.



There was no sign of Richard Keogh with rumours even stronger than yesterday that the player had not in fact signed and was not available to play for us.



The Duff brothers, Michael and Shane, were captains for the day and I'm not sure I can ever recall anything similar previously. We lined up in a fairly orthodox 4-4-2 formation with the two singings from Bournemouth Wade Elliott and Garreth O'Connor in the wide positions.



There were a couple of early scares that came to nothing but Coyne wasn't troubled and we then began to find our feet. There was some neat passing and a keenness to get forwards with Elliott in particular impressing down the right hand side.



He twice got crosses in from the right that caused some danger with Ade Akinbiyi heading one over the top and Gifton Noel-Williams just failing to reach another. He even had the ball in the net but saw that disallowed.



Amazingly we were denied a penalty when Akinbiyi was clearly held back but the claim was waved away after nothing was given by the well placed assistant. Paul Danson was the first referee ever to be dropped from the Premiership, he has now been dropped by the Football League but this proverbial bad penny has turned up now on the line.



We were somewhat unfortunate not to be in front but there was no excuse when the next chance came. Again it was the impressive Elliott who got in a low cross from the right. It was met by Noel-Williams who somehow blazed it over the top from no more than four yards out.



He'd started well though and won a lot of important balls, and I'm sure he won't miss one like that when it really matters.



It was the last real chance of the first half and we'd done well enough with the two central defenders both looking good whilst Micah Hyde was the pick for me, now the senior man in the midfield and stamping his authority on things.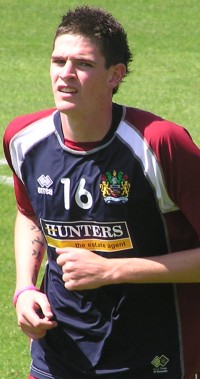 Kyle Lafferty - almost created a late winner

Coyne made way for Brian Jensen at half time but the Beast had no more to do as we comfortably held the home side and if anyone was going to score it was going to be us. And how close Micah came.



Cast your mind back to Ewood in March and the moment that lifted the Darwen End – Micah all but repeated it but this time it came back into play off the woodwork. It was a stunning strike.



Thomas was next to get a shot in and when the ball run loose Noel-Williams looked to have prodded it home but an excellent goal line clearance saved the day for Cheltenham.



On came Danny Karbassiyoon and Graham Branch but we couldn't quite get the breakthrough and in the closing minutes 2nd year apprentices Chris McCann and Kyle Lafferty were given their chance and almost set up a winner for Ade with a well worked move. McCann played the ball down the left for Lafferty to run on to. He got a cross in which just eluded the Burnley striker.



That was just about it and referee Friend, who had a rather eccentric afternoon, brought it to a close with the score at 0-0.



It was no classic and at times played at a slow pace, and that was no surprise given the heat out on the pitch. That doesn't matter though, it was an afternoon where all five new signings made their debuts and players are still getting used to each other.



There were some good individual performances, where Micah Hyde just pipped Elliott and Garreth O'Connor for me.



The ninety minutes will have given them all an extra boost as they look to get fully fit and ready for the first league game at Crewe and that's what's needed. So now it's on to Accrington and hopefully we'll see us break our duck in terms of goals.



The teams were,



Cheltenham: Scott Brown, Jeremy Gill, Mike Townsend, Shane Duff (Gavin Caines 24, Shane Duff 45), Jamie Victory, JJ Melligan, David Bird (Adam Connolly 62), Grant McCann, Craig Armstrong (Ashley Vincent 77), Kayode Odejayi (Steve Guinan 62), Damian Spencer. Subs not used: Shane Higgs, Michael Taylor, John Finnigan, Andy Gallinagh.



Burnley: Danny Coyne (Brian Jensen 45), Michael Duff, Wayne Thomas, John McGreal, Frank Sinclair (Kyle Lafferty 88), Wade Elliott (Chris McCann 88), Micah Hyde, James O'Connor, Garreth O'Connor (Graham Branch 75), Ade Akinbiyi, Gifton Noel-Williams (Danny Karbassiyoon 67).



Referee: Kevin Friend (Leicester).



Attendance: 1,866.