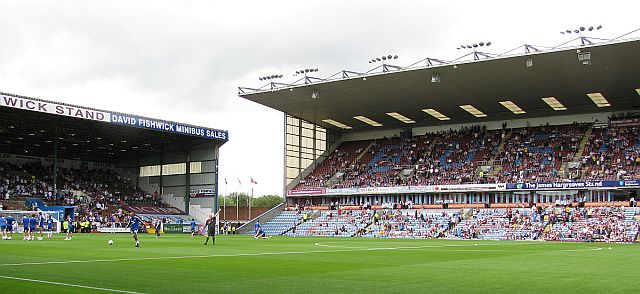 They always reckon that a new man gives a team a lift and that seemed to be very much the case as the results came in for all but one of the teams. We gave Sean Dyche a win in his first game against Wolves, and so did bottom of the league Ipswich who enjoyed a 1-0 win at Birmingham as Mad Mick McCarthy took over.
Freedman saw his Bolton side come from a goal behind to beat league leaders Cardiff and Ian Holloway, clearly a man who had been desperate to get out of Blackpool, was introduced to the Palace fans as they beat Blackburn 2-0.
Blackburn, yes, the one team with a new man who weren't able to get any points. It's a welcome to Agent Henning Berg, the strangest of appointments that managing director Derek Shaw, the former bumbling chairman of Preston, struggled to enthuse over.
Shabby Shebby was happy enough. He'd got his man, well once he'd failed with his attempts to lure any of Tim Sherwood, Billy McKinlay, Harry Redknapp or Diego Maradona. Agent Berg isn't under any pressure at Ewood, other than he must, as a minimum, win promotion this season.
I like Shebby. I'm not sure what a global advisor is supposed to do. I was disappointed with him when he forced Agent Kean out but, let's be fair, this comedic figure is proving to be very entertaining for the Burnley fans watching with interest.
Looking at the league table, Cardiff are still top despite the defeat at Bolton, but it is only now because of their goal difference. Middlesbrough have caught them after beating Charlton 4-1 at the Valley.
There were three 4-1 winners but the most surprising was surely Millwall's at Nottingham Forest. When Millwall came to the Turf in September they did so on the back of three successive defeats. They've been unbeaten since and that's seven games, three of which have been won and four drawn.
They are sat just one place behind us now but the league remains very tight. We are the top club in the bottom half of the league, but had we won just one of the games that ended in defeat we'd have been level on points with the team in sixth place. That's come with the boost of nine points from the last four games.
The new managers go into their next games in charge tonight. Agent Berg will be at Huddersfield.
The results from the weekend along with the stats, the leading goalscorers, each club's disciplinary record, the highest and lowest attendances and tonight's fixtures are all below.
The Results

Brighton & Hove Albion 2 Leeds United 2

Saturday 3rd November

Birmingham City 0 Ipswich Town 1

Huddersfield 1 Bristol City 0

Bolton Wanderers 2 Cardiff City 1

Hull City 1 Barnsley 0

Burnley 2 Wolverhampton Wanderers 0

Nottingham Forest 1 Millwall 4

Charlton Athletic 1 Middlesbrough 4

Sheffield Wednesday 2 Peterborough United 1

Crystal Palace 2 Blackburn Rovers 0

Watford 2 Leicester City 1

Derby County 4 Blackpool 1
The Stats

Biggest Win

Derby County 4-1 v Blackpool (home)
Middlesbrough 4-1 v Charlton Athletic (away)
Millwall 4-1 v Nottingham Forest (away)

Total Goals Scored

35 (20 home - 15 away)

Player Scoring Most Goals
2
Craig Mackail-Smith (Brighton & Hove Albion)
Glenn Murray (Crystal Palace)
Theo Robinson (Derby County)

Highest Attendance

26,402 - Brighton & Hove Albion v Leeds United

Lowest Attendance

12,295 - Burnley v Wolverhampton Wanderers

Total Yellow Cards

32

Total Red Cards

2

Most Cards in a Game

Bolton Wanderers v Cardiff City (4Y 1R) Ref: Tony Bates
Burnley v Wolverhampton Wanderers (5Y) Ref: Mark Haywood
Leading Goalscorers (League Only)

16

Charlie Austin (Burnley) - includes 2 penalties

10

Glenn Murray (Crystal Palace) - includes 4 penalties

9

Luciano Becchio (Leeds United) - includes 3 penalties

8

Craig Mackail-Smith (Brighton & Hove Albion) - includes 2 penalties

7

Craig Davies (Barnsley) - includes 1 penalty
Tom Ince (Blackpool) - includes 1 penalty
Darius Henderson (Millwall)
Jordan Rhodes (Blackburn Rovers) - 2 with Huddersfield Town
Pete Whittingham (Cardiff City) - includes 3 penalties

6

Steven Davies (Bristol City) - includes 1 penalty
Chris Eagles (Bolton Wanderers)
Marlon King (Birmingham City) - includes 2 penalties
David Nugent (Leicester City)
Theo Robinson (Derby County) - includes 1 penalty
Liam Trotter (Millwall) - includes 1 penalty
Chris Wood (Millwall)

5

Sone Aluko (Hull City)
Sam Baldock (Bristol City) - includes 1 penalty
George Boyd (Peterborough United)
Sylvan Ebanks-Blake (Wolverhampton Wanderers) - includes 1 penalty
Jermaine Johnson (Sheffield Wednesday)
Matej Vydra (Watford) - includes 1 penalty
Hat Tricks
Date

Player & Game

01/09/12

3: Pete Whittingham - CARDIFF CITY v Wolverhampton Wanderers

15/09/12

3: Charlie Austin - BURNLEY v Peterborough United

22/09/12

3: Glenn Murray - CRYSTAL PALACE v Cardiff City

22/09/12

4: Craig Davies - Birmingham City v BARNSLEY

23/09/12

3: David Nugent - LEICESTER CITY v Hull City

29/09/12

3: Emile Sinclair - Hull City v PETERBOROUGH UNITED

02/10/12

3: Charlie Austin - BURNLEY v Sheffield Wednesday

23/10/12

3: Marlon King - Millwall v BIRMINGHAM CITY
Disciplinary Record (League and Cup)

Club

Y

R

Y

R

Club

Y

R

Y

R

League

Total

League

Total

Barnsley

16

1

19

2

Huddersfield Town

22

2

23

2

Birmingham City

14

2

16

2

Hull City

11

0

11

1

Blackburn Rovers

19

0

19

0

Ipswich Town

21

0

21

0

Blackpool

18

0

18

0

Leeds United

26

0

31

0

Bolton Wanderers

29

1

31

1

Leicester City

17

1

17

1

Brighton & Hove Albion

22

0

23

0

Middlesbrough

20

0

23

0

Bristol City

20

0

22

0

Millwall

26

1

28

1

Burnley

25

0

31

0

Nottingham Forest

28

3

28

3

Cardiff City

19

0

21

0

Peterborough United

28

0

29

0

Charlton Athletic

21

0

21

0

Sheffield Wednesday

27

1

30

1

Crystal Palace

18

1

22

1

Watford

26

4

27

4

Derby County

12

1

13

1

Wolverhampton Wanderers

15

0

17

0
Highest and Lowest Attendances

Highest

Lowest

Att

Fixture

Att

Fixture

28,707

Nottingham Forest v Derby County (30/09)

5,435

Peterborough United v Bristol City (18/09)

28,582

Sheffield Wednesday v Leeds United (19/10)

6,188

Peterborough United v Millwall (21/08)

27,437

Derby County v Sheffield Wednesday (18/08)

6,348

Peterborough Utd v Huddersfield Town(23/10)

26,598

Sheffield Wed v Bolton Wanderers (22/09)

8,088

Barnsley v Bristol City (01/09)

26,594

Brighton & HA v Sheffield Weds (14/09)

8,195

Barnsley v Crystal Palace (23/10)

26,293

Brighton & HA v Middlesbrough (20/10)

8,319

Barnsley v Peterborough United (02/10)

26,185

Charlton Athletic v Barnsley (20/10)

8,427

Peterborough Utd v Derby County (29/10)

26,121

Brighton & HA v Birmingham City (29/09)

8,571

Barnsley v Ipswich Town (29/09)

25,726

Leicester City v Brighton & HA (23/10)

9,258

Millwall v Birmingham City (23/10)

25,518

Brighton & Hove Albion v Cardiff City (21/08)

9,280

Peterborough Utd v Wolves (22/09)
The Next Fixtures
Tuesday 6th November

Birmingham City v Bristol City

Derby County v Barnsley

Bolton Wanderers v Leicester City

Huddersfield Town v Blackburn Rovers

Brighton & Hove Albion v Peterborough United

Hull City v Wolverhampton Wanderers

Burnley v Leeds United

Nottingham Forest v Middlesbrough

Charlton Athletic v Cardiff City

Sheffield Wednesday v Blackpool

Crystal Palace v Ipswich Town (20:00)

Watford v Millwall