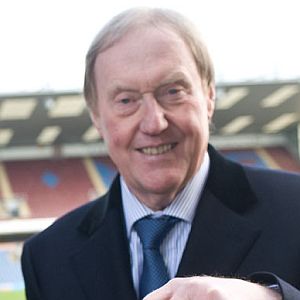 Without John Ward, Adrian Heath had been a disaster and, with Glenn Roeder, Chris Waddle was almost the complete disaster. Stan Ternent breezed in, said a lot, sacked a few players on Radio Lancs, but could do precious little given he'd no money to bring decent players in.
Over the previous year we'd had the weekly appearances from Ray Ingleby on Radio Lancashire, even receiving a public admonishment from Gary Hickson for telling us that Frank Teasdale couldn't organise a piss up in a brewery.
If that wasn't bad enough, the mysterious figure of Peter Shackleton surfaced. He and his wonderful backers were going to make Burnley richer than Jack Walker's Blackburn. Shackleton was preferred bidder; he sat with the directors, he spoke at supporters meetings of his plans and he pressed the button for the first million, and we're still waiting for that.
It was chaos, it was farce, the club had no direction and Stan, fresh from success at Bury, was helpless as he tried to rebuild the squad. Even Stan's move was being questioned with Bury set to take action over our appointments of him and Sam Ellis with the Gigg Lane club claiming them to be improper appointments.
I'll never claim Barry Kilby to be a knight in shining armour but if the right man ever appeared at the right time for our football club then I believe his arrival in October 1998 was as significant off the field event as any in my years of watching the club.
Briefly, from then to today, he backed a rights issue which saw him initially invest £3 million in the club. He backed Ternent in the transfer market, he then backed Ternent himself when things didn't initially go to plan.
His backing, particularly with the signings, kept us up and a year later took us up. In 2000 we returned to the second tier of English football and even more significantly in 2001 we stayed there, something we'd failed to do on the previous two promotions in 1982 and 1994.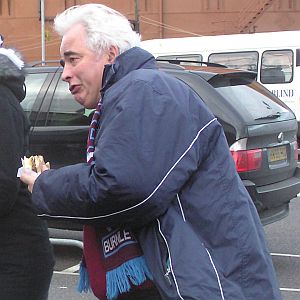 Peter Shackleton pressing the button
We flirted with the Premier League on two occasions and had a couple of concerning seasons near the bottom, but twelve years on from that promotion we've never gone back down and, of course, did eventually get that one season in the sun when Owen Coyle's team won the 2009 play offs.
Barry Kilby will be criticised by some for not investing enough then, and he'll always have his critics. I can't help but look back and see where we were when he came in and where we are now.
I knew his dad Roy very well. He was one of the most committed of Burnley fans who travelled the length and breadth of this country watching his beloved Clarets. Roy was one of the few who made it to Italy for the Fairs Cup game against Napoli in 1967, he'd never have missed it.
If he were with us today I'm sure he would be a very proud man at what his son has achieved as chairman of Burnley Football Club.
Today sees Barry Kilby's last game as chairman. He now has a bigger battle to fight in the future and we wish him success with that for a full and speedy recovery from his cancer.
I hope he, with Sonya and the Kilby family, have a smashing day today and let's just hope we can see him go out with a win.