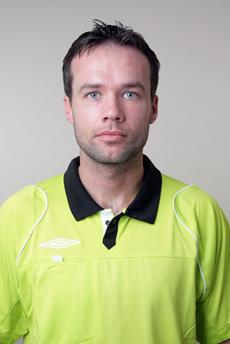 It's fair to say he had an absolute shocker at Barnsley. His overall refereeing was poor but two decisions he made were simply dreadful. He yellow carded the wrong player, booking Brian Stock instead of Michael Duff, a decision that meant Stock was sent off soon after for a second yellow that should have been his first.
Poor decision followed poor decision that afternoon but the worst for me was right on half time. He'd just given nothing for the worst foul of the game on Ross Wallace. The Burnley player was down injured and, totally ignoring him, Tierney blew for half time and walked off, leaving the Burnley team to attend to Wallace whilst Ian Woan had very strong words for the official.
This is his fifth season as a Football League referee. He made it to the Premier League as an assistant and has targeted a return there as a referee.
His first Football League game was at Macclesfield in August 2009, a 4-0 defeat against Notts County. There were no cards that day but overall he's averaged around three yellow cards per game although that dropped last season when he showed just 72 yellow cards in 35 games along with four red cards.
Tonight will see him referee for the fifth time this season and if Burnley score they will become the first home team to have found the net with him refereeing. In league games he's refereed three away wins, two of them in the Championship, and in the Capital One Cup he was in charge of the Barnsley v Scunthorpe game that ended 0-0 with Barnsley going through on penalties.
In those four games there have been fifteen yellow cards, seven of them to home team players and eight to away team players.
His last game was the League One fixture between Carlisle and Coventry at Brunton Park, won 4-0 by Coventry. Carlisle's Kevin Feely and Paul Black were yellow carded as were Conor Thomas, Franck Moussa and Billy Daniels of Coventry.
Tierney's performance at Barnsley leaves him in 65th place out of 67 in the RATE THE REF Table with a rating of just 34 out of 100.
The assistant referees tonight are Keith Lawson (South Humberside) and Steven Meredith (Nottinghamshire). The fourth official is Duncan Street (South Yorkshire).
Previous Burnley Games
Season

Opponents

V

Res

Y

R

Burnley Players Carded

2012/13

BARNSLEY

a

0-1

4

1

n

Stock, Marney

n

Stock