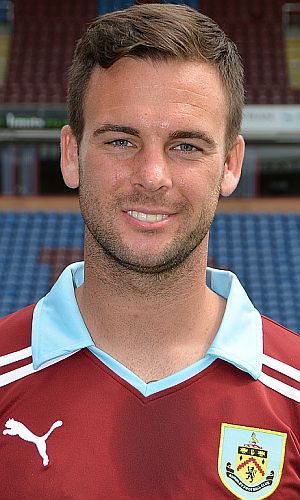 Danny Fox saw red at Birmingham
This time it was Brighton playing against nine men but the first red card, that of Leicester's Jermaine Beckford, left Nigel Pearson 'furious' with an official for the second time in four days.
In midweek he hit the roof at referee Gavin Ward walking into the Leicester dressing room at half time and speaking to him in a manner that he felt unacceptable and now he's furious at this decision to send off Beckford, taken by the assistant referee.
Some of the other red cards were justified and some not. Danny Fox went in Southampton's draw at Birmingham. That looked harsh; there was little more in the second yellow than the one that saw Kieran Trippier sent off at Leeds. But it was Phil Dowd so there was probably no surprise.
At the top, West Ham took advantage of Southampton dropping two points. They beat Millwall but were somewhat fortunate. How on earth referee Jones allowed the winner only he will know after a clear foul on the goalkeeper.
It's taken West Ham four points clear now whilst Southampton might have even found themselves outside the top two for the first time this season had Cardiff beaten Blackpool. They did lead 1-0 but then fell for the Phillips & Phillips pairing. Kevin equalised and Matthew then scored twice to give Blackpool the points and lift them to fourth, just below Cardiff.
Hull, one of the teams without a game, dropped out of the top six allowing Blackpool in there. They'd have been behind us too had we managed to find a winner against Peterborough. We'd have been seventh, just one point from the play off positions.
Coventry were the only one of the bottom three clubs to play. They even went in front at one point in their home game against Ipswich, leading 2-1 after going a goal behind. It didn't last though with Michael Chopra scoring twice to give Ipswich the win and lift them a couple of places, and taking them ten points clear of the bottom three.
By the time we all play again Birmingham could have gone third. They play Portsmouth at home tomorrow and a win would see them move above Cardiff. It's a home game and they are unbeaten at home so a win is expected.
Despite it no longer being close, I'm still doing it, checking how far we are from the play offs and the bottom three after each game. It's three points from the play offs now and twenty from the bottom three.
The results and stats are below along with the leading goalscorers, each club's disciplinary record, the highest and lowest attendances and this week's fixtures.
The Week's Results
Saturday 4th February

Birmingham City 0 Southampton 0

Doncaster Rovers v Reading - Postponed

Brighton & Hove Albion 1 Leicester City 0

Middlesbrough 0 Crystal Palace 0

Bristol City 0 Leeds United 3

Portsmouth v Hull City - Postponed

Burnley 1 Peterborough United 1

Watford 2 Barnsley 1

Cardiff City 1 Blackpool 3

West Ham United 2 Millwall 1

Coventry City 2 Ipswich Town 3

Sunday 5th February
Derby County v Nottm Forest - Postponed
The Week's Stats

Biggest Win

Leeds United 3-0 v Bristol City (away)

Total Goals Scored

21 (9 home - 12 away)

Player Scoring Most Goals

2

Michael Chopra (Ipswich Town)
John Eustace (Watford)
Matt Phillips (Blackpool)

Highest Attendance

27,774 - West Ham United v Millwall

Lowest Attendance

11,306 - Watford v Barnsley

Total Yellow Cards

25

Total Red Cards

7

Most Cards in a Game

Brighton & Hove Albion v Leicester City (4Y 3R) Ref: Andy Woolmer
West Ham United v Millwall (6Y 1R) Ref: Michael Jones
Leading Goalscorers (League Only)

16

Rickie Lambert (Southampton) - includes 6 penalties

14

Ross McCormack (Leeds United)

12

Darius Henderson (Millwall) - includes 2 penalties

11

Jay Rodriguez (Burnley) - includes 1 penalty
Robert Snodgrass (Leeds United) - includes 1 penalty

10

Michael Chopra (Ipswich Town)
Guly Do Prado (Southampton)
David Nugent (Leicester City)
Billy Sharp (Southampton) - includes 1 penalty - (10 with Doncaster Rovers)
Ricardo Vaz Te (West Ham United) - (10 with Barnsley)
Chris Wood (Bristol City) - (9 with Birmingham City)

9

Keith Andrews (Ipswich Town)
Charlie Austin (Burnley)
Carlton Cole (West Ham United)
Craig Davies (Barnsley) - includes 1 penalty
Matty Fryatt (Hull City) - includes 1 penalty
Lukas Jutkiewicz (Middlesbrough) - includes 1 penalty - (9 with Coventry City)
Marlon King (Birmingham City) - includes 2 penalties
Scott McDonald (Middlesbrough)
Kenny Miller (Cardiff City)
Kevin Phillips (Blackpool)
Hat Tricks
Date

Player & Game

20/08/11

3: Lee Tomlin - PETERBOROUGH UNITED v Ipswich Town

10/09/11

3: Rickie Lambert - SOUTHAMPTON v Nottingham Forest

11/09/11

3: Chris Wood - BIRMINGHAM CITY v Millwall

12/10/11

3: Darius Henderson - Leicester City v MILLWALL

02/11/11

3: Jonjo Shelvey - Leeds United v BLACKPOOL

19/11/11

3: Rickie Lambert - SOUTHAMPTON v Brighton & Hove Albion

26/12/11

3: Matthew Phillips - Barnsley v BLACKPOOL

31/12/11

3: Ricardo Vaz Te - BARNSLEY v Leeds United

21/01/12

3: Darius Henderson - Barnsley v MILLWALL

31/01/12

4: Nikola Zigic - Leeds United v BIRMINGHAM CITY
Disciplinary Record (League and Cup)

Club

Y

R

Y

R

Club

Y

R

Y

R

League

Total

League

Total

Barnsley

40

1

43

1

Ipswich Town

34

4

35

4

Birmingham City

39

1

42

1

Leeds United

43

5

49

5

Blackpool

38

1

40

2

Leicester City

43

7

50

7

Brighton and Hove Albion

68

6

81

6

Middlesbrough

47

4

50

4

Bristol City

44

4

46

4

Millwall

49

2

54

2

Burnley

40

2

48

2

Nottingham Forest

37

3

42

3

Cardiff City

35

0

49

0

Peterborough United

34

2

37

2

Coventry City

34

2

36

2

Portsmouth

45

3

52

3

Crystal Palace

39

1

43

2

Reading

40

0

43

0

Derby County

37

1

37

1

Southampton

35

4

37

4

Doncaster Rovers

43

2

45

2

Watford

38

1

40

1

Hull City

47

1

51

1

West Ham United

47

4

50

5
Highest and Lowest Attendances

Highest

Lowest

Att

Fixture

Att

Fixture

34,936

West Ham United v Coventry City (02/01)

6,351

Peterborough United v Cardiff City (18/10)

34,749

West Ham United v Barnsley (17/12)

7,550

Peterborough United v Portsmouth (28/01)

33,465

West Ham United v Portsmouth (10/09)

7,650

Doncaster Rovers v Watford (26/11)

33,010

Derby County v Southampton (15/10)

7,778

Doncaster Rovers v Bristol City (27/08)

33,010

Derby County v Leeds United (26/12)

7,901

Peterborough United v Burnley (17/09)

32,150

Southampton v West Ham United (18/10)

7,928

Peterborough United v Ipswich Town (20/08)

31,812

Southampton v Brighton & Hove Albion (19/11)

8,062

Peterborough United v Coventry City (17/12)

31,718

West Ham United v Nottingham Forest (21/01)

8,320

Peterborough United v Barnsley (03/12)

31,524

Southampton v Crystal Palace (26/12)

8,426

Doncaster Rovers v Coventry City (29/10)

31,448

West Ham United v Blackpool (15/10)

8,500

Peterborough Utd v Doncaster Rovers (01/10)
The Next Fixtures
Tuesday 7th February

Birmingham City v Portsmouth

Saturday 11th February

Barnsley v Birmingham City

Leicester City v Cardiff City

Blackpool v Portsmouth (17:20)

Millwall v Derby County

Crystal Palace v Doncaster Rovers

Nottingham Forest v Watford

Hull City v Bristol City

Peterborough United v West Ham United

Ipswich Town v Middlesbrough

Reading v Coventry City

Leeds United v Brighton & Hove Albion

Southampton v Burnley