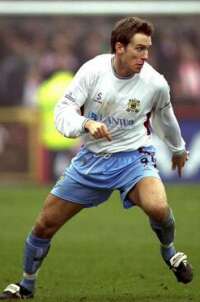 Gareth Taylor - scored the penalty but jeered by the fans
We deserved our win at Watford last week, we were worth more than the point we picked up at Barnsley on Saturday but tonight we certainly didn't deserve any more than the point we picked up. Had we been able to play half as well as we did at Watford or Barnsley then we would have beaten this very poor looking Rotherham team.
There are games when we really look up for it from the start but tonight's wasn't one of them. In fact Rotherham could have had the lead very early when former Claret Alan Lee got clear but shot straight at Marlon. I've watched Lee a few times now and to be honest I cannot say we have lost anything by letting him go to Millmoor and tonight again he totally failed to impress.
We had a chance shortly afterwards but Ian Moore didn't upset his dad this time and with the option of playing it to Glen Little he chose to shoot and put it wide. We didn't have to wait long for him to upset his dad though and with just nine minutes on the clock he went down in the box under challenge from a Rotherham defender and referee Brandwood awarded a penalty.
There was some confusion as to who decided it was a penalty with the assistant getting involved but I think Brandwood gave this himself and I have to say I think he got it badly wrong. I didn't have the best seat in the house but I did have a clear view of the incident and I do not think it was a foul.
But penalty it was and Gareth Taylor scored with some ease. It was just the start we wanted but with some doubt in the referee's mind he didn't take long to even it up. Within two minutes he was pointing to the spot at the other end as John Mullin went down. Even from the far end this looked dubious and those nearer to the incident were quick to confirm that it looked a poor decision. Mark Robins, as Gareth Taylor had done two minutes earlier, also scored with some ease and we were level again.
The game was never going to be a classic, it did look a difficult pitch to pass the ball on, but we were served up some pretty poor fair for the rest of the first half. There were half chances for both sides and Dean West should surely have opened his Burnley account close to half time but saw his effort deflected for a corner.
In fact the most memorable recollection in that first 45 minutes was the less than musical sound of a Burnley primary school teacher who was doing his best to create some atmosphere by trying out a new song. There was no uptake from the Burnley fans who were more intent on chanting for Glen Little and Ian Moore and hurling abuse at Gareth Taylor.
If the first half was not the best then for the Clarets the second half was worse as we conceded possession to the home side far too easily and readily. Passes too often went astray and the stars of Saturday Paul Weller and Kevin Ball were having far from good games.
Rotherham didn't look anywhere near as good a side as they did at the Turf earlier in the season and despite the possession they had they really didn't bother us that much in the second half. At the time you kept thinking that eventually they would punish us and grab a winner but I can't recall them creating anything resembling a clear cut chance.
New signing Robbie Blake came on for Ian Moore and needless to say the fans jeered Stan's decision and gave Mooro a standing ovation. What they really were trying to do was let Stan know they wanted Taylor off. Blake failed to impress at all tonight but he wasn't coming into a good performance.
Glen was next to be substituted and of course this brought another wonderful ovation from the fans. Glen in my book had just given us a nightmare performance but he is totally excused always because he is one of the favourites.
Our last substitution was interesting to say the least. Gareth Taylor went off and that pleased many but Branch came on and that rather spoiled it for them. These two are certainly not in favour in the stands right now and the abuse Taylor in particular is getting is way out of order.
None of the substitutions made much of a difference to be honest although in the last ten minutes of the game we did come more into it after letting Rotherham see far too much of the ball in the second half.
Bad teams will always give you a chance and Rotherham are a bad team. They gave us two chances during that second half. The first fell to Taylor who shot wide when Blake was better positioned and then right at the end Graham Branch headed over from an Alan Moore cross.
So we return to the Turf unbeaten in these three away games but surely, with the possible (and only possible) exception of the Unprofessionals, we will not come up against a worse side than Rotherham in the rest of the season. They have pulled away from the relegation places but I wouldn't be at all surprised to see them drop right back in there.
Man of the match is difficult, to be honest nobody impressed me tonight. However Marlon did all that was asked of him and in the second half when I was sat almost close enough to hold a conversation with him he looked totally in control of everything and made not a single mistake.
And finally to the referee. What do we do to deserve officials like this? On this performance he would probably have been better calling it off again just over an hour before kick off. He enjoyed waving his yellow card about but like too many referees he missed the bad fouls, the ones that really should be punished. At no time this evening did Mr. Brandwood give me the slightest impression that he understood the game.
Back home then now and four of the next five games will be played on the Turf. Having said that our home record this season is not the best and right now we have won as many games away from home as we have done at home. We need to put that right over the next few games starting on Saturday with the visit of Nottingham Forest.
The teams tonight were,
Rotherham United: Mike Pollitt, Chris Swailes, Martin McIntosh, Marvin Bryan, Paul Hurst, Chris Sedgwick, Stewart Talbot (Nick Daws 73), John Mullin, Andy Monkhouse (Paul Warne 85), Mark Robins, Alan Lee (Richie Barker 75). Subs not used: Ian Gray, Guy Branston.
Burnley: Marlon Beresford, Dean West, Ian Cox, Arthur Gnohere, Lee Briscoe, Glen Little (Brad Maylett 65), Paul Weller, Kevin Ball, Alan Moore, Ian Moore (Robbie Blake 61), Gareth Taylor (Graham Branch 75). Subs not used: Gordon Armstrong, Paul Cook.
Referee: John Brandwood (Lichfield).