A microphone rather than a Cobblers shirt
By Tony Scholes
Updated Thursday, 2nd August 2012
Views: 159
Andre Amougou, Clarke Carlisle and Brian Easton were all released by the Clarets a couple of weeks after the end of last season. More recently Zavon Hines, without ever starting a league game for us, followed them through the exit door.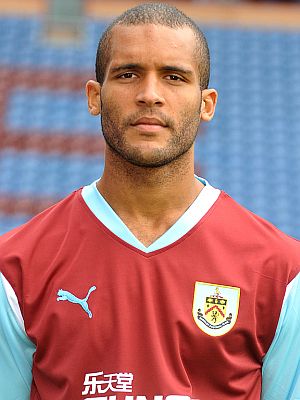 Does Clarke Carlisle prefer a microphone?
But the question is, what are they up to now? Have they found new clubs? Will they be kicking off the new season in new colours?
I think we'll look at Brian Easton first, simply because there is nothing to report. Despite extensive searches I can't find any trace of where he might be, whether he's on trial with another club or whether he's still trying to find a club.
I wondered, given who signed him, whether he might have turned up at Horwich, but then remembered that the manager there didn't see him as part of the first team when both were at Turf Moor.
Fellow defender Andre Amougou was linked with Championship rivals Middlesbrough and continues to be. It's thought that Tony Mowbray remains keen to bring him in for the new season. Mowbray rates him highly, as one of the best central defenders in the Championship, and remains hopeful they can do a deal.
Zavon Hines claimed he had a number of options when his contract at Burnley was terminated two weeks ago and that he'd prefer to move back to the South East. Today came news that he's currently enjoying a trial with Swindon, last season's League Two champions.
He trained with Paolo Di Canio's squad yesterday and will be hoping to do enough to win a contract ahead of their opening game of the season against Preston.
And that brings us to the PFA Chairman Clarke Carlisle. In terms of his playing career it all looks to have gone very quiet, although he's certainly been prominent media wise during the summer.
He ended last season on loan at Northampton Town and they would love him back at Sixfields for the new season. Only yesterday, manager Aidy Boothroyd said: "Clarke Carlisle will be absolutely perfect for us because he has a voice, and he has a presence."
However, Boothroyd added: "But Clarke has a lot of things going on in his life. He is very fortunate that he is talented at a lot of other things and there are a lot of TV people that want him now, and he has a decision to make on whether he continues to play professional football, or whether he gets heavily involved with the PFA, or whether he goes and does his TV work.
"It is nice to have choices, but it is getting to the stage now where I am thinking 'well, are you coming or not?', and if he decides that he's not, then that is fine, he goes with our best wishes as he was a key player in keeping the club in the Football League last season."
Boothroyd did add his concerns should Carlisle call it a day. "I think it's too early for Clarke to retire, and we have a relationship where he may listen to what I say," he added. "
"But Clarke has a family in the north and that has to be the priority for any guy. So what will be will be. If I was a betting man, and I'm not, I wouldn't put any money on him wearing our shirt this season, and I think we might see him with a microphone rather than a Cobblers shirt."
Update: Since this article was written, Swindon have cut short Zavon Hines' trial.
Manager Di Canio said: "I can't give him 40 days for pre-season. It's my opinion, I don't want to put him in trouble. He's just far from our level of fitness.
"We said to him it wasn't fair to keep him here for seven days. I don't think now I can find players who have the level of fitness that my players do."
Interact with us