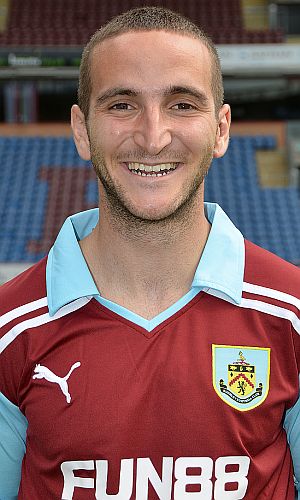 Martin Paterson scored in both our Christmas wins
Maybe I shouldn't have written Coventry off. I suggested their days in the Championship were numbered as they went into Christmas six points adrift at the bottom of the league. Incredibly they are not even bottom going into the New Year after wins against Bristol City and Brighton.
They've jumped above Doncaster on goal difference after the South Yorkshire club suffered their second reverse of the week at Watford.
Bristol City's shock win at Southampton on Friday night ensured they'd be out of the relegation positions and they are now three points clear after Nottingham Forest again failed to get any points and again failed to score a goal.
On 19th November, Marcus Tudgay scored in stoppage time for Forest to complete a 3-2 win against Ipswich. They'd been in the relegation positions under Steve McClaren but by then they'd risen to 17th in the table under new manager Steve Cotterill and were two points and four places ahead of us.
Eight teams at that time had scored either the same number of goals or less. Since, they've played seven with just one point and not a solitary goal to excite the Forest fans. They are now the league's lowest scorers and are entrenched in the bottom three and now with a fixture to come against Ipswich, that last team they scored against.
That's the bottom positions sorted, but what about the top of the league where none of the top three were able to record a win. Southampton gave themselves an advantage over the weekend by playing Friday night but it didn't do them much good as they went down to a 1-0 home defeat against Bristol City.
The last team to take three points from St. Mary's prior to that was Brentford in December 2010. Their only other home defeat in 2011 was in the FA Cup against Manchester United.
That result gave both West Ham and Middlesbrough the opportunity to draw level but neither took it. West Ham were 2-0 down at Derby in ten minutes and eventually lost 2-1 whilst Middlesbrough were held at home by Peterborough when Tommy Rowe headed in a late equaliser for the visitors.
Middlesbrough's draw did take them into the top two whilst West Ham are in the play off positions going into 2012 and they've not been that low since the beginning of October.
Cardiff, Reading and Hull remain the other three clubs in the play off places and there is a three point gap below that with Burnley now in 7th place.
Those four clubs with two wins this week have all enjoyed two home games. Can any of them continue those runs?
Reading are currently in the best run having won their last 4 games whilst Brighton have lost their last four. The best unbeaten run at the moment is Watford's nine games whilst Nottingham Forest have now, hardly surprisingly without a goal, gone seven without a win.
The last results and stats of 2011 are below along with the leading scorers, each club's disciplinary record, the highest and lowest attendances and the first fixtures of 2012.
The Week's Results
Friday 30th December

Southampton 0 Bristol City 1

Saturday 31st December

Barnsley 4 Leeds United 1

Middlesbrough 1 Peterborough United 1

Birmingham City 3 Blackpool 0

Millwall 0 Crystal Palace 1

Burnley 1 Hull City 0

Nottingham Forest 0 Cardiff City 1

Coventry City 2 Brighton & Hove Albion 0

Reading 1 Ipswich Town 0

Derby County 2 West Ham United 1

Watford 4 Doncaster Rovers 1

Leicester City 1 Portsmouth 1
The Week's Stats

Biggest Win

Barnsley 4-1 v Leeds United (home)
Watford 4-1 v Doncaster Rovers (home)
Birmingham City 3-0 v Blackpool (home)

Total Goals Scored

27 (19 home - 8 away)

Player Scoring Most Goals

3 - Ricardo Vaz Te (Barnsley)

Highest Attendance

30,328 - Southampton v Bristol City

Lowest Attendance

11,654 - Watford v Doncaster Rovers

Total Yellow Cards

42

Total Red Cards

2

Most Cards in a Game

Southampton v Bristol City (7Y) Ref: Darren Deadman
Leading Goalscorers (League Only)

15

Rickie Lambert (Southampton) - includes 5 penalties

10

Ross McCormack (Leeds United)
Billy Sharp (Doncaster Rovers) - includes 1 penalty
Ricardo Vaz Te (Barnsley)

9

Keith Andrews (Ipswich Town)
Craig Davies (Barnsley) - includes 1 penalty
Guly Do Prado (Southampton)
Matty Fryatt (Hull City) - includes 1 penalty
Darius Henderson (Millwall) - includes 1 penalty
Lukas Jutkiewicz (Coventry City) - includes 1 penalty
Chris Wood (Birmingham City)

8

Charlie Austin (Burnley)
Carlton Cole (West Ham United)
Grant McCann (Peterborough United) - includes 2 penalties
David Nugent (Leicester City)
Robert Snodgrass (Leeds United) - includes 1 penalty
Marvin Sordell (Watford) - includes 2 penalties

7

Michael Chopra (Ipswich Town)
Marvin Emnes (Middlesbrough)
Robert Koren (Hull City)
Nicky Maynard (Bristol City)
Scott McDonald (Middlesbrough)
Kenny Miller (Cardiff City)
Kevin Phillips (Blackpool)
Jay Rodriguez (Burnley) - includes 1 penalty
Pete Whittingham (Cardiff City) - includes 2 penalties
Hat Tricks
Date

Player & Game

20/08/11

3: Lee Tomlin - PETERBOROUGH UNITED v Ipswich Town

10/09/11

3: Rickie Lambert - SOUTHAMPTON v Nottingham Forest

11/09/11

3: Chris Wood - BIRMINGHAM CITY v Millwall

12/10/11

3: Darius Henderson - Leicester City v MILLWALL

02/11/11

3: Jonjo Shelvey - Leeds United v BLACKPOOL

19/11/11

3: Rickie Lambert - SOUTHAMPTON v Brighton & Hove Albion

26/12/11

3: Matthew Phillips - Barnsley v BLACKPOOL

31/12/11

3: Ricardo Vaz Te - BARNSLEY v Leeds United
Disciplinary Record (League and Cup)

Club

Y

R

Y

R

Club

Y

R

Y

R

League

Total

League

Total

Barnsley

31

1

32

1

Ipswich Town

28

3

28

3

Birmingham City

30

1

30

1

Leeds United

38

5

42

5

Blackpool

34

1

35

2

Leicester City

33

4

37

4

Brighton and Hove Albion

58

4

64

4

Middlesbrough

40

2

41

2

Bristol City

38

0

39

0

Millwall

39

0

41

0

Burnley

32

1

40

1

Nottingham Forest

36

2

39

2

Cardiff City

30

0

40

0

Peterborough United

30

2

32

2

Coventry City

28

2

29

2

Portsmouth

39

2

42

2

Crystal Palace

34

0

36

0

Reading

33

0

35

0

Derby County

33

1

33

1

Southampton

31

2

32

2

Doncaster Rovers

39

1

39

1

Watford

31

0

32

0

Hull City

41

1

41

1

West Ham United

41

3

41

4
Highest and Lowest Attendances

Highest

Lowest

Att

Fixture

Att

Fixture

34,749

West Ham United v Barnsley (17/12)

6,351

Peterborough United v Cardiff City (18/10)

33,465

West Ham United v Portsmouth (10/09)

7,650

Doncaster Rovers v Watford (26/11)

33,010

Derby County v Southampton (15/10)

7,778

Doncaster Rovers v Bristol City (27/08)

33,010

Derby County v Leeds United (26/12)

7,901

Peterborough United v Burnley (17/09)

32,150

Southampton v West Ham United (18/10)

7,928

Peterborough United v Ipswich Town (20/08)

31,812

Southampton v Brighton & Hove Albion (19/11)

8,062

Peterborough United v Coventry City (17/12)

31,524

Southampton v Crystal Palace (26/12)

8,320

Peterborough United v Barnsley (03/12)

31,448

West Ham United v Blackpool (15/10)

8,426

Doncaster Rovers v Coventry City (29/10)

30,410

West Ham United v Leicester City (29/10)

8,500

Peterborough Utd v Doncaster Rovers (01/10)

30,391

Derby County v Hull City (19/11)

8,685

Peterborough United v Hull City (10/09)
The Next Fixtures
Monday 2nd January

Blackpool v Middlesbrough

Ipswich Town v Nottingham Forest

Brighton & Hove Albion v Southampton

Leeds United v Burnley

Cardiff City v Reading

Peterborough United v Birmingham City

Crystal Palace v Leicester City (13:00)

Portsmouth v Watford

Doncaster Rovers v Barnsley

West Ham United v Coventry

Hull City v Derby County

Tuesday 3rd January

Bristol City v Millwall (19:45)