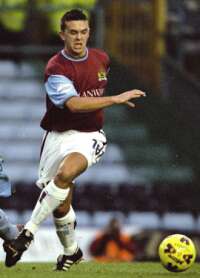 Paul Weller - Man of the Match
Although our run without a win at Oakwell, which now goes back 70 years, has not been ended we have finally picked up or first point in 64 years and finally Gareth Taylor ended our goalless run there.
Anything less would really have been a travesty as the Clarets turned in their second excellent away performance of the week and to be honest we well worth the full three points. However, having gone behind after just six minutes against a club on a long unbeaten run, it could have been worse.
Conditions did not look ideal for good football. Only those taking part can know just how much of a part the wind plays in a game but I can tell you that apart from struggling to see in the first half because of the setting sun it was damn cold as the wind threw all it could at us.
The Clarets had the advantage of that wind in the first half and how it appeared to show as, apart from a few minutes early in the game, we dominated the first 45 minutes. With any real luck at all we would have gone in at half time with a comfortable lead but had to settle for just the equaliser from Gareth Taylor after superb work from Paul Weller and Lee Briscoe.
Barnsley defended desperately at times and were getting away with everything as they sliced the ball over their own bar on more than one occasion. We just seemed to be attacking them in droves as just about every Claret on the pitch seemed to want to support the attack.
Bally, back in midfield and retaining the captaincy, was getting into the box more than I can ever recall but incredibly by half time we were only level.
The half time talk centred around the concern that we would have to defend against the strong wind in the second half and that it could be 45 minutes of desperate defence just to hold on to what we had.
It is fair to say that when Barnsley did attack in the second half they put us under some pressure but they did not attack us anywhere near as much as we feared, in fact you always had the feeling that we were the more likely to score. Yes there were one or two scares but I can't recall Marlon really having a save to make in the second half.
The same couldn't be said of Barnsley's Kevin Miller though who had a busy second half dealing with some excellent Burnley attacks. He had a couple of close calls and generally did well and with the Clarets pressing at the end made an excellent save from Alan Moore. From the 150 yards or so away at the other end it looked as though Moore could and should have done better but it is sometimes not easy to judge from a less than ideal behind the goal view.
The last ten minutes or so we almost camped in their penalty box as we pushed for a second late winner in a week but it was not to be this time and a point was what we had to settle for in the end.
It was less than we deserved but it has been a good six days for Burnley Football Club. Down in the dumps after another less than acceptable performance and result last week against West Brom we have come back and produced two excellent performances away from home. Would any of you not have accepted four points from these two games if offered last Tuesday?
We have been back somewhere near our best, the returning confidence is there for all to see and the attitude that many questioned, particularly after the Cheltenham defeat, is certainly back as it should be.
It does leave you with mixed feelings though. A point away from home is never a bad result and as Stan will always say it is another point nearer to where we want to be. It's just that our performance deserved more. I think the fact that we have found our form again though is the most important and I didn't hear one negative comment from anyone as I left the ground. And Stan was happy because he had a big smile on his face as he came down to the Burnley end at the end of the game.
Man of the match for me today was the player who so nearly won it on Wednesday, Paul Weller. Back from injury he has come in and played well in both games and I thought he was excellent today. Not far behind him were Kevin Ball, another player bang in form, and Lee Briscoe who was outstanding on the left of defence after starting the game there with Branch left out.
I contacted the Football League yesterday who confirmed that the referee was Mark Warren from Walsall. Now if the Football League says he is refereeing then he is refereeing. The Barnsley programme, obviously erroneously, said the referee was Richard Beeby. You really would think the Football League would get it right but they didn't and it was Beeby from Northampton who has only been in charge of one Burnley game before, the 0-0 draw at Stockport last season.
So the Barnsley experience is over for another season, the trip to the least inviting and welcoming of clubs. They really do go out of their way to make you unwelcome and then they don't let you get away by creating one of the worst traffic jams you are ever likely to find as you spend approaching an hour getting back to the motorway two miles away.
The teams today were,
Barnsley: Kevin Miller, Dave Mulligan, Chris Morgan, Steve Chettle, Chris Barker, Kevin Donovan, Chris Lumsdon (Mitch Ward 45), Gary Jones, Darren Barnard, Mike Sheron (Tony Bedeau 78), Bruce Dyer. Subs not used: Andy Marriott, Alex Neill, Lee Crooks.
Burnley: Marlon Beresford, Dean West, Ian Cox, Arthur Gnohere, Lee Briscoe, Paul Weller, Kevin Ball, Tony Grant (Alan Moore 45), Glen Little (Brad Maylett 83), Ian Moore (Robbie Blake 73), Gareth Taylor. Subs not used: Gordon Armstrong, Paul Cook.
Referee: Richard Beeby (Northampton).