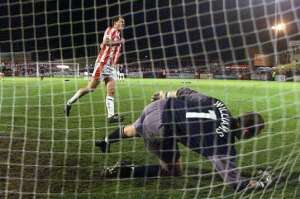 Mark Yates converts his penalty for Cheltenham in the shoot out
In three ties we managed a win against a non league club and two defeats against clubs who were non league clubs not so very long ago. All three games were against sides we had never played against.
The two defeats came against Rushden & Diamonds in the Worthington Cup and Cheltenham Town in the FA Cup. R&D were just starting their first ever Football League season and for Cheltenham only their third and both clubs can certainly say they have done well since.
The Worthington Cup tie came early in the season at a time when Rushden & Diamonds were struggling to find their league feet. Since though they have done well and with a win on the last day of the season reached the 3rd Division play offs.
As for Cheltenham they were looking in with a chance of making the play offs at the time we made the trip to Whaddon Road in January but they then went on an exceptional run and almost made automatic promotion. Only a defeat at Champions Plymouth on the last day of the season prevented them taking the third promotion place.
So it was play offs for both of them and last night they both went a stage further and won through to the final, R&D beating Rochdale and Cheltenham winning a penalty shoot out against Hartlepool United. The shoot out ended 4-3 from six penalties each, five of the twelve missed but all three ex-Clarets on the pitch Mark Yates, Paul Smith and Kevin Henderson all scored.
Contrast that with Canvey Island the one side we did beat in a cup competition with a 4-1 FA Cup 3rd round win at the Turf. At the time they were beating everybody, and I mean everybody. They arrived at Burnley with a run of 26 wins and a draw in their previous 27 games. They looked to be running away with the Ryman League and all set for a place in the Conference.
After the Turf Moor defeat they went on to lose their next two league games against second place Gravesend and Northfleet and then Kingstonian. In total there were five league defeats in nineteen games after their visit to Burnley and this meant they ended the season in second place four points behind Champions Gravesend and Northfleet and there will be no promotion.
It looks as though you need to beat the Clarets in the cup if you want to have any success.