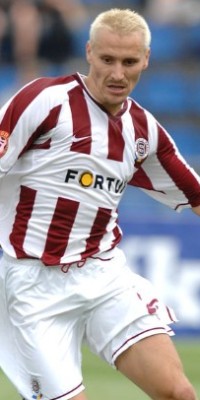 Martin Abraham - set for a trial
We had an offer turned down last week for Sheffield Wednesday's Glenn Whelan whilst the speculation linking us with Derek Riordan (Celtic) and Barry Robson (Dundee United) won't go away. To add to that Operational Director Brendan Flood said recently that he wanted us to be more active in the loan market.
According to the tabloids we've also got two more trialists coming in this week. The first is Portuguese defender Ricardo Emído Ramalho Silva. The 32-year-old started his career with his hometown club Porto but is now in his fifth season with Boavista the club we came close to signing Bambo from in 1996.
Martin Abraham is also expected to arrive this week for a trial. He's a 29-year-old midfielder from the Czech Republic. He's currently with Sparta Prague who are his fourth club. He's twice been called up to the national squad but as yet hasn't made his international debut.
It is not all about players coming in. Kyle Lafferty continues to be linked with a move away from Burnley whilst Charlton Athletic are now believed to be close to making an offer for striker Andy Gray. Manager Owen Coyle has insisted that he doesn't want to lose his leading scorer and confirmed last week that we had not received an offer for him.
It could be a much different looking Burnley squad by the end of the week and certainly by the end of the month.