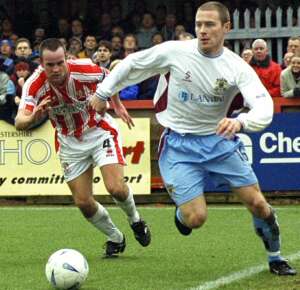 Action (or lack of it) from the cup defeat at Cheltenham
As the clocks ticked over to bring in the year the Clarets were sitting on top of the league despite having just lost heavily at Manchester City. Supporters already had plans in place to rid themselves of hangovers to get to the Turf for the Bradford City game.
Even during New Year's Eve there were rumours that things were not as they should be and suggestions that the club had already cancelled the pie order. So it came as no surprise when the game was called off despite the under soil heating (although without its Papal white smoke) and the supposed Match Saver cover.
It really was a game we needed to play and a game that had we played and won would have given us just the lift we needed. Instead we had to wait until 12th January for our first league action (Canvey Island had by then been seen off in the FA Cup).
It was a significant day for the editor of this web site but not for the two teams as we played out a less than inspiring 0-0 draw at Selhurst Park against the now defunct Wimbledon FC.
But the first few months of the year were to be less than inspirational and this draw was followed up by three defeats, two at home in the league and an embarrassing FA Cup exit at 3rd Division Cheltenham.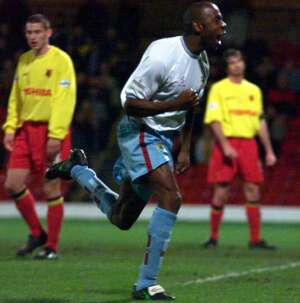 Coxy celebrates scoring in our first league win of the year at Watford
There was the odd victory though but they were all away from home at Watford, Crewe and finally at Edgeley Park the home of the Unprofessionals where the Clarets' fans were given the chance to wave goodbye to Mr. Hell-Wood and Carlton Palmer. But still no home win and it was now mid-March and David Moyes' Preston were due at the Turf.
The build up to the game was incredible as David Johnson arrived from Nottingham Forest on loan and the Moyes' Boys became the Moyesless Boys as the manager cleared off to Everton leaving Kelham O'Hanlon in charge.
But that wasn't all and on the eve of the match Stan did a bit of business with Moyes and signed a certain Paul Gascoigne for the rest of the season.
Johnson's impact was immediate and he scored the second in a 2-1 win against Preston on a night when one Clarets fan celebrated us being two up by displaying the scoreline on his backside and showing it off to the Preston fans.
Automatic promotion had long gone out of the window and we were now fighting to hang on to a play off place. At Christmas any suggestion that we wouldn't end the season in the top six seemed ridiculous but that is exactly what happened. One more goal would have done it but having been so far in front with just twenty games to play we only had ourselves to blame.
We won just six of those twenty games with seven drawn and seven lost. There had been some disastrous and woeful performances. Apart from the cup defeat at Cheltenham there could be no happy memories of trips to Walsall, Sheffield United or Grimsby.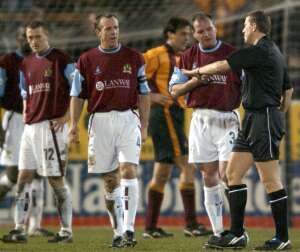 Gazza in discussion with referee Bates during his debut
The depression deepened during the summer with the realisation that Stan would be unable to strengthen his squad as he had planned. David Johnson had become a big favourite but suddenly with the loss of TV money there was no hope of the Forest striker now arriving on a permanent basis.
Other players had gone including Bally who had been a regular and Mitchell Thomas who had fought back from injury to get his place back. Gascoigne also went after being unable to show any sort of form. It is of no surprise to Burnley fans that he hasn't played a competitive game of football since the end of last season.
We had two Marlons training with us, Beresford and Broomes, but we were unable to sign either and they went off to York and Preston respectively. Yes Marlon Beresford signed for a 3rd Division club amidst rumours that we were set to go into administration.
We needed a lift but when the season started we certainly didn't get one as the first four games all ended in defeat. And if we are being honest we were awful in three of the four and deserved what we got – nothing.
A home draw against Palace did little to lift the place but by the time we arrived at Derby the week after we had signed Marlon Beresford for a month. Marlon remains at the club now but is still on short term contracts.
Things were no better and we were somewhat fortunate to be just a goal down at half time. But whatever Stan said in the confines of the dressing room at half time should be bottled as we came out for the second half and played for the first time all season.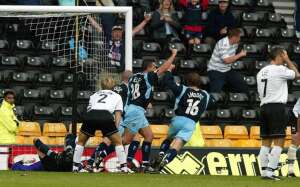 We needed a lift and got one at Derby with some help from this Warren Barton own goal
A 2-1 was just what the doctor ordered and suddenly we were on an unbeaten run that was to last ten matches. Some of the performances were excellent and given the quality of the opposition the win and draw at Leicester and Ipswich certainly stand out.
But when the unbeaten run ended after ten games we lost three in a week. The first was against an impressive Portsmouth, that is still the best they have played according to Redknapp, and then came the ridiculous 6-5 loss at Grimsby and the 3-1 reverse at Preston.
Another lift was needed and it came at the unlikeliest of times. We had gone out of the FA Cup embarrassingly in January but had reached the 3rd round of the Worthington (League) Cup for the first time in 20 years after beating Blackpool and Huddersfield.
It was Spurs, live on television, and we soon found ourselves a goal behind and second best in the game. But Glen Little had been left on the bench and with just over 25 minutes gone he came on and transformed the game.
"We couldn't handle him", said Glenn Hoddle and our talisman was without doubt in inspirational form. The first twenty minutes of the second half saw our best football of the year and we totally destroyed a team riding high in the Premiership. Our reward was another home game, this time against Manchester United and again on television.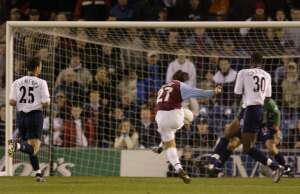 Robbie Blakes scores the first agains Spurs
Our cup run came to an end with a 2-0 defeat but not before we had done ourselves proud with a superb performance.
That was all forgotten by weekend though with news of the sad and tragic death of Nottingham Forest supporter Nathan Shaw in Burnley town centre. It really does make a review of the year seem almost pointless and just puts everything into perspective.
We had beaten Forest but it hardly mattered when Nathan died on the Sunday morning and shocked supporters of both clubs went into mourning.
We have played four matches since and they really do sum up the year. Heavy defeats against Rotherham at home and at Gillingham were followed by a rare home victory against Wolves.
Then just to prove that the showboating horrors of Bradford were no fluke we managed to conceded two goals in the last few minutes of our last match of the year at Brighton.
It has been an average year but given where we were back on 1st January a disappointing year, a year in which more league games were won than lost. It started with such high hopes and many of us dreaming of visits to the top clubs in the country.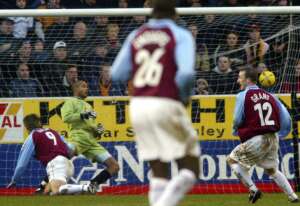 Gareth Taylor scores as the 2002 curtain comes down at Turf Moor with a rare home win over Wolves
The rot set in during last season though and long before the collapse of ITV Digital that hit us hard and prevented the sort of squad strengthening needed.
We need a bigger squad to challenge, injuries and suspensions leave us with too few players, but survival is the key. As clubs go into administration almost at the drop of a hat we have so far survived and the worst could well be over with.
Of course we want to go up, and Stan wants it just as much as any of us, but come this time next year when in all probability we are still playing 1st Division football we can all recall that it is not too long ago that even this was nothing other than a dream.
Disappointed, frustrated, angry and of course at times elated – that's how it has always been watching the Clarets. And I can promise that it always will be.
The highlight for me this year was the twenty minute spell at the beginning of the second half against Spurs. Even the most optimistic amongst us surely didn't think we could play that well. The low just has to be the realisation last May at the end of the Coventry game that we had failed to make the play offs.
But what were yours, SEND us your highs and lows of 2002 and we will publish them early in the New Year.