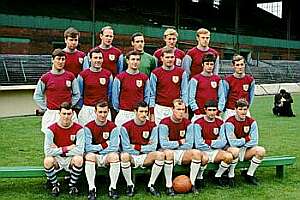 Dave Thomas (front left) still wearing those Claret and Blue hooped socks
The Club recently asked supporters for ideas on a new kit for next season with the possibility of incorporating some of our history into it and already one or two ideas have come into Clarets Mad.
Last season we had a 1962 Cup Final style kit but wouldn't it be good to see a replica of the 1959/60 Championship kit. The V neck shirt of that season would certainly look impressive but there is also another feature that many would like to see return.
It was last worn by the first team in 1964/65 season but throughout that magnificent period in the late 1950s and early 1960s the Burnley team always wore Claret and Blue hooped socks. I admit that I am one of the many that would love to see these socks return after some 37 years.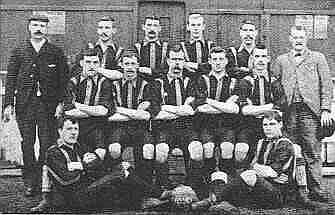 The amber and black shirts seen here in 1896
We have had a couple of ideas already for an away kit. One is a kit similar to that worn in the mid 70s when we had a dark blue shirt with Claret trim and numbers worn with sky blue shorts and socks. The shirt was very similar in colour to the one worn in the 1947 FA Cup Final against Charlton Athletic.
How about really going back in time though and reproducing Burnley's first ever kit from 1882 as our new away kit. That shirt was amber and black stripes and maybe the shirt could carry some commemorative logo that would help the club market it.
These are just some ideas but we want yours – just let us know what you would like to see for home and away kits to commemorate our 120th anniversary and next week we will take a look at what you have said.
Click HERE to send us your kit ideas