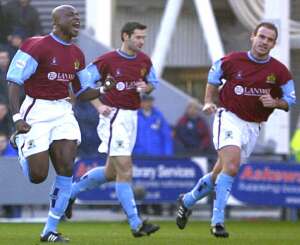 Arthur celebrates at Deepdale
It was a love affair between the crowd and Arthur almost from the minute he first stepped onto the pitch in a pre-season friendly against Everton on the last day of July in 2001. He came on for Ian Cox ten minutes into the second half and announced his arrival within minutes with a surging run down the pitch that came close to bringing a goal.
Hardly anyone knew who he was, he had only arrived from France that day, but the fans there that night wanted to see more of him.
By the time the season started at Sheffield Wednesday he had done enough to win himself a two year deal and I wrote at the time, "One of our two signings today is French defender Arthur Gnohere on a two year deal from French second division club Caen. Never have I seen the Burnley fans take to anyone quite so quickly as they did Arthur last week during his brief substitute appearance against Everton."
I did though offer one warning by adding, "He does look a little bit over excitable but that could well have been him just trying to impress."
He started the season on the subs bench but once he won a place in the starting line up, initially at left back, he was hardly ever out of the side. He really was becoming the big crowd hero with his passionate displays and his sheer joy as the Clarets led the table. Who can ever forget the way he led the players at Birmingham after our seventh win in the first eight games? And he had only just come on as a sub for Ian Moore.
When Steve Davis picked up a long term injury in October he was just about guaranteed the central defensive slot alongside Coxy and he turned in some superb performances. But for just about every fan each and everyone of them will pale into total insignificance behind the day he became King.
He really could not have timed it any better, we were top of the league and playing a local derby at Preston in front of the live television cameras and to top it all he had just signed a contract to keep him at Burnley until the end of the 2004/05 season. He turned in a brilliant performance at the back but that was not the whole story.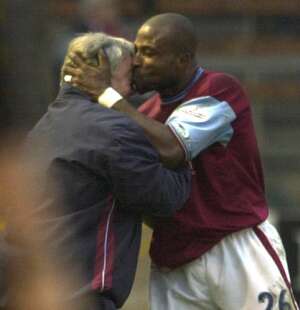 Arthur celebrates his late equaliser against Forest with Stan
He gave the Clarets the lead with his first ever Burnley goal and it seemed the game was held up for quite some time whilst he celebrated. Then, having seen Preston get back into the game at 2-2 after we had led 2-0 he scored the breathtaking winner as he combined with Alan Moore right in front of the Burnley fans in the Shankly.
King Arthur was born and he received the most amazing reception the week after as we recorded a sixth successive victory against Stockport to go four points clear at the top.
Maybe that was as good as it got for Arthur though although he played well in the rest of the season as the decline set in. He even scored a late equaliser on the Turf, his first goal at home, and had the audacity to kiss Stan.
Last season saw the start of the decline right from the start of the season when he was sent off on the opening day against Brighton for an alleged head butt that was not picked up by any of the cameras inside the ground.
The first public show of any real problem was perhaps in the home draw with Millwall when Stan gave him a public slating for making a gesture at Steve Claridge. The obnoxious Claridge had been winding him up all night and I think most Burnley fans wanted to do exactly what Arthur did.
Then at Grimsby he was hauled off before half time as we went down 6-5 with Stan clearly making him the scapegoat for the defensive shambles.
Stan was not slow to publicly criticise him either and at varying times suggested he was injured between the ears, had his head up his backside alongside embarrassingly putting it down to him being French.
He even sent him home to try and get his head back on top but there is no doubt that the crown so gloriously placed on his head at Deepdale had begun to slip.
He was in the side at the start of this season alongside Graham Branch but incredibly when David May was signed it was Arthur who gave way and not the new club captain. Surely the writing was on the wall now and things only got worse after the reserve team crashed to a heavy defeat at Barnsley.
In an amazing outburst after the game reserve team coach Ronnie Jepson turned on Gnohere in no uncertain terms saying, ""I am asking young boys to run around and show a great attitude and commitment for Burnley Football Club, but Arthur is simply not doing that.
"One hundred per cent commitment should be the minimum requirement for senior professionals, who should be helping the young lads along. But Arthur is nowhere near putting it in at the moment and if he is going to play for Burnley Football Club, he has to start giving it a go."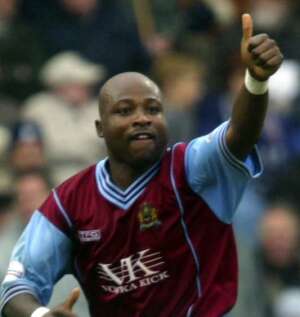 And a final farewell as he celebrates his last Burnley goal at Preston
He wasn't playing for Burnley Football Club much longer, the day after that was released Arthur was sent packing to Queens Park Rangers on loan.
He apparently did well with the London club and they extended the loan beyond the first month but embarrassingly for the Clarets we took an absolute hammering at Ipswich on a night when we didn't have a single recognised central defender available whilst Arthur was scoring an LDV Vans Trophy goal for QPR. He was instantly recalled in time to play in the next game at West Ham.
He played well on his return although when asked if he had learned anything from his stay at QPR Stan said, "His way round London." Disappointingly he was sent off twice in the next few games although he can certainly consider himself very unfortunate in the first of those at Derby.
In two away defeats at Preston and Crewe he was without doubt our best defender but the Boxing Day defeat at Crewe proved to be his last game in a Claret & Blue shirt. He was ruled out of the next game with a hamstring injury that was, according to Stan, sustained doing the quickstep.
Although we threw one in at Preston there is no doubt that Arthur was our best, if not our only, defender on the day and it is perhaps fitting that he should score his last Burnley goal on the ground where he was crowned King.
But the King is dead and he moves on. For most of us he leaves us with some great memories and without doubt he is a player who won't be forgotten around Turf Moor for a long time. I just wonder how good a reception he will get if he comes back to play against us for QPR.
Long Live the King.