Youth team set for Portugal tournament
Feature by Tony Scholes
Updated Friday, 9th July 2010
The youth team squad went back into training last week and before the start of their league season they will be taking part in a tournament in Portugal with the help of the Clarets Mad Youth Foundation.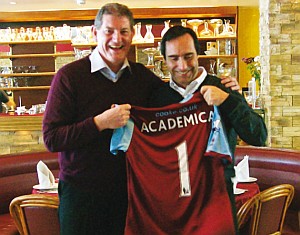 Martin Dobson presents a Burnley shirt to Academica President Jose Simoes
Terry Pashley and Andy Farrell will be in charge of the squad who will play in a two day tournament involving Portuguese clubs Sporting Lisbon and Academica along with Celta Viga from Spain.
It will be a tough two days for the Clarets. Our youth team is under-18 but this is an under-19 competition with Burnley's involvement coming after Martin Dobson, director of youth, met Jose Simoes (President) and Alan Lee (Coordinator) from Academica in February this year.
Dobbo, who hopes links will grow with the other three clubs following the competition, said on confirming our entry: "We are greatly looking forward to the trip which will be a big test for the youth team.
"Sporting Lisbon's renowned Academy has produced many world class players, including Cristiano Ronaldo and Nani, and that gives some idea of the challenge facing the boys.
"But it is a fantastic opportunity and we must thank Academica and the city of Coimbra for the invitations as well as certain organisations who have helped fund the trip."
The Clarets Mad Youth Foundation have contributed £2,500 to help fund the team's entry and we are delighted to see our name alongside that of Tim Quelch, author of 'Never had it so good', his excellent book charting the 1959/60 season. Tim donated the profit from the book to youth development.
A year ago, we made a substantial contribution to the youth team's entry in the Northern Ireland Milk Cup. Although result wise it wasn't the greatest success, it proved to be an excellent tournament for our young players whilst the club were also able to scout Northern Ireland youngster Shay McCartan during the tournament. Shay has just started his apprenticeship at Turf Moor.
Pashley and Farrell will take the youth squad of 22 players to the tournament.
First Years:
Tom Anderson (defender), Alex Coleman (defender), Josh Cook (goalkeeper), Adam Evans (winger), Steven Hewitt (midfielder), Archie Love (midfielder), Shay McCartan (striker), Alex Mullin (midfielder), Aryn Williams (defender), Ben Woodhead (goalkeeper)
Second Years:
Stephen Edwards (defender), Joe Jackson (striker), Mehdi Lazaar (forward), Dave Lynch (midfielder), Joe McKee (midfielder), Dean Overson (defender), James Taylor (striker), Tom Taylor (midfielder), Ed Williams (defender), Ross Wilson (midfielder), Curtis Woods (defender), Neil Yadolahi (defender)
Interact with us
Sponsored links