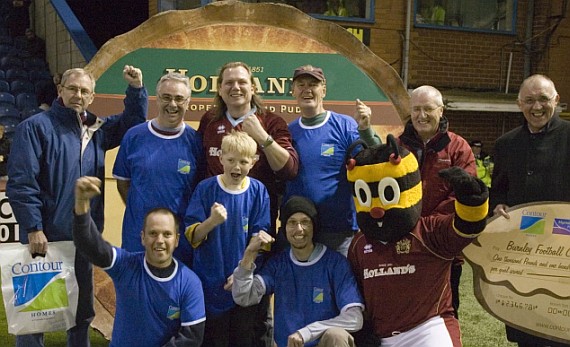 The North Manchester Clarets team with Jeff Evans from Contour Homes
They entered a team in the club's Pie & Chips competition and were selected for this game. However, the North Manchester team decided to go one further and won a sponsorship deal from Contour Housing Group and elected to donate the monies they raised to the Clarets Mad Youth Foundation.
The offer was £1,000 for taking part plus a further £100 for every pea successfully chipped into the pie. A team, which included our message board's bodge, managed to score a total of three which ensured £1,300 would be making its way to the Clarets Mad Youth Foundation.
This has taken our fundraising total to almost £21,500 since Head of Youth Development Vince Overson and former manager Steve Cotterill helped us launch the originally named Year of the Youth in March 2006.
A special thanks from us to the North Manchester Clarets and Contour Housing Group, and to the leading lights of this supporters' group Andy Taylor and Chris Wells who organised it all.