Youngsters set for Dublin
Feature by Tony Scholes
Updated Thursday, 27th August 2009
Burnley's Under-14 team are all set to play in Dublin this weekend after the Clarets Mad Youth Foundation sponsored them in the Hibernia Trophy.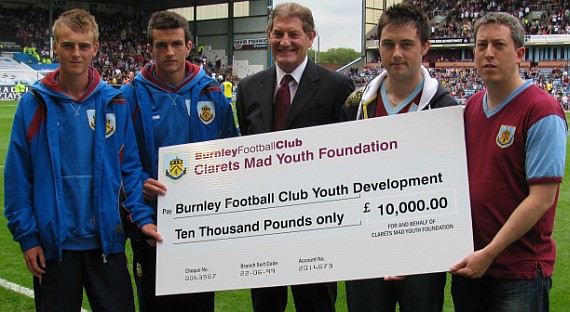 Paul Young and Simon Doyle present a cheque for £10,000 to Burnley Football Club, represented by youth team players Jake McEneaney and Liam Newman with Director of Youth Development Martin Dobson
The youngsters play their first game tomorrow against
Huddersfield Town
and then follow that up with games against North Dublin SL and Dutch club FC Utrecht on Saturday on Sunday. Finals day is on Monday with the top six clubs playing in three games for the top six positions.
The funding for this is part of the £10,000 we recently handed over to the youth development team at Burnley Football Club. The majority of that money was used for the youth team's entry into the Northern Ireland Milk Cup last month and now the Hibernia Trophy.
We've already given the club just short of £29,500 and the money raised since the launch in March 2006 has now reached over £33,000. Money has been added with the recent Trio of Trotters Evening as well as the fantasy competitions for the Ashes and the 2009/10 Premier League season.
Our next event is the pool competition a week on Sunday and there are places still available. We also run the First Goal Sweep for each Burnley game during the season. Entry is £1 per game (in multiples of five games) with the winner determined by the minute of Burnley's first goal in any game. We've already had two £60 winners this season.
Interact with us
Sponsored links