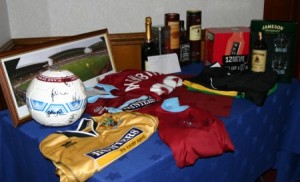 Bully's prize table at the Late Tea

It proved to be a fantastic night at the Turf for 46 of us with an enjoyable meal, some good company, and over £1,000 for Year of the Youth aided by some very generous bidding in the auctions.



The whole evening went without a hitch, that is of course if you don't include people dropping their mobile phones into the soup or others struggling after four pints of Stella and a Babycham.



BigDave was there with his pink stetson, and fox40 called time in the only way a referee possibly can, that was after he had played an extra ten minutes of stoppage time at the end.



Steve Cotterill kindly gave us an autographed shirt and ball from this season and they went into a very successful auction alongside the shirt Brian Jensen wore when he went down injured at Watford earlier this season, and Ade Akinbiyi's debut shirt, the one that was used for 2 minutes and 38 seconds.



The night was so successful that more are planned and besides that it has helped take the Year of the Youth fund beyond its third target to provide the youth development team with a smartboard.



Vince Overson had hoped we would be able to raise the £200 we first set out to raise and when he heard the news on Sunday that the fund was fast approaching £5,000 he admitted to being delighted at the help we were giving him and his team.



We've got message board teams playing on the Turf this Saturday but the next fundraising day will be on 20th May when two teams of message board members will take each other on at the Arbories, Padiham in what has been billed as Clarets Madiham. Come and give them your support and back our Year of the Youth Campaign at the same time.