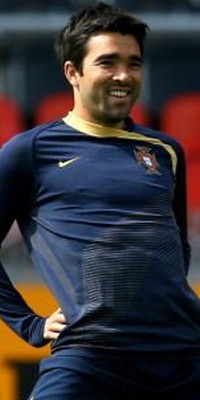 Deco - now at Chelsea, will he be in your squad?
For a fourth successive season Clarets Mad will be runnings its own Fantasy League and once again, after three very successful seasons, we will be using the FA Premier League's own official fantasy game.
You can play the PL game for free, but to join the Clarets Mad League there will be a charge of £10 per player (or £10.60 if you pay by Paypal). Half of that money will go to the Clarets Mad Youth Foundation whilst the other half will be allocated as prize money.
Again last season we were able to award prizes for the first three places at the end of the season, and there were also Manager of the Month prizes for each month from August to April. That is the intention again and the amount of prize money will be dependent on the numbers taking part in the game.
What do you need to do to join us? Apart from playing the game there are two things you need to do. You need to join the PL game and you need to join the Clarets Mad League. There are links below for each one.
When you first join the game you will be asked to select your squad before you can continue. Don't worry, you can auto select it initially and then make changes at your leisure ahead of the season.
To enter the Clarets Mad League you will need a league code, and this will be provided by us at Clarets Mad. We will email you the 8 digit code once we have received your confirmed entry.
Then of course comes the difficult part of it. Just like any other manager you have to sign your players and decide who to leave out. You have £100 million to spend but how will you spend it? Maybe you'll sign Deco, or alternatively stick with a regular Premier League player such as Steven Gerrard. The choices are all yours as you juggle your money to select a squad of fifteen players.
Once the season is underway you will be able to make changes, and you can make one free transfer per week. It really is an enjoyable game and you might just win one of the prizes. but what we are all doing is supporting youth development at Burnley Football Club.
Just follow the links and you're ready for the new season.
Click
HERE
to join the Premier League game.
Click
HERE
to sign up for Fantasy Premier League 2008/09
We are also continuing this season with our First Goal Sweep which is in effect a Golden Goal competition for all of Burnley's competitive games. Entry is just £1 per game (although we ask that you pay in multiples of £5 each of which will gain you entry for five successive games). Prize money will be between £20 and £40 per game depending on the take up and if not won the prize will roll over to the next game and beyond until it is won.
Click
HERE
for more details and to sign up for First Burnley Goal Sweep 2008/09
Please note: Should you wish to join either the Fantasy game or the First Goal Sweep and choose to pay by Paypal it asks for your message board username. If you are not registered for the message board then just enter 'non member'.