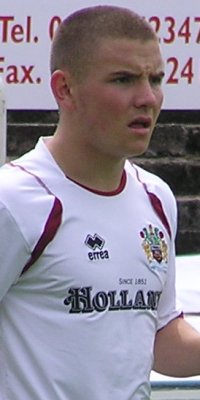 Alex MacDonald - first goal for the Clarets
Macca was one of eight substitutes used by the Clarets that again led to a disjointed second half in which we hardly looked likely to add to the two first half goals from Martin Paterson and Ade Akinbiyi, but nevertheless this was a deserved win for the Clarets against Owen Coyle's former team.
Again there was a healthy turn out of Burnley fans, around 250 I would suggest, but I suspect most of them will not be in a rush to return to the Perth home of the Saints after the way we were greeted. The warm welcomes we had received in Dumfries and Glasgow were long gone and the welcome here was anything but friendly.
Burnley fans wearing the club's colours were turned away from pubs during the day whilst at the ground we were made just about as unwelcome as possible. The Queen of the South and Partick Thistle fans were brilliant, keen to talk to you about football and the respective teams. Here they were so aloof and up themselves and for the most part just blanked you.
The home club, who hadn't bothered with a match programme on the night, then gave us stewarding at its worse. People were searched, bags were gone through with some military precision and incredibly one diabetic Burnley fan in his sixties was refused entry with his needed bottle of water.
I later learned that all the pubs in the area had been warned about us by police with their intelligence apparently telling them there was trouble on the way. It was all somewhat shocking. Owen, I know it is your old club but please don't take us here again.
It was shuffle the pack time again, as promised, for this game. Diego Penny was in goal again but this time behind a back four of Michael Duff and Christian Kalvenes at full back with Clarke Carlisle and Steven Caldwell in the centre. The midfield four was Wade Elliott, Alan Mahon, Chris McCann and Robbie Blake whilst Martin Paterson partnered Ade Akinbiyi up front. That meant a place on the bench for trialist Gatis Kalnins.
We started well, very well in fact, dominating the opening exchanges, and it was no surprise when we went in front. Blake, who has looked in top form during this tour of Scotland, and Elliott linked up with the latter crossing for Paterson to head home. He was unmarked but this was still a very good header, into the corner giving the home keeper no chance whatsoever.
Unfortunately the lead didn't last after some poor defensive work that saw St. Johnstone break clear. Penny saved the first effort but his parry fell invitingly for Paul Sheerin who made no mistake from close range. They always say you are at your most vulnerable when you've just scored and so it proved to be.
We had a difficult period then and they could twice have gone in front. Penny was alert enough to end one moment of danger by rushing out o his box to head clear although even then it fell to a Saints player but his effort sailed high and wide. A couple of minutes later then were inches away from taking the lead following a quick turn and shot in the box.
They then had a goal correctly ruled out for offside but then we went back in front with a simplistic, but excellent goal. Paterson received the ball out on the right hand side and he powered his way forward before playing in a delightful curling ball. There was Ade storming into the box to get on the end of it with the most exquisite of finishes.
So 2-1 up at half time and again because of the substitutions the second half became somewhat scrappy. There were three immediate changes and just four minutes in McCann ha to be replaced with an injury.
Paterson, who had turned in a really good first half performance, saw his evening brought to an end by the referee just before the hour, and there could be no complaints about the official with this one.
Pato chased a ball down the left wing and the assistant got it ridiculously wrong when he flagged for a thrown in. The ball had clearly not gone close to going over the line and the striker decided to tell the referee that with the most colourful of language. Well done referee for your actions in keeping it eleven v eleven.
That saw Kalnins come on and this time he did win a couple of headers, one on goal that the goalkeeper had no problems with. We are going to get a decision on the Latvian today but I don't expect to be seeing him again in a Burnley shirt based on his two performances this week.
Although we had most of the play it was coming to nothing and the nearest we got to a goal was at the other end where Penny saved well at the expense of a corner. I wasn't so sure of his punching from the flag kick but at the end of the day it came to nothing.
Then, the ball was played out to Steve Jones on the left. He got to the line and he delivered the ball hard and low to the near post. There, with exactly two minutes remaining, was young MacDonald to turn it in and wheel away in delight.
It was a good way to end the three match tour. I'm sure Coyle will have seen a lot of positives over the last few days as the squad builds up for the start of the season in just over two weeks. I know those not there always want to ask about the new signings and I did think Paterson looked very good last night until he chose to open his mouth. Again Kalvenes looked assured at left back and one punch apart Penny was secure in goal.
Kevin McDonald was left out because of injury and I haven't seen enough of him as yet whilst I'm still to see Remco van der Schaaf (pronounced van der Haaf) play.
There was just time for the gentleman to go and reclaim his bottle of water and for us to get out of there. I heard a number of fans saying they wouldn't return should we play them again, and you really couldn't blame them.
And I've not mentioned the balloon.
The teams were;
St. Johnstone:
McLean (Trialist), Irvine, Trialist, Millar, Rudkiewicz, McCaffrey, Swankie (Reynolds), Hardie (Craig), Jackson (Milne), MacDonald (Holmes), Sheerin (Weatherston). Sub not used: Kerr.
Burnley:
Diego Penny, Michael Duff (Graham Alexander 45), Clarke Carlisle, Steven Caldwell, Christian Kalvenes (Stephen Jordan 45), Wade Elliott (Alex MacDonald 59), Alan Mahon (Adam Kay 72), Chris McCann (Joey Gudjonsson 49), Robbie Blake (Bes Berisha 68), Martin Paterson (Gatis Kalnins 57), Ade Akinbiyi (Steve Jones 45). Sub not used: Brian Jensen.
Attendance:
2,216.