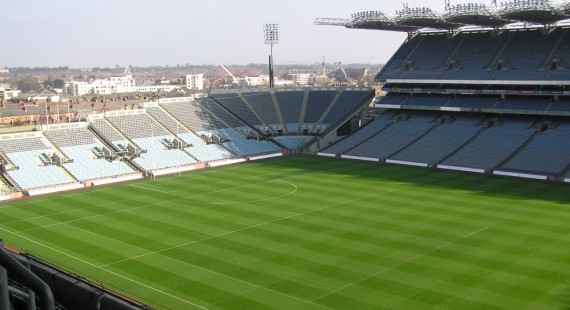 Croke Park from the upper tier
At least, after watching our game the night before, he got some goals with Linfield netting three late goals to win the game 4-0 with Oran Kearney netting the first two.
The recent trips out of England to watch the Clarets have enabled me to take a look at some football stadiums I might otherwise never have seen. The Allianz and the Gottlieb-Daimler in Germany, the San Siro and Bentegodi in Italy and two of this year's venues for the European Championships at Salzburg and Innsbruck.
On the Friday we'd been to Dalymount, we'd seen Home Farm where Chris McCann used to play so there was only one place to visit and that was Páirc an Chrócaigh - or to us Croke Park.
It had been placed high on the list of things to do by people with more knowledge and information on Dublin and we weren't disappointed. One of our party Steve decided to make use of the interactive areas in the museum before we started the tour. From that moment on he was struggling with a hamstring injury after taking on the kids already in there. So that was two of us struggling, thank goodness Croke Park has escalators.
The tour started with a film showing the 1997 All Ireland Finals. The guide advised those non-Irish people watching that Tipperary were the team in blue and yellow and their opponents Clare were the team in yellow and blue.
This stadium has a history and we learned just about all of it. of Frank Dineen and Michael Hogan. Besides its incredible history this is now very much a modern stadium, as good as any and recently has been staging the Republic of Ireland football internationals and will continue to do so until Lansdowne Road is rebuilt. For our visit those strange looking goal posts were very much in evidence.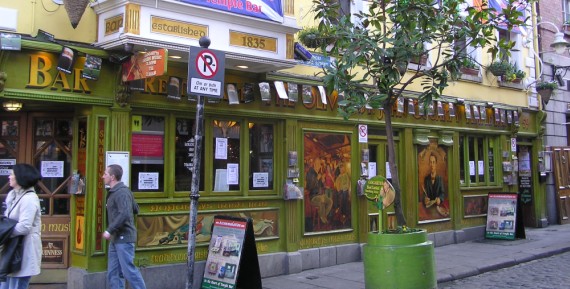 Temple Bar
The rest of the day was spent in the centre of Dublin. Back on O'Connell Street initially I made the mistake of trying to look up to the top of the Millennium Spire. Now if this is an attractive city I really don't know what this eyesore is doing there. It cost no less than €4 million and has been given names such as 'Stiffy on the Liffy', 'The Erection at the Intersection' or 'The Statue of Liberty's Dildo'. It is just short of 400 feet high, if you go to Dublin don't stand next to it and look up is my advice.
We needed to get our bearings again so needless to say we took in some of the attractions in Temple Bar, an area that was packed during Saturday afternoon. We saw one or two other Clarets there, including some of the team and a short white haired man dressed in Claret & Blue who was wandering around shouting, "Who are ya?"
It was a good afternoon, with some excellent food and a few drinks as the FA Cup got underway at home. We'd seen the end of the Bristol Rovers v Southampton game and news was filtering through to us of Barnsley's incredible Anfield win as we finally started to make our way back to the airport to catch the Manchester United v Arsenal game before returning home, a flight that took just under half an hour.
It had been a tiring two days, to put it mildly, but an enjoyable one where, football police apart, we had been very much welcomed. Home on the Sunday I just needed something to make the weekend complete and not long before 6:00 p.m. it came. Did you see Portsmouth's winner at Deepdale?